Home Eclectic
Nini Rogan's film & art enclave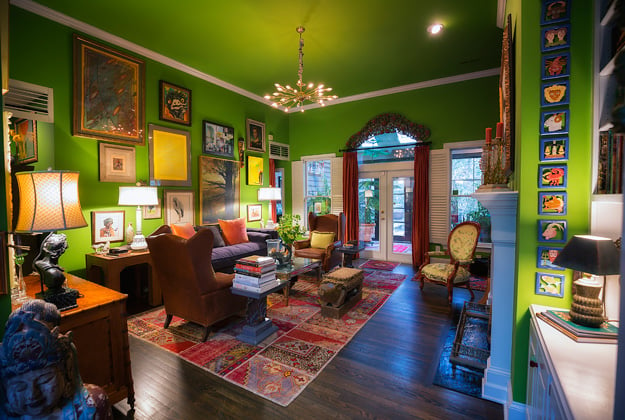 For NINI ROGAN and her husband, CHUNKY HUSE, their Porters Neck home is an open place for friends, and when they entertain they use the whole house.
But the upstairs screening room is a place to get away for the two veterans of the film industry — "pure escapism," Rogan says.
In it are titles from the more than 100 films Huse has worked on. A grip, Huse brought his lighting and rigging skills to Wilmington in 1985 as Dino De Laurentiis' new film studio in the Port City was getting established. He opened his own company, Gypsy Grips Inc., in the mid-90s.
The screening room also holds movies that Rogan, a script supervisor whose lengthy credits include The Crow and The Thomas Crown Affair, worked on as well as hundreds of other flicks the couple enjoy.
Besides a getaway and library of their work, they also used the space to judge film festival entries.
"It's great fun because we've actually screened contestants videos," Rogan says.
The plates were gifts from former productions Huse worked on, she says. Revenge of the Jedi was the initial working title for the Star Wars installment Return of the Jedi.
"A lot of times on movies people will give each other things," Rogan says about crew gifts, adding that more often it's items like T-shirts and baseball hats. "They used to be a whole lot more inventive."
Rogan, who describes herself as semi-retired from the movie industry and possibly soon-to-be retired because of the state's recent change in its film incentives package, says her other workspace is her home office.
There she focuses on work for the Cape Fear Literacy Council nonprofit.
"I've been a board member for years," she says. "That's my love."
Working in the film industry, Rogan has often seen talented designers create looks for room sets to help build story characters.
The challenge in real life, she says, is for a designer to work with fully formed personalities.
So about seven years ago when it came time to redo much of the house Rogan and Huse moved into in 1996, Rogan turned to a friend and local interior designer Gay Adair.
Rogan had never used a designer before, always picking out things on her own.
But looking at the home's newly expanded master bedroom and wall of windows, she didn't know what she wanted to do.
"She did the bedroom first, and I thought, 'Aha, the living room's next,'" Rogan recalls.
That turned into several more rooms, and the result was a melange of colors, patterns, and artwork that instead of coming off as chaotic, tied the house together with the couple's viewpoint.
"We've traveled a great deal, both of us," Rogan says about her and Huse. "In all of our time aways we've picked up things that meant something to us. What Gay did was she came in and took all of our stuff that was important to us and somehow she used stuff we had – either recovered it, repainted it – and made it all work. And I think it made it look like a million bucks."
One of those transformations was in what Rogan calls the Green Room – living room – that showcases the couple's collection of art found over the years (opposite).
"Most of them are either artists we know or friends or local artists," she says about the pieces covering the living room's walls.
As for Adair, who owns Gay Adair Design, she says working on the project yielded one of the most flattering complements of her career so far.
"My favorite thing in all
the decades of decorating," she says, "is Nini said I made their house look more like them then they ever could."
"We always have humor in a room somewhere," Rogan says.
That's evident in the home's dining room, where stately, nineteenth-century law bookcases from Rogan's grandfather contrast with table chairs reupholstered in a dog silhouette print. Adair suggested the material knowing how important the couple's lurcher dogs are to them.
"The dogs were just fun," Rogan says about the fabric, "Each chair has a different dogs that's a different center."
A celestial pattern on the ceiling and a non-traditional chandelier add to the whimsical feel.
Layering different patterns also is a running theme throughout the house as in the bedroom's seating nook.
The chairs belonged to Rogan's mother – "They're probably eighty, ninety years old," she says – and were reupholstered with an oversized floral print, another example of updating what the couple already had.
"There's a tremendous amount in the house that's repurposed," Rogan says.
The outside space also has been an ongoing project, Rogan says.
When they moved in, the yard was barren with only three big trees on it, she says.
"We're talking sand dunes," she says. "Now it looks like it's been here 100 years."
Sandy Woods, who owns local landscaping company Habitats, planted nearly everything on the property with 98 percent of it coming from plants native to North Carolina, Rogan says.
When Rogan and Huse married, their registry requests consisted of vegetation instead of waffle irons so that now around the property trees from friends and family grow with copper tags to note the gift givers.
The house has two enclosed outdoor rooms off the deck. The one shown above and a plant room done last year.
While Huse is the gardner of the two, Rogan says the outdoor area is important to her as well.
"Unless it's boiling hot, I'm out on the decks reading and with my computer," she says. "It's just lovely."
To view more of photographer Chris Brehmer's work, go to www.chrisbrehmerphotography.com