Holistic Healers
An inside scoop into holistic medicine offered in the region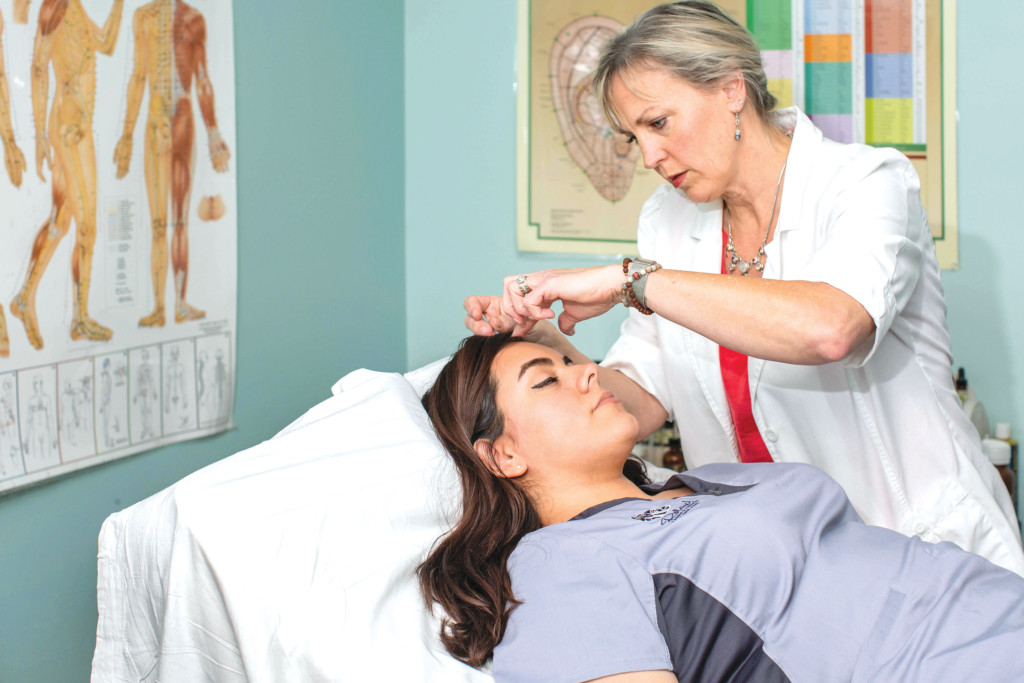 Wilmington has for many years been a mecca for practitioners of holistic medicine. Something about the beach vibes. Have you been contemplating trying acupuncture? Interested in herbalism? Meet these three Wilmington women who are here to help.
Under Pressure
Stephanie Ellis, Reflexologist at Stephanie Ellis Wellness Therapies
STEPHANIE ELLIS became interested in reflexology, the application of therapeutic pressure to the feet and hands, when she was still in school for massage therapy. Eleven years later, she is now the owner of Wellness Therapies.
"The theory behind it is that pressure applied to one spot on the foot can bring relaxation and the potential for healing to the corresponding area of the body," Ellis explains. "I've had so many people say they felt like their whole body was treated, even though it was just their feet. It's a good option for people with body issues, or who are post-trauma."
Ellis recommends reflexology for improving circulation, detoxing the body, alleviating chronic pain, and strengthening the immune system.
"Most clients are coming in for relaxation and stress, but it can also really help with plantar fasciitis, seasonal allergies, sleep problems. There are a lot of applications for it," Ellis says.
Clients can opt to either receive a reflexology session attached to their massage session (Ellis also offers Thai yoga massage, hot stone, and deep tissue massage) or just have their feet and hands worked on only.
Power Plants
Kathryn Sisler Waple, Herbalist at Gray Cat Botanicals
KATHRYN SISLER WAPLE had always been interested in herbalism but thought it just wasn't a thing people did anymore. Then, she found Red Moon Herbs in Asheville.
"I realized they were still practicing herbalism the way my grandmother did because she made her own herbal products as well," Sisler Waple says.
She spent five months in apprenticeship to Red Moon Earth, learning about herbal medicine from the ground up.
Now, she runs Gray Cat Botanicals, a small herbal extracts company that focuses on whole plant extracts.
"If you think about the benefits you get from eating an orange versus the benefits you get from taking a vitamin C product, my products are like eating the orange. It's the whole food instead of just isolated parts," she says.
Sisler Waple grows, harvests, and processes all her own plants. All of her salves are made solely with olive oil and pesticide-free beeswax she sources from Silver Spoon Apiaries, with no added fragrances or chemicals, so they are safe for all ages and pregnant women.
Her most popular products include the Skin Soother Salve for chapped or irritated skin, Calendula Salve for stretch marks and scars, and Ouch Relief Salve, a natural take on Neosporin for treating bites, scratches, and bruises.
"I feel like everything we have, in Eastern medicine, Western medicine, energy medicine, all of it is a tool. It's just a question of finding the right tool to treat what's going on with your body, and sometimes that's as simple as changing your diet or using a salve, and sometimes it's as radical as surgery," she says.
Sisler Waple also works with Nature Connect NC, teaching classes in botany and herbal identification for plant-curious children, as well as running workshops for adult groups on request. Gray Cat Botanicals are sold at Tidal Creek Co-op, The Bump & Beyond, or directly online with local pickup available.
Pinpoint
Gretchen Rivas, Acupuncturist at Infinity Acupuncture
GRETCHEN RIVAS is the owner of both Infinity Acupuncture and Relax! Massage Therapy. So, there's not a lot about either that she doesn't know.
"One of the frustrating things is that for most people, Chinese medicine is the last house on the block, rather than the first line of defense," Rivas says. "People don't recognize how many things acupuncture can help with."
Acupuncture is a cornerstone of traditional Chinese medicine, which Rivas studied for many years at the Jung Tao School of Classical Chinese Medicine in Boone. The basic idea is to stimulate parts of the body into communicating and healing themselves. And, yes, acupuncture is the needles one.
"What I ask first of all 'Are you afraid, are you nervous about the needles?'" Rivas says, "And, if they are, then I show them one of the pins, and let them see how tiny, tiny it is, how bendable, how sterile, and safe."
Most of her clients come for back and shoulder pain, or stress and anxiety. Rivas also recommends acupuncture for digestion, insomnia, or menstrual and fertility issues. Infinity even offers cosmetic acupuncture to prevent sagging skin and other signs of aging. They also work with VA-referred veterans for pain and stress issues. And, while lying around with needles sticking in you might sound like it causes more stress, it's actually intensely calming.
"Once all the pins are in," Rivas says, "it's usually a deeply relaxing experience for the majority. People start to drool."
To view more of photographer Megan Deitz's work, go to megandeitz.com.
Want more WILMA? Click here to sign up for our WILMA newsletters and announcements.