Holiday Party Plans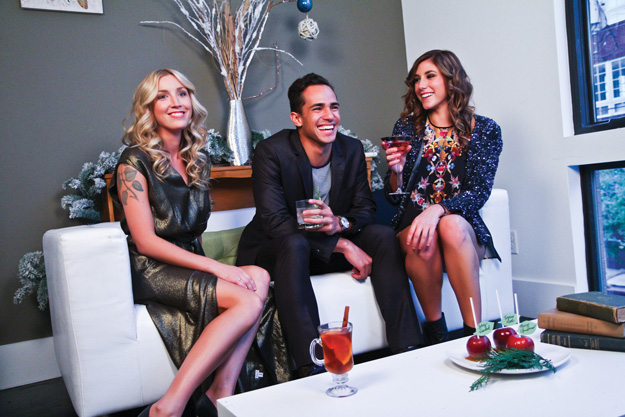 It's the time of year to gather with family and friends. But hosting a holiday get-together doesn't have to be all hassle with these party-planning tips.
Look dazzling, eat well, and spread good cheer.
Deck the closets
'Tis the Season … to push the envelope! Be brave and bold and pile on your favorite prints mixed with textures and pops of colors. From sequins to graphic prints, luxe and lavish golden hues, or floor-length gowns – anything goes. And always remember, sometimes more is more.
ON MAYA: L'Agence drop sleeve dress in gold, available at Beanie + Cecil.
ON MICAH: Howe suit and Drifter shirt available at Oliver.
ON CHELSEA: Clover Canyon top, Parker beaded jacket, available at Oliver, ALC Dean shorts, available at Beanie + Cecil.

Nature-inspired: Use natural materials to mix up presents and go beyond typical wrapping paper.
ON REGINA: Rebecca Taylor dot gown, available at Beanie + Cecil.
ON CHRIS: French Connection Auderly V-neck sweater, Walk the Plant button up, WESC slim denim pant, available at Bloke.
*Use strips of fabric and sprigs of holly or mistletoe to make an elegant bow.
*String cranberries onto twine for pop of color on kraft paper.
*Use seashells or starfish in lieu of ribbons for a nautical theme.
*Look for other materials around your house that can be used for alternative gift-wrapping materials.
"Newspaper makes each present have its own story," says Khalilah Olokunola, of A Boxed Event who decked out our party, "I think this year, everyone's going more with pops of color. Silver is more modern, and gold is more tradition for Christmas."
ON REGINA: Rebecca Taylor dot down, available at Beanie + Cecil.
ON CHRIS: French Connection Auderly V-neck sweater, Walk the Plant button-up. WESC slim denim pant, available at Bloke.
RECIPES:
Hot Apple Cider*
2 liters of apple cider
½ cup lemon juice
1 cup orange juice
2-3 cinnamon sticks
5-6 whole cloves
Spiced rum (optional)
Heat together on stove or in crock pot. Garnish with cinnamon stick and orange slice.
*(Submitted by WILMA reader Shiang-ling Bissonnette)
Rosemary Vodka Tonic
Ingredients
2 ounces vodka
1 ounce green Chartreuse
1 ounce Rosemary Simple Syrup (made by boiling 1/2 cup sugar and 1/2 cup water with a large rosemary sprig, stirring until sugar dissolves, and letting steep off heat for two hours before removing rosemary)
4 ounces tonic water
Combine vodka, Chartreuse, and simple syrup. Fill two glasses with ice and divide cocktail, topping each with tonic water. Garnish with rosemary and lemon peel.
Cranberry Martini
Ingredients
2 ounces vodka or gin
½-1 ounce vermouth (optional)
½ ounce cranberry liqueur or 2 ounces cranberry juice
Pour into a cocktail shaker or mixing glass with ice cubes. Shake for 10 seconds and strain into a chilled martini glass. For garnish, float a couple of cranberries or skewer three on a cocktail stick.
Roasted Sweet Grapes and Cheese Plate
Ingredients
1 pound of seedless grapes
2 tablespoons butter
¾ cup walnuts
2 tablespoons sugar
1 tablespoon honey
Melt butter in ovenproof skillet. Add walnuts. Sprinkle with sugar and roast about 25 minutes in oven.
Transfer to a bowl with a slotted spoon.
Simmer juices with honey on stovetop until syrupy, 6 to 7 minutes. Off the heat, add a squeeze of lemon juice and black pepper. Pour syrup over grapes.
(Cheeses shown from Country Farmin' are Mantero Spanish-style and Ashe County Jack & Dill.)
Crudite Cups with Buttermilk-Black Pepper Dip
For dip:
Ingredients
½ cup buttermilk
½ cup sour cream
½ cup mayonnaise
½ teaspoon salt
1 teaspoon freshly ground black pepper
Cut vegetables
Whisk together all ingredients. Using a funnel to help avoid drips, spoon dip into bottom of small glasses.
Cut mixture of vegetables, such as carrots, bell pepper, broccoli, asparagus, cucumber, etc. (Vegetables shown from Country Farmin')
Sliders: Beef and BBQ pork sliders from Cameo 1900
Olives Cerignola olives from Taste the Olive
Herbed Focaccia
Cut up premade focaccia or flatbread from the store or make your own with this short-cut recipe.
Ingredients
1 pound refrigerated pizza dough
¼ cup olive oil
2 tablespoons chopped rosemary and oregano
½ teaspoon red pepper flakes
pinch of sea salt
Handful thin onion slices
Parmesan cheese shavings (optional)
Preheat oven to 400 degrees.
Roll out pizza dough on floured surface into a 10-by-15-inch rectangle. Press into an oiled rimmed baking sheet.
Mix olive oil, rosemary and oregano, red pepper flakes, sea salt.
Brush half of the herb oil over the dough, then set aside until puffy, about 1 hour.
Make dimples in the dough with your fingers and top with thin onion slices and shaved Parmesan.
Bake about 20 minutes. Brush with the remaining herb oil.
Mini-Caramel Apples
Melt 14-ounce package of caramels and 2 tablespoons of milk in microwave for 2 minutes, stirring once. Remove stems from small apples and skewer with lollipop or bamboo sticks. Dip in caramel and set on wax paper covered cookie sheet.
Tips for helping caramel not stick to apples: Wash apples thoroughly to remove wax. Keep apples chilled. Make sure melted caramel isn't too hot when dipping. Let dipped apples set up in fridge.
(North Carolina mountain apples shown from Carolina Farmin')
To view more of photographer Keith Ketchum's work, go to www.keithketchum.com.