Hitting the Right Notes
Sandy Errante founded the Girls' Choir of Wilmington twenty years ago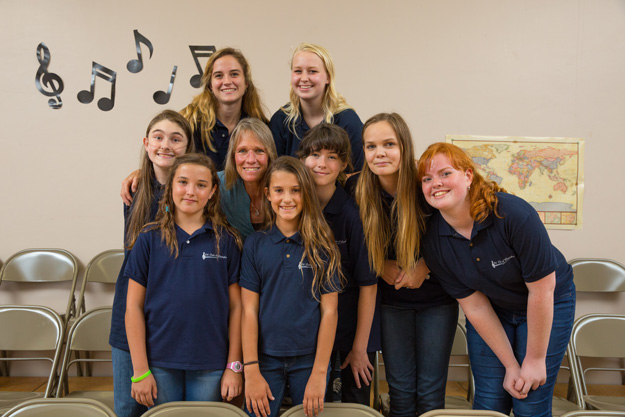 The Girls' Choir of Wilmington, founded by SANDY ERRANTE, the group's director and conductor, celebrates its twentieth season this year.
The nonprofit organization is open to all girls in the Lower Cape Fear Area ages nine to eighteen with about seventy-five members in the choir. Since it was founded in 1997, the choir has maintained an active presence in Wilmington performing concerts in area churches and collaborating with organizations like the Wilmington Symphony Orchestra.
The choir performs a variety of music including classical, sacred, folk, secular, and popular music.
Errante says she began the choir to allow young girls to develop musicianship, self-discipline, and find a place to build teamwork.
"I like to think of the girls and their voices and spirits as individual threads that over time weave together to form this lovely tapestry, which may manifest itself in the form of a concert, a tour, an outreach event, or just a satisfying rehearsal," she says.
While it can be difficult to find music pieces that challenge the more advanced choristers, older girls take on the roles of mentoring younger girls. This allows girls to build leadership skills while also building a sisterhood bond, Errante says.
Although the girls are encouraged to strengthen technical skills such as notes, pitch, and rhythm, Errante believes it's important for them to primarily communicate emotion.
"This can happen in a final, vibrant production with a full audience or in a more subdued nursing home where a few frail individuals reach out to hold one of our member's hands as they sing," she says.
Since the choir has members of a large age range, Errante enjoys getting to see the girls grow.
"I often see girls enter as young, eager, bright-eyed elementary children and leave the choir as mature, strong women," Errante says.
Many of the choir graduates return to see new concerts. Alumnae are invited to join the choir in the final song, The Irish Blessing. Each are then presented with a rose.
"That is always a touching and gratifying occasion," Errante says.
The choir also depends on the girls' families for their support. "Often, they go above and beyond the call of duty, acting as the mothers of seventy-five girls, nurturing and supporting each other, and looking out for me and Steve (Sandy's husband, the accompanist)," Errante says.
The choir's final concert is May 19 at Winter Park Baptist Church, titled The Top Ten of Twenty. With help from some of the choir members, Errante chose ten of her favorite pieces performed over the past twenty years to include at the celebration.
Her hope for the choir's future is to increase membership, encourage diversity, continue to grow musically, and look for new ways to give back to the community. After twenty years of performing, the choir is about more than singing, Errante says that.
"It has taken on a life of its own," she says. "It's an important part of our community – not only for the members and their families, but also for all (of) those who are or have been touched in some way by what we do."
To view more of photographer Chris Brehmer's work, go to www.chrisbrehmerphotography.com.