History Lessons
Joyce Price aims for modern education in historic setting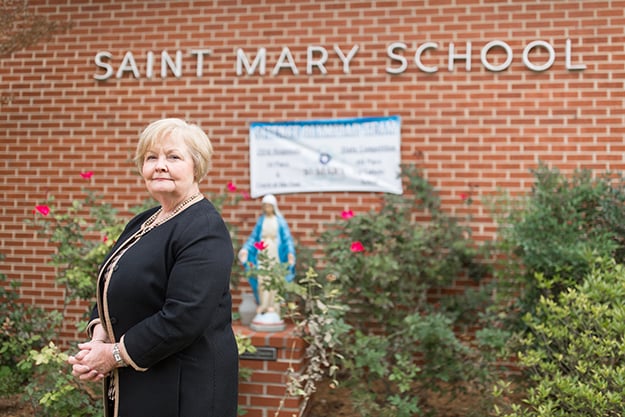 Service. Faith. History. Dedication. Those are just some of the words that describe St. Mary Catholic School and its leader, Principal JOYCE PRICE.
Every day when Price comes to work, she is surrounded by rich history at the oldest Catholic school in North Carolina and a legacy of women who started a school based on faith, education, and service in 1869. The principles that laid the foundation for the school are the same today: "to bring the Catholic faith to children along with excellent academics, and a willingness to serve those who need our help," Price says.
In 1869, the Sisters of Our Lady of Mercy from Charleston was commissioned to open a Catholic school in Wilmington.
Price has worked hard to continue the work they started.
After fourteen years of teaching in High Point at Immaculate Heart of Mary Catholic School, Price moved to Wilmington. For the past twenty years, Price has worked for St. Mary and worked under two former principals – Barbara Bourne who hired her as a second-grade teacher, and Michele Lezon. Bourne made a big impact on Price and influenced her teaching style by modeling a strong work ethic and a dedication to serve the students and families of the school and teaching her the "St. Mary's Way."
"I have wanted to be a teacher since I was five years old and was fortunate to enjoy that for twenty-five years," Price says.
Price also had the privilege to work with members of the Society of Sisters of St. Ursula, specifically Sister Mary Isaac Koenig and Sister Marion McGillicuddy. Their tireless dedication to St. Mary lasted into their mid-80s.
"They inspired me to realize that if the spirit moves you to share your gifts with others, do it," Price says.
Moving from the classroom to school administration hasn't been without challenges, including in Price's personal life. Two months after she became principal, her husband died suddenly. The following year, she applied to graduate school, and within two years, she graduated with honors from Marymount University. Three years ago, she had cancer surgery.
"I never have a day that I am not grateful to be a survivor," she says.
After all that, Price still exudes with confidence and joy and always greets the children with a smile. She says her favorite part of her job is seeing excitement and enthusiasm from teachers and students when programs work to bring them success in learning. As a principal, Joyce now gets to share in the achievements of all ages, not just those of her own classroom.
"Being a career teacher, I make it a point to celebrate our students' and teachers' achievements whenever possible," Price says.
And, Price and her students have certainly achieved great things since she became principal. Price has watched St. Mary graduates go on to be NFL players, engineers, research scientists, and University of North Carolina School of the Arts performers, just to name a few.
For her work as an educator, Joyce was honored with a Diocese of Raleigh service award for twenty years of service – ten years as a teacher and ten years as a principal.
And Price has been a catalyst for the school and its education changes over the past decade. St. Mary now educates children from pre-K through eighth grade. The school has extended its music program to include music appreciation, choir, band, and Suzuki violin (with over a hundred violinists).
The expansions and extensions to academic programs also include expansions in math, technology, and most recently 3-D design and printing courses with students designing, coding, and creating 3-D objects. With its new gym and athletic director, St. Mary will also be offering sports.
Through a grant, Price was able to provide the students with Chromebooks, smart boards, and iPads.
"I am proud to say that I still enjoy doing what I can to support the newest and latest ways of reaching 21st-century students through a strong technology program. We like to say that we offer 21st-century in our historic buildings," Price says.
But, Price and the teachers, make sure to keep the students and members grounded through outreach and service opportunities.
The Basilica Shrine of St. Mary parish is known for its outreach to the community of Wilmington and afar. Students take part in the parish outreach opportunities on the campus.
"They learn from a very young age that when we each bring just one can of food, it fills a huge basket for the poor. They are taught that not everyone is as fortunate as they are," Price says.
She encourages students to take part in many giving projects throughout the year, from bringing canned goods to mass each Friday, to having a "dress down day" when they bring cash donations for Sister Isaac Center, providing Thanksgiving basket dinners for families, Christmas presents for children, and clothing for homeless high school students in the community.
The school recently adopted a Catholic school in Rockport, Texas, where Hurricane Harvey caused widespread damage this summer and many of the students there lost their homes.
Price says the important goal is to create leaders who will serve their communities in the future.
"Those challenges," she says, "have helped me show compassion to the many people who come my way."
To view more of photographer Chris Brehmer's work, visit chrisbrehmerphotography.com.