High Note
Danijela Zezelj-Gualdi's musical career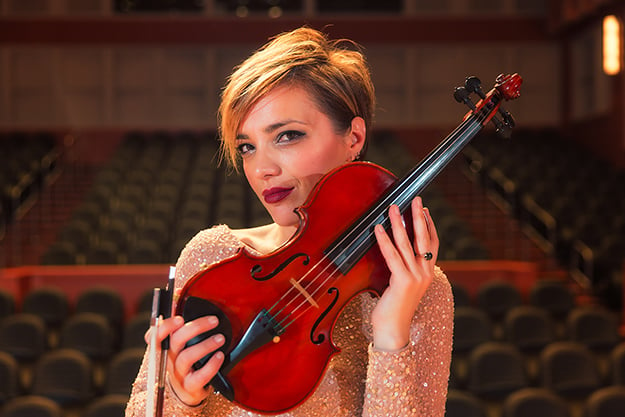 To make a living, musicians become jugglers, balancing a mix of teaching, performing, and recording.
You could say that DANIJELA ZEZELJ-GUALDI is a master at keeping those balls in motion. In addition to her teaching violin and viola at University of North Carolina Wilmington and appearing as a featured performer with a variety of ensembles, she has become an entrepreneur, creating new programs to expand music into the community and to make Wilmington into a regional hub for young instrumentalists.
One of her balls in the air is UNCW's Community Music Academy, an outreach program of which she's artistic director. Zezelj-Gualdi says it's a way for the university's part-time music faculty members and area musicians to find additional teaching opportunities with young people in the community, while extending music lessons into local schools. UNCW music majors sometimes also teach, mentored by university faculty members.
"I am very proud of what I have done with it … this past year and a half. It's really growing," she says. "I had this vision for the academy to be a really beneficial part of our community. We provide free classes for those who can't afford them and go into the schools with master classes."
Zezelj-Gualdi is currently negotiating to expand the academy into more schools. And she's offering internship opportunities to UNCW business majors to help design marketing initiatives to raise awareness of the program.
She also directs The Accidentals, a 13-member string ensemble made up of her best UNCW students. It's the third year for the group, the seed Zezelj-Gualdi hopes will eventually flower into a full UNCW orchestra.
The musician is also looking beyond the Cape Fear area in an effort to spark interest and excellence in string performance. In June, she launched the Cameron Art Museum Young Musicians Competition, open to young instrumentalists aged thirteen to nineteen from North and South Carolina. In 2017, she hopes to invite applications from young Georgia residents as well.
"The finalists were fantastic musicians," she says, pointing out that the initiative is good for Wilmington because it spotlights the music resources in the area. It's also good for the youngsters, she adds, many of whom have limited opportunities to hear and test themselves against other young classical musicians.
"We have sponsors who are interested in growing this into a big competition, and I'm looking forward to next year," she says.
Add to those juggled balls Zezelj-Gualdi's concert dates, which this October included a performance of Astor Piazzolla's "Four Seasons of Buenos Aires" with the Wilmington Symphony Orchestra. Not only did she enjoy playing a work from her favorite composer, but she was fortunate enough to play it on a very special instrument – lent her by Ronald Sachs Violin shop – and she was thrilled to perform for the first time at Cape Fear Community College's Wilson Center, new home to the Wilmington Symphony.
Zezelj-Gualdi attributes her determination and drive in part to her experiences in the former Yugoslavia during its decade-long civil war. A Serbian, she grew up with her family in a coastal Croatian town, and when war among Yugoslavia's six republics heightened ethic hostilities, the family felt threatened. During her teen years, she spent time as a refugee, her life and her education disrupted. Even when the family moved to Serbia, existence was precarious and uncertain. Yet the young musician managed to persevere with her studies, perform with professional ensembles, and earn her bachelor's degree at the Academy of Arts in Novi Sad in Serbia.
A chance encounter with some Americans led to a full-scholarship offer from Carnegie Mellon University in Pittsburgh, where Zezelj-Gualdi completed her master's degree and met her future husband, Italian-born pianist Paolo Gualdi. From there, both went to the University of Georgia for their doctoral studies.
Since she came to Wilmington in 2009 to join the UNCW faculty, Zezelj-Gualdi's personal life has taken some juggling as well. Her husband teaches at Francis Marion University in Florence, South Carolina, and commutes to Wilmington on weekends. He also tours globally. The couple has a six-year-old daughter, Julia, who maintains a busy schedule of school, music, and dance.
But surviving the bloody dissolution of Yugoslavia and all that entailed "made me stronger and more determined," Zezelj-Gualdi says.
"I feel I can bounce off any situation in life," she says. "When everything is given to you, you may not appreciate what you have. I am so proud of what I am now."
To view more of photographer Chris Brehmer's work, go to www.chrisbrehmerphotography.com