High Hopes for Small Spaces
The tiny house movement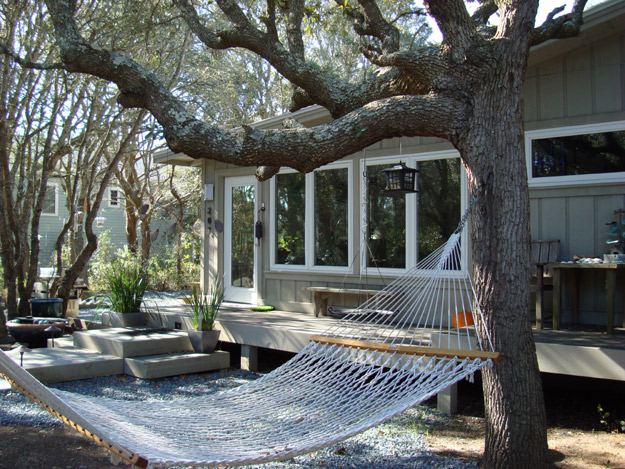 The house is named High Hopes for a reason. When the '40s-era Fort Bragg barrack house was delivered to JO TILGHMAN'S family in the mid-1950s as a summer vacation house, it sat without heating or cooling for several years while her parents finished renovations. Still, it became a treasured part of Tilghman's childhood.
"It grew to be our favorite place as a family, and we spent most of each summer there," Tilghman says.
Fast-forward fifty years when she inherited High Hopes – literally and figuratively. Tilghman found herself thinking about selling her historic bungalow in Wilmington to relocate. High Hopes, in Oak Island, needed major renovations once again, but more dauntingly, it would require Tilghman to make some hard decisions about downsizing and efficiency.
At 1,300 square feet, the structure was larger than the miniscule 100 to 400-square-foot homes that make up the Tiny House movement Tilghman has kept an interested eye on. But the space would have to pull double duty, serving as an office for her interior design company as well as a permanent residence.
It took three years for her to learn the art of living lean, but in December 2008, Tilghman moved into her favorite little house from childhood.
The urge to live simply is nothing new, but after a housing crisis, a dim economic outlook, and rising energy costs are considered, the idea has never been so attractive. The savings are plentiful, if you're willing to make the necessary sacrifices: less maintenance and repair, lower heating costs, reduced ecological and environmental impact, and a smaller mortgage that clears up time and money to pursue your passions.
The sacrifices? It's not just a matter of clever and efficient design to open up small spaces for multiple uses. You have to reconsider every aspect of your life – how you eat, how you dress, how you relax, how you entertain, how you work – and shed what isn't essential.
"It really requires that you rethink and change your life," Tilghman says. But she thinks that's a good thing. "It minimizes the focus on acquiring and keeping things and allows you to focus on the parts of life that really do matter."
Tilghman isn't the only local resident catching on to the small space trend.
Seeing potential for growth, In House Container Homes brought its innovative contribution to the trend to southeastern North Carolina in early 2013. The company offers eco-friendly, endlessly customizable homes made from shipping containers. The surprisingly durable structures are easily remodeled and joined together to create modern housing options. Construction takes a little more than half a year to complete, and with much less investment than traditional construction costs, container architecture seems like a clear choice for some young couples and recent retirees.
But Matt Hosmer, the company's owner, suggests the container homes work for more dynamic families, too.
"It's open to anyone," he says. "You can do more than you think. They don't have to be just a box. That's just where you start."
Bess Clancy certainly agrees. She's the owner of the first container unit in Wilmington, which she's used as a studio space for nine months. But she's got big plans for a container home once she finds the right piece of property.
"I like a plan that uses six containers. One of them would be a pool built into the ground in the center, with the other five units for living space on the perimeter," she says. Clancy became interested in container architecture as an affordable, sustainable option, but it was the opportunity for customization that hooked her.
"What's most appealing is the cost. You start in an affordable range, and once you see that benefit, the options are endless," she says. "It can be simple, but you can make them more extravagant, too. It's your choice."
She's even thinking of a future community of container homes in Wilmington.
A two-story container home with lots of windows and an in-ground pool offers a feasible option for those who cringe at the idea of 600 square feet of living space.
Still, the tiny house trend isn't for everybody. Even if you're not in the mindset to move, it offers an option for aging parents or young adults returning to the nest after college. Containers also can function as extra office space or a unique guesthouse.
And if none of that tips you in favor of the tiny house trend, Tilghman has another powerful argument – less cleaning time.
"I just traded my canister vacuum for a lightweight rechargeable one," she says. "I do the whole house in twenty minutes. I love it!"
(Photo of High Hopes contributed by Jo Tilghman. Photos of Bee Clancy's container unit by Harry Taylor.)