Herbal Essence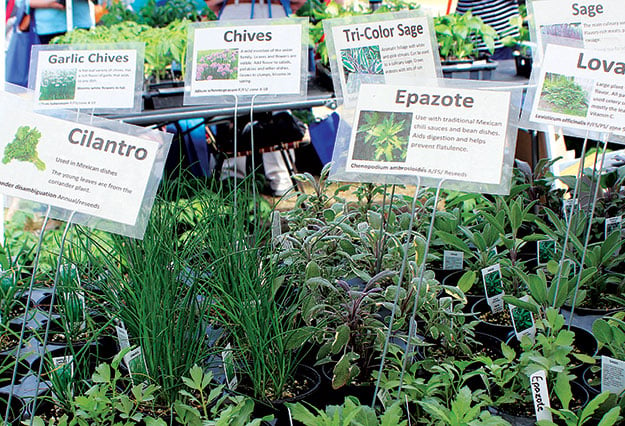 There are pretty annual and perennial plants a-plenty at Poplar Grove Plantation's yearly Herb & Garden Fair, but the stars of the show are the herbs – culinary, medicinal and aromatic.
At this year's early April event, shoppers lined up in vendor booths, their arms full of old favorites and new discoveries, waiting to pepper the herb farmers with questions about the plants' care and uses.
Herb vendors come from near – Leland – and far – western Virginia – to the annual fair. A number of them also participate in area farmers' markets. They're happy to dispense gardening tips along with their plants.
LEE O'NEILL of Radical Roots Farm suggests that a basic herb garden should consist of chives, parsley, basil, thyme, sage, marjoram or oregano (they're cousins), rosemary, lavender and cilantro.
Chives are among the most hardy of herbs in this region, and survive frost and some neglect to come back year after year. Cilantro, however, is just the opposite. A successful crop of this persnickety annual requires frequent harvesting – snipping off the leaves to let new ones come in – and continuing to plant new plants as the earlier ones bloom and go to seed, O'Neill explains.
O'Neill, whose farm is in the Shenandoah Valley of Virginia, has no compunctions about recommending lavender as an herbal garden mainstay. But local gardeners know how difficult it is to grow the aromatic herb in this coastal region.
Lavender lovers still try to nurture those plants along, said CHRIS DEAN of Shelton Herb Farm in Brunswick County.
"We've identified several varieties that we've had the best luck with," he said, pointing to a large potted sweet lavender on display. "They need a bit of TLC, since they do best in a hot, dry climate or cool, damp climate. We have neither."
Dean recommends choosing a variety that has a reasonable local track record, and keeping it in a pot that can be moved inside and out depending on the season. A sun room might be the best home for lavender in the summer, he advises.
Beyond those herb garden standbys recommended by O'Neill, herb gardeners can choose other personal favorites: catnip, lemon balm or lemon verbena and tarragon, to name a few. Or they can take a wild leap with some exotic, lesser- known varieties.
MARY BEVIER of Toad Song Farm had one such exotic to promote: huacatay, a Peruvian herb in the marigold family. Because it was recently introduced to this part of the world, huacatay is relatively unknown, she says.
"It tastes almost like tarragon," she adds. "It's a sun lover and grows five to six feet tall, and produces a small white flower."
Bevier also touts salad burnet as a garden must-have. "It likes part shade or full sun, and tastes like cucumber," she explains.
DORITA BOYD 's nominee for an exotic standout herb is lion's ear.
"It's airy and big, with big orange flowers," she says. "It's a great children's herb because it's so whimsical, almost a Dr. Seuss-like plant. It has some medicinal properties but mainly it's fun."
Boyd, owner of Raindrop Ridge Farms, grows more than 100 varieties of herbs, many of which were on offer under her canopy at the show. She pointed to the rue plants. Rue, a mounding perennial good for edging, is also helpful in discouraging insects and attracting swallowtail butterflies, she says.
Borage, a less-familiar herb, is good in salads and also for attracting bees, says JAN SMITH  of Moon Creek Farms. Smith also had a number of stevia plants, since stevia has become popular as a sugar substitute. But Smith really waxed enthusiastic on the subject of a flowering herb: nasturtium.
"Most people plant it because it's gorgeous and its flowers are edible, but it's also good for your skin," she explains.
To make a nasturtium salve, Smith packs plant cuttings into a container and fills the container with olive oil, which many herbalists say is naturally moisturizing and healing. After sealing the container, Smith leaves it for at least four weeks. She then strains off the oil and adds beeswax to give the concoction the correct consistency.
Making basic herbal oil extracts and salves was part of KATHRYN SISLER WAPLE 's class at the Herb & Garden Fair. Waple, of Nature Connect, talked about simple techniques for making herbal medicines, such as salves, in the kitchen. She likes to take a common plant – like pine – and find many uses for it, so she demonstrated how to use pine needles to make pine oil. Another favorite medicinal plant, she said, is calendula, a variety of marigold.
O'Neill also taught a class; her specialty is making herbal teas through the techniques of infusion and decoction. Infusion involves pouring hot water over flowers, leaves and other fragile plant parts. Decoction is defined as brewing herbal roots, barks, nuts and non-aromatic seeds.
The annual Herb & Garden Fair at Hampstead's historic farmstead Poplar Grove features herbal products, garden art and gardening advice as well as plants themselves. Information is at www.poplargrove. org.
Want more WILMA? Sign up for our WILMA Weekly email and announcements at WILMAOnTheWeb.com.