Helping Kids Cope
School changes can up the anxiety for students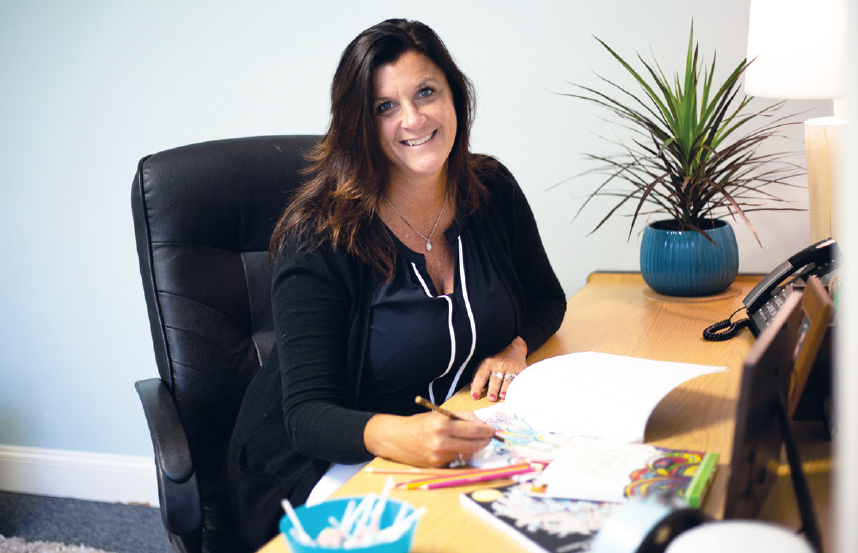 If COVID-19 has tested adults' mettle, what has it meant for area students, many of whom will be starting their school year as they ended it – remotely?
ANGELA SMITH, a licensed clinical social worker, says most of the children and adolescent patients she has been helping this year have shown increased anxiety due to COVID.
"Children are struggling with loss of social activities such as sports, music, arts, and group work that is so important to many of them," says Smith (above), who is with Anchor Psychological & Counseling Services, which has offices in Wilmington and Hampstead and specializes in trauma-based services.
"They are struggling also with having to have parents play a different role in their lives. Some children have issues going on at home and would use school as an escape," she adds.
Smith says she worries about children who are in abusive homes who are not being seen by teachers or social workers in their schools.
ASHLEY TROTTER is a licensed clinical mental health counselor and owner of Reclaim Counseling & Wellness, a Wilmington group practice that specializes in treating a wide range of mental health, behavioral, and family issues.
Like Smith, she's seen a spike in referrals due to issues with the pandemic, but she also notes the practice has been seeing an increase in referrals for years for children and teens, particularly those who are school-aged, suffering from anxiety and depression.
"We have also seen some of our clients who had made significant progress call back and report increased symptoms related to anxiety and depression over the last few months," she says. "Parents are reporting concerns related to behavioral changes, somatic symptoms of anxiety, sleep changes, and generalized anxiety symptoms in children. Families are reporting stress in managing school assignments, child care, financial worries, and overall worries related to staying well.
"We have also seen a spike in a request for marriage counseling. Families are feeling stress on many levels. This often trickles down to children and the family system," Trotter adds.
In addition, she says, many children whose parents share custody were accus­tomed to spending more time during the summer with the other parent, and in some cases have not been able to. Kids are disappointed in the imposed social dis­tancing that has waylaid sports and social activities, summer camps, and other op­portunities that allow children and adoles­cents time with friends and family.
Trotter says children experience and process stress in different ways.
For instance, younger children may not be able to verbalize their feelings and worries, and some are more susceptible to stress related to their environment such as school.
"COVID has definitely brought on changes on many levels, as well as potential feelings of being unsafe," Trotter says.
Symptoms to look out for can include changes in a child's personality. They may become more clingy, angry, or withdrawn. They may experience developmental re­gression such as bedwetting, temper tan­trums, separation anxiety, etc. Having trouble sleeping or being more fearful at bedtime may be indications of increased anxiety for children.
While adults try to put together the jigsaw-like pieces of their lives with their work, family, and school needs, Trotter of­fers some advice to help children.
"Parents can help by first being sup­portive," she says. "Respond to your child in a positive way, listen to their concerns, give them extra love and attention. Spend time talking with your children and en­couraging expression of feelings. Recog­nize that sometimes children may exhibit negative behaviors due to the fact they ar­en't able to verbalize what they are feeling or understand it."
Parents should also strive to manage their own mental health and stress because children will watch their parents' cues.
Trotter encourages parents to present a positive attitude and help children see some good things that are coming out of this difficult time, such as more family to­getherness.
And, everyone, experts point out, should be encouraged to seek professional help when they need it.