Heart of the Matter
YWCA Lower Cape Fear CEO Charrise Hart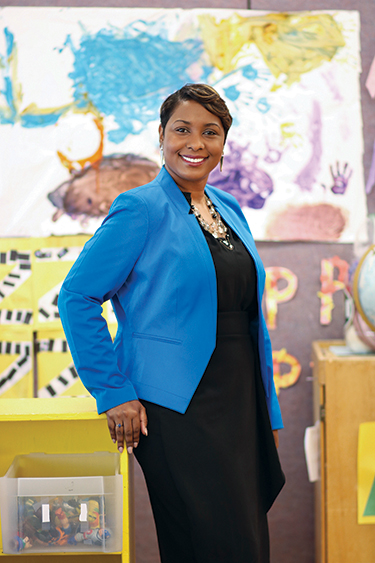 CHARRISE HART knew from childhood that helping others was something she wanted to pursue.
The Greensboro native's passion led her to an internship one summer at the YWCA. The then-college student took on a rather ambitious role mentoring young parents to obtain an education in an effort to secure a more successful future.
"I was reluctant and shy at first," Hart says. "But, gradually, I became more involved with them and found out I really loved it."
In her early twenties, Hart had found her niche.
"Working for a nonprofit is what I wanted to do," she says.
She continued mentoring and finished her major in sociology. A year later, she was offered a more promising financial opportunity at the YWCA. She easily could have been lured away to work in corporate America after graduation, but something kept pulling at her heartstrings – and that was the nonprofit world. In her position then with the YWCA, she worked as a case manager/ social worker helping 250 teen moms, making sure they graduated and got jobs.
"There were so many success stories during that time," she says. "I was hooked."
Along with helping others, Hart found something else just as enjoyable, and that was advocating for women.
"I loved empowering women, working for their rights, and giving them a chance for a future," she says.
After five years, she decided it was time for a change. She headed to Chapel Hill to get a master's degree in social work. Hart spent time working and going to school and expanding her horizons beyond the YWCA, working with two different nonprofits in Raleigh.
She became an advocate for affordable housing while working with the North Carolina Housing Coalition. After receiving her master's, Hart then went on to work with Triangle Family Services. This was an important step in the nonprofit world, Hart says.
"I had an opportunity that included working in fundraising and development. This taught me that if you don't have funding, then you really can't help others," she says.
Then, there was a phone call. She was invited to come back to the YWCA Greensboro. Apparently, she had left a favorable impression there because she was offered the position of chief operating officer. During her time as COO, she took on the daunting task of raising $5 million dollars for a capital campaign. She managed to raise $4.5 million.
"That was a big time for us," she recalls. "We were growing, and I worked with the CEO to develop a strategy for acquiring enough money to expand our buildings."
Not satisfied with just a master's degree, Hart entered the MBA program at Wake Forest University. Again, she could have entered the corporate world after that, but not wanting to deviate from her passion, she decided to once again continue in the nonprofit sector.
The YWCA held fond memories for her, and as she was rounding out her MBA, she looked for opportunities with the organization, among other places.
"When I saw there was an executive director position open here in Wilmington, I took it as a sign," she says. "It was a step up for me, but not only that, I was getting back to what I truly loved."
Hart is encouraged about her future here since landing at the YWCA Lower Cape Fear about seven months ago.
"We have lots of new things going on," she says. "We will be expanding, and we are in the process of figuring out who we are and our impact on the community."
Clearly, Hart is drawn to the culture of the YWCA. "I really like the connection to people there, and I love that feeling of empowering women," she says.
Going from COO to CEO did present some challenges for Hart.
"Personally, I had to go from an operational outlook to a much bigger picture perspective," she says. "I went from being the fixer person to the CEO to now trusting my staff to inform me of the issues."
She also enjoys bringing her MBA experience into the nonprofit world.
"I look forward to educating women on their economic advantages and opportunities. I want to put women in jobs," she says.
One thing she is particularly excited about is the recent launch of the Coastal Women's Ventures initiative. The program, a partnership with the Carolina Small Business Development Fund that has an office space at the YWCA facility, is expected to create small business opportunities for women and get them access to loan capital.
"Right now, it is funded at 32 percent, and my goal is to strengthen that number," Harts says, adding that she is also looking forward to the initiative bolstering the local economy.
Hart says she has found a new home in Wilmington.
"I love the people," she says. "And, it is nice because I have never lived in a location where everyone is so passionate about where they live."
To see more of photographer Terah Wilson's work visit terahwilson.com