Healthful Help
Kobe Campbell looks to widen access to mental health services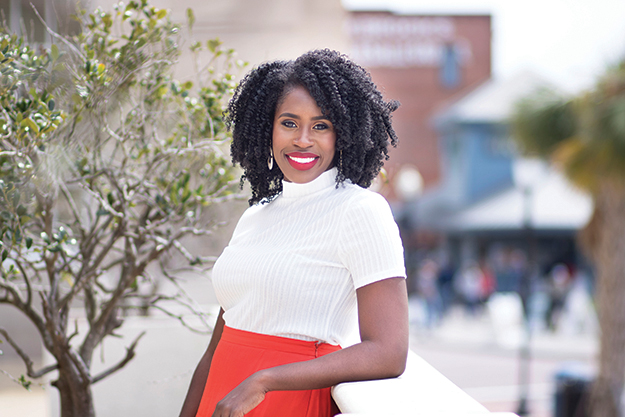 Depression can hit anyone at any time, and if it does, then KOBE CAMPBELL is there to help.
The Wilmington-based licensed counselor's mission is to create a safe place for a wide range of individuals in need. Campbell's ultimate goal is to "ensure every demographic of person has access to mental health services."
She hopes to foster a new positive mindset around mental health issues and make sure no one is turned away from counseling.
Campbell's success comes as no surprise since the University of North Carolina Wilmington grad has long been passionate about mental health issues. During her time as an undergrad, she herself battled with depression.
"I got to witness therapy changing my life," she says. "I couldn't understand why no one talked or was open about it."
Once again, Campbell came face-to-face with her own mental health issue after suffering a traumatic experience with the premature birth of her son. Her world was suddenly rocked between getting ready to pass her license and dealing with a fragile newborn.
"I was writing papers while my son was in NICU (neonatal intensive care unit)," she says. "It became a wake-up call for me. I realized more than ever the importance of teaching people about dealing with a traumatic time and its effects."
Overwhelmed with emotions and feeling isolated by her struggle, Campbell channeled her thoughts into a blog. After about a year, she leapt from blogger to full-time counselor with the formation of her business, the Healing Circle.
She now dedicates herself to helping people conquer "the darkest areas of their lives," she says. "I believe that healing should be a part of every person's story."
She took her passion for helping one step further by getting EMDR-certified trained, a technique to address trauma and post-traumatic stress disorder.
"I experienced a scary moment with my son, and it made me want to help people dealing with trauma so the world doesn't just pass them by," she says.
Another issue close to Campbell's heart is making sure every person has access to therapy. She and her husband set up the Healing Circle Therapy Fund to provide scholarships for individuals who are uninsured or underinsured. The fund is in its initial fundraising stage.
"I wanted to create a sustainable platform for those seeking help who might otherwise feel they can't afford therapy," she says.
Ultimately, Campbell looks to "help our community heal" by confronting the issues that sometimes our busy, stressful lives create. She is indeed a busy woman and offers her services in numerous ways through one-on-one counseling in her office, by teletherapy, and in group settings. She welcomes women to come meet once a week to "connect, learn, and heal with other women."
Beyond her counseling sessions and even her podcasts, Campbell further dedicates herself to mental health issues by hosting getaways.
Her Oasis Retreat is scheduled for fall of this year in Nags Head.
"I'll provide you with an understanding of how your mind body and spirit are affected by past events," she says "and help you create awareness of the things that help you be your best self."
Take 5 with Kobe Campbell
What's one key point you want people to know about mental health?
"I think it's important for people to know that every choice we make positively or negatively interacts with our mental health. The choices we make change our brain chemistry for better or worse. That same chemistry is passed on to our children and their children. The mental health of one affects the mental health of a generation."
Have you noticed an increase in the need for counseling because of Hurricane Florence's lingering impacts?
"Absolutely. Hurricane Florence swept away years of memories and hard work. Not only did it affect our community mentally and emotionally, but it also robbed many of the ability to afford mental health resources. So, many had to choose between repairing their homes and repairing their hearts."
Where is somewhere you like to go around here for a peaceful setting?
"I absolutely love going down to Wrightsville Beach or sitting on the steps of the courthouse on the riverfront (above). Those are my getaway spots to talk to God and hear what he has to say to me (And maybe to sneak in a Nye's Cream Sandwich from Roberts Grocery)"
Why do you think the concept of mindfulness has taken off?
"I think mindfulness has taken off because so many people have all they need and want and realize that there's still something missing. Our materialistic world has failed us and has us longing for something more. Many don't know what that 'something' is, and mindfulness is a great way to find out."
What's the last book you read?
"The last book I read was Children of Blood and Bone by Tomi Adeyemi. It's my favorite book right now!"
Want more WILMA? Sign up for our WILMA Weekly email and announcements at WILMAOnTheWeb.com.
To view more of photographer Terah Wilson's work, go to terahwilson.com.