Health Begins at Home
Plenty of children are adding on the pounds – and associated health risks. These tips can help.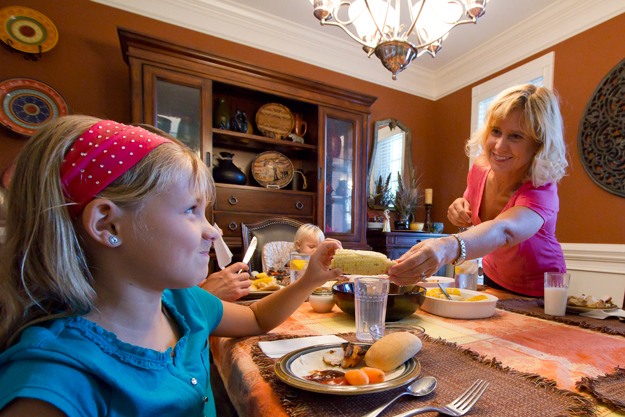 As a family practice physician assistant, J'NELLE RUSCETTI has seen plenty of children who are adding on the pounds – and associated health risks.
When studies showed that many doctors were not talking with their patients about weight problems, Ruscetti developed a fact-based approach in her work with children: printing out their growth charts and sharing the information with the parents during checkups.
"The BMI curve is what we look at," she said. "If kids are in the 85th percentile, they're overweight; in the 95th percentile, they're obese. We can at least make parents aware that their kids are at risk for weight problems, as well as high blood pressure, diabetes and elevated cholesterol as an adult."
Ruscetti says that working in a family medicine practice allows her to see entire families and get a more holistic view of how the parents' health status is likely to be passed along to the children. She cited a study of overweight people, completed in December 2011, in which a third of the respondents said that their doctors never mentioned the issue of their weight.
"If we are a health care community, why are we not saying anything?" she asked, and then took action on her own.
In January, Ruscetti, who works at Wilmington Health's office in Porters Neck, launched an eight-week program called Family Fitness Challenge to help families learn and practice behaviors that that promote healthy weight and physical fitness. The Family Fitness Challenge is based on SuperSized Kids, a program in Ruscetti's native Colorado.
"We don't want kids to be GQ models; we want them to have normal blood pressure and blood sugar," she explained.
Ruscetti doesn't recommend actions for others that she doesn't follow herself. She and her husband, Howard, a family physician with Wilmington Health, follow a few fitness practices at home with their fifth-grader, Nicolas, third-grader Aubrie, kindergartner Grant and toddler Drew.
The family's health-promoting behaviors give his wife credibility with other parents, said Howard Ruscetti.
"J'Nelle is not only able to run the program but to bring it home. That (personal experience) is beneficial to her patients," he said.
Here are J'Nelle Ruscetti's guidelines:
EATING
• As a family, sit down to a minimum of five home-cooked dinners each week. Ruscetti plans and prepares meals ahead of time and reheats them.
• Keep meal times family times. The Ruscettis turn off all media during their meals and make sure food is eaten only at the table.
• Serve fruit and vegetables with every meal and put them out first, so that if kids are hungry and want to nibble ahead of the main course, they nibble on the most nutritious part of the meal. Serve kids' meals on small plates, so they can clean their plates but not overeat.
• Take a stand against snacks. "Show me why we need snacks," Ruscetti said, pointing out that almost every activity her kids are involved in seems to have a sugary snack attached. She explained that young children often say they're hungry when, really, they are tired or bored. Parents should be aware of these miscues, she added.
• Don't keep sugary beverages, which include juices, in the house.
MOVING
• Keep track of your activity level. As a working mother, Ruscetti often doesn't know how active her kids have been that day. So her three oldest children, like her, wear small pedometers and check them when they get home. Each strives for 8,000-10,000 steps a day, Aubrie said.
• Limit screen time (including computers) to two hours or fewer per day. "When you're staring at a screen, your brain is in passive mode and your metabolism drops by 16 percent," Ruscetti said.
• Make family vacations active vacations, with plenty of physical activity mixed in.
UNPLUGGING
• Make sure kids get enough sleep. The young Ruscettis get nine to 10 hours of sleep every night. The less a person sleeps, Ruscetti explained, the less time for the body to produce melatonin, a health-boosting hormone that the brain begins to secrete as darkness falls. Light, notably LED light, prevents the production of melatonin. So, video games, TV and computers go off a half-hour before bedtime in the Ruscetti household to allow melatonin to flow, and no electronic gadgets are allowed in bedrooms.
• Plan media-free nights with no screens on at all and plan an alternative, like playing a board game or riding bikes.W
To view more of photographer Mark Steelman's work, click here.