Health Advocate
After dealing with her own painful disorder, Casey Berna speaks out for other women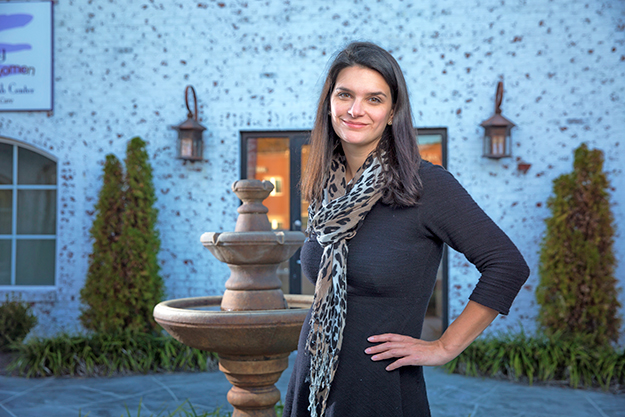 Imagine dealing with severe pelvic pain, gastrointestinal issues, and urinary symptoms for ten years – going from doctor to doctor and undergoing numerous medical tests – before finally receiving a diagnosis and treatment plan. This is the plight of millions of women worldwide.
Wilmington-based endo-awareness activist and therapist CASEY BERNA knows this pain all too well, which has led her to focus her work and advocacy on helping endometriosis and infertility patients.
"I would love for every person, especially those in the medical community, to be aware of endometriosis and how it is not just a reproductive disease, but a chronic illness that can impact many systems in the body," Berna says. "I want patients who are suffering with period pain, pelvic pain, and related symptoms to know that there is hope and resources available to help relieve their physical and emotional stress."
A disease in which endometrial-like cells grow outside the uterus, endometriosis affects an estimated one in ten women in the United States, according to the Endometriosis Association. Patients often suffer for years before being diagnosed partly because endometriosis does not usually show up on diagnostic tests such as ultrasounds, though cysts associated with it might be detected. The only way endometriosis can be definitively diagnosed is through exploratory laparoscopic surgery.
Berna started having stomach pains and gastrointestinal issues when she began menstruating. Her symptoms intensified when she was in college, resulting in numerous medical tests and the diagnosis of irritable bowel syndrome when she was nineteen.
Throughout her medical journey, Berna says she was often dismissed by her doctors as having a "low pain tolerance." Doctors eventually removed her appendix and gall bladder in an effort to relieve her symptoms, but these surgeries did little to abate her pain.
A few years later, Berna and her husband tried to conceive unsuccessfully. A fertility specialist performed an exploratory laparoscopic surgery and found a "little bit" of endometriosis and used an ablation technique.
Following numerous fertility treatments, Berna gave birth to a daughter, and afterward, her endometriosis symptoms intensified. She went on to have more fertility treatments which resulted in numerous miscarriages, during which her endometriosis became debilitating.
Through conducting her own research into endometriosis, she discovered a doctor in New York City, Tamer Seckin, who established the Endometriosis Foundation of America.
Seckin performed a four-hour excision surgery on Berna in which he cut out the majority of the disease by the roots. Afterward, she felt a difference immediately. Gradually, her pain decreased, as the source of inflammation was gone.
Berna's case of endometriosis is considered severe, however, and two years later, different symptoms emerged. Seckin and a team of surgeons performed another excision surgery on her. Berna says this second excision surgery greatly improved her quality of life.
"I often say, 'I'm in good shape for the shape I'm in,'" she says, smiling.
Amidst her health struggles, Berna, who holds a master's of social work, started blogging (caseyberna.com) and connecting with patients struggling with endometriosis and infertility on social media.
She recognized a need in the endometriosis and infertility fields for patients to have mental health support, advocacy, and resources. This led to her establishing a health coaching practice via phone and Skype, which was convenient for patients for whom in-person visits were difficult due to health problems. Additionally, she provided therapy to patients through a New York City-based nonprofit aimed at providing affordable counseling services.
"A lot of endo patients are not able to work, and a lot of the best surgeons don't take health insurance, so there is a need for affordable resources to help patients manage their disease," Berna says.
She became active in nonprofits dedicated to endometriosis and infertility. She leads infertility support groups through RESOLVE: The National Infertility Association and endometriosis support groups through Endo Warriors.
Her efforts to create resources for patients – particularly those who do not have a local support group or access to a specialist – led her to create a documentary called EndoTruths: The Impact of Endometriosis and Infertility on Mental Health. Her documentary premiered at The Unmentionables Film Festival in New York City.
She has spoken at major industry conferences and events, including the Endometriosis Foundation of America conference and the Worldwide EndoMarch. She is also trained by the Endometriosis Foundation of America's ENPOWR (Endometriosis Nation Promoting Outreach and Wide Recognition) program to teach high school students about the signs of endometriosis and encourage them to be advocates for their own health.
After relocating from Yonkers, New York, to Wilmington with her family in 2015, Berna continued providing health coaching to clients remotely while looking for ways to get involved in the local community.
She presently runs local support groups for endometriosis and infertility patients and can also see patients individually through her office at Physical Therapy for Women.
Berna draws inspiration from the opportunity to empower her patients.
"When patients come to me, they're often in crisis," she explains. "They've spent many years in pain, being told by those around them the pain is in their head, that it is not real. I think what is most rewarding is assuring patients that their pain is real, there is hope, and that they are not alone.
"My advice to patients is to be your own advocate and don't let anyone dismiss your pain."
To view more of photographer Chris Brehmer's work, go to www.chrisbrehmerphotography.com