Head Of The Table
Jane Steigerwald helped grow Feast Down East's reach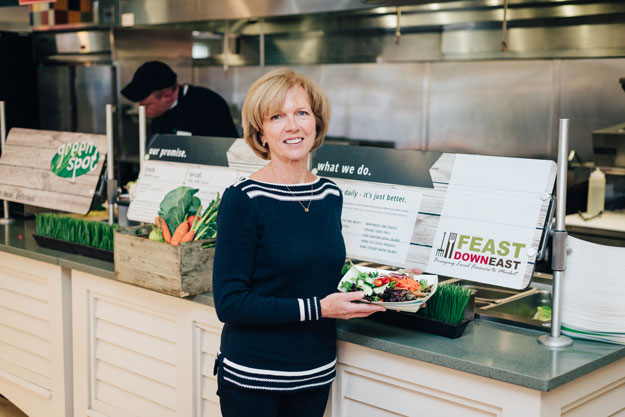 JANE STEIGERWALD (above) came to Wilmington almost a decade ago hoping to relax at the beach.
But retirement didn't suit her. She had been working since the age of fourteen and soon grew restless. She began volunteering for the Southeastern North Carolina Food Systems Program (SNCFSP), now known as Feast Down East. The mission of Feast Down East is to create a healthy, accessible local food system that supports economic growth in Southeastern North Carolina.
"The effort was just getting off the ground and just beginning research in the area of child nutrition and the challenges of bringing fresh local produce into school cafeterias," Steigerwald recalls. "That was right up my alley, as I had spearheaded similar efforts in my twenty-plus years as a child nutrition director."
As Steigerwald recently wrapped up her nearly nine-year career with Feast Down East – she retired this spring – the nonprofit has expanded under her leadership.
Feast Down East Co-Founder Leslie Hossfeld recognized early on Steigerwald's potential to help not only grow, but help lead the organization.
In Steigerwald's time as director and executive director, Feast Down East has grown from a six-county outreach area to eleven counties. She developed its farm-to- school program as well as a Food Corps project, and she is credited with outfitting the Food Hub in Burgaw where farmers bring their goods to be packaged and shipped out for delivery.
"I can count on one hand how many truly genius decisions I've made in my life, but in 2009, I did just that," Hossfeld says. "I hired Jane Steigerwald to help me with my work on Feast Down East. It was the smartest thing I've ever done."
Steigerwald has always been fascinated by how nutrition could impact health. She began her career as a dietitian working with the elderly, but she soon realized awareness needed to come a lot earlier to make an impact on overall health.
She recognized the need for early intervention and educating children on the importance of a healthy diet. She was drawn to the field of child nutrition, hoping she could have more of an impact.
"Child nutrition gets a bad rap, but that's not always the case," says Jane Steigerwald, former Feast Down East director. "If you have leadership who can think outside the box and be creative and think about the health of the children and not just the bottom line, improvements can be made."
Under Steigerwald's leadership, Long Island's Islip School District won awards for the Best Kid's Menu in America Contest and also an award for the best use of commodity foods at the state level. Steigerwald says she hired cooks who shared her passion for preparing healthy food for students, and the system gradually shifted to incorporate more fresh foods and from-scratch cooking. She also hosted training sessions for other school districts to help guide them towards healthier, more creative menus.
When Steigerwald started working with Feast Down East, Hossfeld relied on her ability to connect local farmers with larger institutions such as schools and medical facilities. The supply was there, but Steigerwald was tasked with building the demand and creating an effective distribution system.
"As things progressed, I began pouring my heart and soul into it, and it was just the right fit," Steigerwald says. "There was more and more work to be done."
Though Steigerwald acknowledges the challenges of working for a nonprofit with limited funding and resources, those challenges were offset by her desire for change. She had changed the system before, and she knew she could have an impact in Southeastern North Carolina, as well.
One of the elements of the organization that is near to her heart is its healthy communities program.
The program aims to improve the health of limited-resource consumers by providing access to fresh, local food. Feast Down East has partnered with the Wilmington Housing Authority to connect with several public housing developments located in "food deserts," or locations where residents have limited access to affordable fresh foods.
According to Steigerwald, a key component of the healthy communities program, as well as Feast Down East's overall mission, is building personal connections.
Now, Steigerwald is stepping down to finally relax on the beach.
"My work with Feast Down East has been the highlight of my career," she says. "I feel tremendously blessed and honored to have made a difference in the lives of some extraordinary people in our communities. The people I have worked with – farmers, chefs, low-income residents, local food business owners, and professionals alike – have left a lasting impression on my heart, and I hope I have earned the same from them."
Feast Down East's annual fundraiser is May 20. The Raise the Barn event (shown above) features a tapas-style dinner with local ingredients, live music, and silent auction. Info: feastdowneast. org/raise-the-barn
To view more of photographer Erik Maasch's work, visit ejmphotography.org.