Hats Off
Inside milliner Katie Allen's studio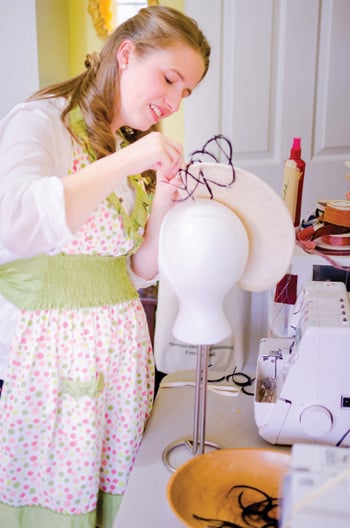 KATIE ALLEN can take an old silk blouse from a thrift store and transform it petal by petal into a beautiful handmade silk flower that adorns one of her original hats.
Allen has an eye for repurposing materials, a deep understanding of historic costuming, and the painstaking attention to detail that makes her a successful milliner and costume designer.
In the nineteenth and early-twentieth centuries, the wearing of women's hats was de rigueur, and hatmaking grew to a respected art form. Not only was a well-designed bonnet a symbol of status, but a woman without a hat wasn't considered completely dressed. While hats may no longer be a staple of women's fashion in the same way, modern milliners like Allen strive to keep the art of hat making timely.
"I like to take older period styles and try to make them fresh and relevant, so that people can wear the hats and pieces not only to period parties but also to Azalea Festival parties or Derby parties or just to a cocktail party or night on the town," Allen says.
When Allen was five years old, her mother taught her how to sew Barbie clothes. During her childhood, Allen says she was "fed a steady diet" of Rodgers and Hammerstein musicals, and she loved dressing up in the vintage costumes and hats from her parents' attic.
"I love all sorts of costumes, but I always come back to hats," she explains.
Her love for theatrical costuming blossomed, leading her to major in costume design and technology with a minor in history at Shenandoah University. Her educational background dovetails nicely with her interest in historical costuming.
Allen recently launched LIFTED, her new line of vintage-inspired hats and accessories, to Wilmington. While she has been designing hats since 2002, Lifted represents a more concentrated branch of her work.
In mid-March, Second Skin Vintage on Castle Street began featuring a selection of Lifted items in its store. Allen describes it as a "rotating collection representing various decades."
Additionally, Allen is designing a line of 1920s-inspired jeweled headbands in a range of colors and styles that will be featured at Second Skin.
"The headbands are an affordable alternative to custom pricey pieces, and they can be worn with modern looks as well," Allen describes.
Allen will officially launch Lifted Hats with a party at Second Skin, 615 Castle Street, on April 3 at 5:30 p.m. The party is open to the public.
When asked to describe her style, Allen says, "I love old Hollywood glamour and vintage textures, fabrics, and accessories. I would say my style is dramatic, unusual, not your typical garden party hat. I like something more striking and off the beaten path, but still stylish."
Allen credits Italian fashion designer Elsa Schiaparelli as one of her inspirations.
"She did off-the-wall, elegant designs and also avant garden, dramatic designs," Allen says.
For three years Allen designed costumes for The Lost Colony, the nation's longest-running symphonic drama, which is held every year in Manteo. While there, she worked with numerous visiting designers from Broadway, such as William Ivey Long, a veteran costume designer of more than sixty Broadway productions and winner of six Tony Awards for costume design.
Locally, Allen has designed costumes for several theater companies, including Big Dawg Productions, Shakespeare on the Green, and Browncoat Theatre. She has also dabbled in work for the movie studios, having costumed an independent film.
Beyond her formal training, Allen's work grew through trial and error and a willingness to take risks.
"Anything I wanted to do, I tried on my own, and some things would work and some wouldn't," she says, smiling.
When possible, Allen prefers to take clients shopping to second-hand stores and fabric shops, which ensures that they both have the same vision for the piece. Allen uses locally sourced embellishments from antique stores and estate sales whenever possible. She offers several fittings and will even do alterations after the item has been worn once to ensure the customer is completely happy with how it turned out.
Allen's future dream is to own a costume supply store filled with handmade, noncommercial, unique pieces. She says that while that dream is far off in the future, Lifted is the first step toward that goal.
Jan Wutkowski Moves Studio Space
The Azalea Festival's garden luncheon, Kentucky Derby parties, Easter, and wedding season are around the corner, and women want hats for all of them. This time of year caps off JAN WUTKOWSKI's busy season when she's spent hour after hour hand making headpieces for those events.
Wutkowski, a longtime milliner and owner of Amuse Artisanal Finery, recently moved her studio from downtown Wilmington to 3720 Carolina Beach Road. While the former South Second Street spot doubled as a retail outpost, Wutkowski's space now operates by appointment only.
One spring, mid-season into the crush of orders, her assembly line consisted of a taupe hat with a traditional wide brim and wispy feathers nearly ready for an Azalea Festival patron, a white column being molded into a top hat for a beach bride, and a lilac piece sinuously curving around a wooden head form.

Even before making them, Wutkowski loved collecting hats. They reminded her of growing up in Mississippi where the women around her wore hats – to church, out shopping, on trips.
It was while living in Melbourne, Australia, that she checked out an artisan craft school down the street from her apartment. Among the glass blowers and blacksmiths, there also was a millinery school attached. She took one class and was hooked.

That was about twenty years ago, and today Wutkowski sells her pieces, travels to teach the craft, and continues to learn.
"I always say glue is a four-letter word," she says. "Milliners don't glue things to hats, and I don't decorate them. I'm making the hat."
To view more of photographer Erik Maasch's work, go to www.websta.me/n/emaasch