Hands-On Holidays
AR Workshop opening with new DIY options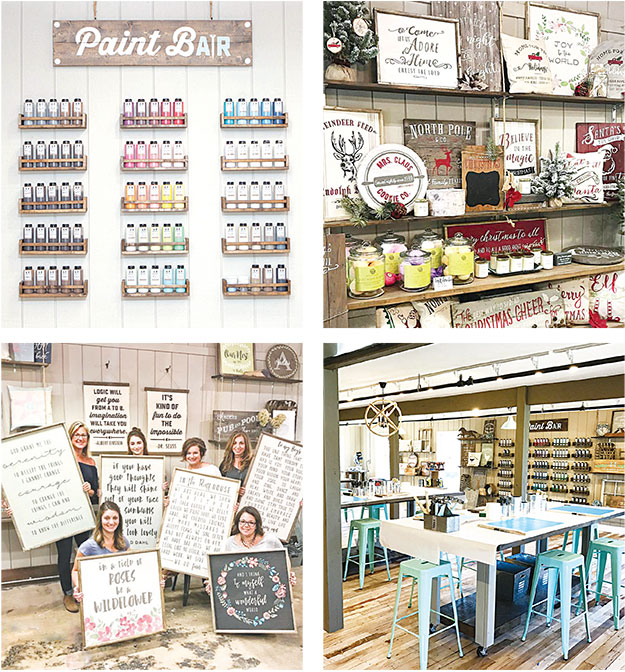 LISA FERGUSON started thinking about getting back into the working world after taking time off to care for her eight-year-old twins. She was drawn to AR WORKSHOP for the idea of being her own boss.
"I haven't worked in over ten years, and I wanted something that would be flexible so I could still be active at my kids' school," Ferguson says.
Her sister told her about an AR Workshop outing she went to in Charlotte, and it seemed like a good way to return to business outside the house. Once decided, Ferguson transitioned from stay-at-home mom to business owner with co-owner, husband Ed, at her side in the boutique DIY studio.
Two Charlotte-area women last year launched AR Workshop, a concept that is rapidly expanding in cities around the country through franchising.
It offers hands-on classes for creating custom home décor from raw materials. Private workshops last for two to three hours, depending on the project. Last month, the Fergusons were working diligently to move into their new Wilmington location at The Forum, in a spot that was formerly a storage space for the shopping center. They are planning a grand-opening event 6-9 p.m. December 9, in time for the holiday giving season.
Lisa Ferguson has a background in interior design and sales, which meshes perfectly with the AR Workshop concept.
"I love it (interior design) and have an eye for color," she says, adding that Ed also enjoys the process of creating. "My husband is super handy, and we love doing projects around the house. I explain to him what I'm envisioning, and he makes it work. We just get each other that way."
She believes her sales management experience will help with running the place and staff behind the scenes.
The workshop invites anyone with an interest in creating their own artistic product to come in and design something by hand using the workshop's tools and expertise for guidance.
The hands-on classes allow visitors to create décor items, often farmhouse chic in tone, such as framed signs, plank wood signs, canvas pillows, canvas wall hangings, and canvas tote bags. Visitors come in ready to learn the entire process – raw materials ready in front of them.
"The customer really does it all," Lisa Ferguson says. "We have staff to assist, but the customer will sand, stain (non-toxic), and paint their project."
Customers also learn, for example, to wire their pictures or install their Lazy Susan hardware at the end, adding to that grand feeling of accomplishment.
Not only do the workshops allow customers to find value in their work, they also allow for a fun, social atmosphere.
"We play music and really just want people to have a place to come and have a fun night out," Ferguson says.
The AR Workshop is BYOB, so customers are welcome to bring in any wine, beer, or appetizers of their choice.
Lisa Ferguson says the workshop is great for children ages eight and up, and everyone leaves with a quality product they can display in their home.
"It's a perfect place for team building," she says, "date night, girls night out, and we've already booked several birthday parties, too."