Growing Pains
Local food entrepreneurs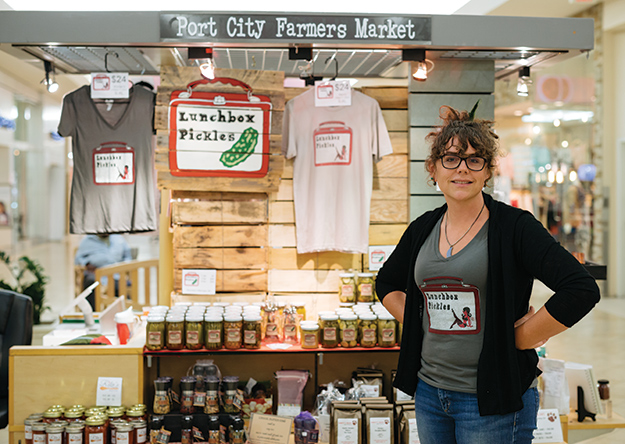 You start making something awesome – pasta sauce, or cookies, or soap – and all your friends start telling you that you should sell it. At what point do you decide you are ready to get serious about packaging, marketing, and facilities?
At what point do you decide to quit your job?
Starting Out: Road Warriors
ROBIN HILL and her husband, Bart, had been brewing beer and making wine for twenty years before they started PANACEA BREWING COMPANY – craft kombucha they sell from a fitted-out 1965 VW bus at farmers markets and events.
"I actually was never really on board when he wanted to open a brewery before, because I don't like beer," Robin Hill says. "So, we finally found something we can brew together that we both love and are passionate about."
They brewed their own personal kombucha for two years before deciding to sell it. When their youngest kid left for school, it seemed like a good time to finally attempt a business. They tweaked the recipes, added new flavors such as apple pie and watermelon mint, rented out space in the Burgaw Incubator Kitchen, and fitted out the tap system on the bus.
Customers can check Panacea Brewing's Facebook page for future events, such as Old River Farms' Fenders on the Farm scheduled for November 5.
"So far, almost all our sales have been (through) word of mouth and Facebook," Robin Hill says. "Commercial real estate space in Wilmington is very expensive. We've decided to grow into a taproom at some point later, when we can afford it."
But for the moment, they're staying mobile. In the next year, they want to expand their wholesale business, selling kegs to restaurants and breweries, and to set up a functioning bottling process, so they can begin to sell bottles to stores.
(Bottle photo c/o Lindsey A Miller Photography)
Building Up: Shelf Space
JULES DEBORD (above) and her girlfriend were making pickles for years as well, before deciding the pickle business could be full time.
DeBord's business LUNCHBOX PICKLES sells twenty different varieties of gourmet pickles and condiments at seasonal farmers markets and multiple retail locations.
To counteract the winter season, when the outdoor markets close, DeBord has been proactive and created the pop-up Port City Farmers Market, which will have a kiosk in Independence Mall through December 31, and a market/chef demonstration Tuesday nights at Waterline Brewery Company through November 25, showcasing not just her products, but other local vendors, as well.
"I'm big on planning ahead, and I don't like to take risky steps," says Jules DeBord, creator of Lunchbox Pickles. "I don't want to put myself in a hole."
She's built a network of cucumber and pepper farmers to make sure she has constant suppliers and rented a large storage space to keep inventory, so that during the busy times of the year, she knows she doesn't have to worry about making giant new batches. She and her girlfriend still make the batches in their kitchen, which has been certified by the state, but DeBord is quick to point out, it's not really their kitchen anymore.
Planting Roots: Home Base
ILENE EVANS of HIPPIE CHICK GRANOLA CO. went another route.
Back in New Jersey, she was just selling granola from the back of her car, uncertified and by word of mouth. But, when a friend offered a unique opportunity to move to Oak Island, she decided to go all in.
"I decided that instead of certifying my home space, I would look for a space," Evans says. "My first thought was maybe I can build this commercial kitchen and have an online store, but then I found a space on Oak Island in the center of town, and I thought to myself that would be a great retail space."
That was in October of 2013. She quickly built up a local base, and to weather the seasonal beach town trap of no foot traffic, she diversified her product line to hook visitors on a particular granola flavor, so they would order it online once they left for the season.
She also targeted the online food gift space, pursuing large corporate and personal gift basket accounts and offering free gift wrapping.
"In that sense, I'm one-stop gift shopping for people who have a lot of gift giving to do certain times of the year," Evans says.
Three different strategies, to be sure, from the cautious to the big jump. But in all three cases, what seems to be most important – besides having a quality product – is that new business owners listen to their own instincts and follow their own timeline for growth.
Because only you are going to know when the time is right.
To view more of photographer Erik Maasch's work, go to ejmphotography.org.