Group X for guys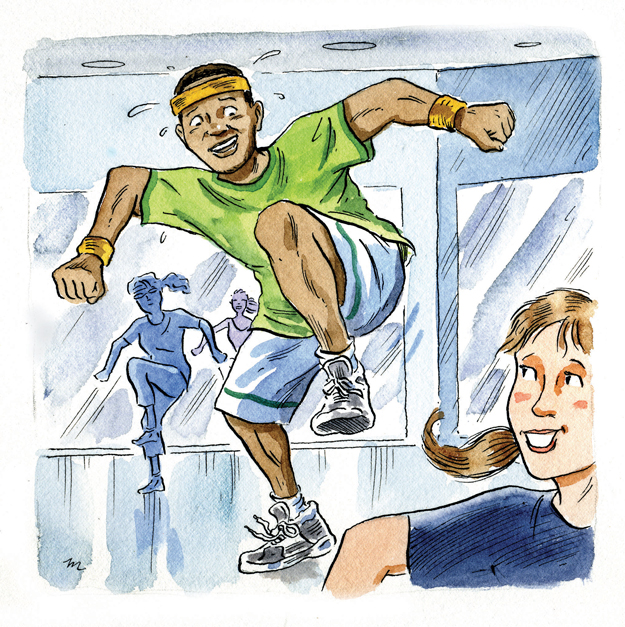 All I was trying to do was get some extra credit points for my sliding grades in physical education class; nothing more, nothing less.
There I was, standing in this long line of fellow University of North Texas sophomores to register for any fitness training class available at the rec center.
I already had my picks: rock climbing, swimming and weight-lifting.
But when I finally got to the table, a gentleman who I'm going to refer to as Mr. T., told me that none of the classes I wanted were available as he slid a pink sheet of paper entitled "Group X Fitness Classes" across the table.
"What the crap is this?" I replied. "These classes are for chicks."
Mr. T. was not amused. I think he worked part-time for the mob and had pecs bigger than my face.
"It's either this or you lose the points. You need to pick a class or get out of line," he said.
The sheet had slim pickings — jazzercise, pole dancing (yes, our tax dollars pay for this class), zumba, pilates, step movement and ball bounce.
I opted for pilates, zumba and step movement.
Mr. T. took my form and told me that pilates started next week. But, zumba and step movement began tonight.
Great, I thought. I'm going to be the only guy in this class, and I'm probably going to break my neck. Woe is me, right?
That evening, I arrived for my 30-minute zumba class. And guess what? I was the only guy in a class of more than 50 women.
But after moving to my spot in class — way in the back — I was shockingly surprised at how much fun I was having.
Once the music started, and our instructor gave the beat count, I was on point. My hips were gyrating to the beat, my turns and steps almost in unison with the other students. I was having a blast as beads of sweat dripped on the floor around me.
I admit, I was sad when this class ended . . . only because I had to attend step movement next.
Why, you ask?
Well for starters, I have size 14 feet. So try moving to the beat with these boats. I can't recall how many times my step board went air born into the legs and heads of my, once again, all-female class.
I got the picture when I came to class one evening and my board was facing the mirror away from my classmates. And if you're wondering, yes, I eventually cracked that mirror during a heated session.
But besides hurling equipment at my classmates and breaking mirrors, step movement was also a treat. Not to mention, my backside and legs were the firmest they had been since I was a regional track runner in high school.
As far as pilates is concerned, there was no skirting around this class — I hated it. All the stretching, balancing and awkward looks forced me to do what every college student does when faced with academic and social peril — drop the course.
But hey, at least I spent my refund on light beer.