Grading Curve
Angela Hewett is NHC Schools' Educator of the Year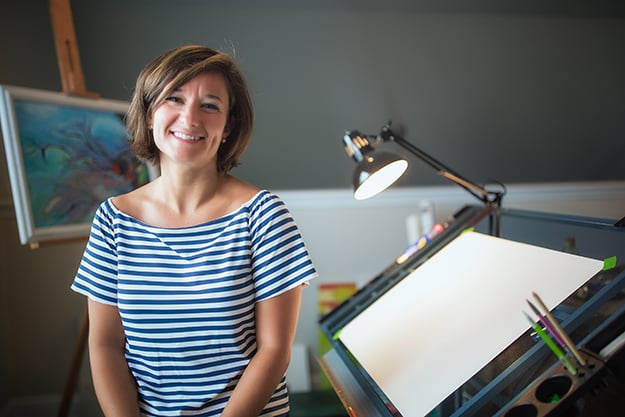 When ANGELA HEWETT, New Hanover County Schools' 2017-18 Educator of the Year, first started teaching visual arts at Ashley High School, she taught students at every level: beginner, intermediate, advanced placement.
She worked closely with some students throughout their entire high school journey.
"There's this group of students that I will forever fondly remember," Hewett says. "When you spend four years together, and especially if you spend it in the way that we did when you're working together, you're creating, you're failing, your emotions are up and down, you become a family, and that's what I thrive on."
Hewett still keeps in touch with former students and proudly shares that some of them continued on to design and create art as a career. One student now designs clothes for Kohl's. Another has been to Hong Kong and involved in 3-D modeling design and film. One student is getting a master's in art education, and another is an engineer.
"I mean, that's why I love what I do so much," Hewett says.
Teaching, however, was not always a part of her life plan. Although her mother taught high school business courses, Hewett applied and was accepted into Wake Forest University with the intention of going pre-med.
It was her high school art teacher that encouraged her to see art as more than just a hobby.
"I had a really amazing art teacher in high school, and he really pushed me to try new things and to continue in art," Hewett says. "I started to love it."
After attending the Governor's School of North Carolina and realizing art could lead to a career, she applied to Appalachian State University.
"My senior year was definitely a big decision not only of where do I want to go to school but also what I wanted to do, and I couldn't ignore that love for art."
Following her graduation from ASU, Hewett began at Ashley High in August 2005. She just finished her twelfth year at the school and is thinking of ways to maximize opportunities for the students during the upcoming academic year.
Outside of the classroom, she collects pieces created by local artists and buys local artwork whenever she travels. These works can be found throughout Hewett's home.
In the classroom, Hewett encourages students to embrace failure and to keep trying. On a personal level, she always reminds them that she is there for them and is appreciative when students feel like they can trust her.
"If at any point as life passes, they know that I'm here and I do believe they know that," Hewett says. "I think that it's crucial for students to have someone who believes in them."
For more on Angela Hewett's path to teaching, check out her Take 5 profile in August's issue.