Grading Curve
Program brings yoga to Brunswick County Schools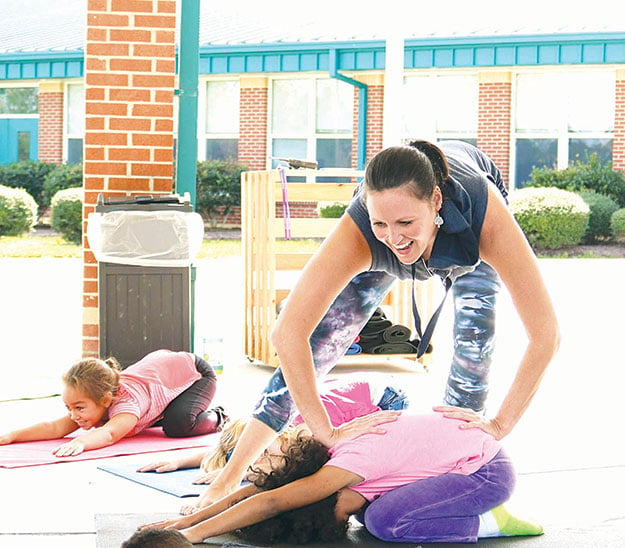 Coming off the success of the second Carolina Soul Festival fundraiser in southern Brunswick County, yoga and dance practitioner NANCY SMITH is more determined than ever to expand her program for elementary school children.
Smith formed COMMUNITY MOVEMENT ALLIANCE to address what she perceived as the need for more arts and movement programs in the Brunswick County schools. After spending twelve years teaching dance and yoga in New York City, she returned home to be near family.
Volunteering at a local school, she learned that physical education classes are held once every six days. She also saw in her yoga studio, Movement Works, that many local children do not have the financial resources to participate in private dance, yoga, or other movement classes.
With the help of local volunteers, Smith formed the Alliance as a nonprofit and began writing grant applications. One of the first she received was $1,000 from ATMC, which she used to purchase one hundred yoga mats.
Community Movement Alliance not only has support from the community, but the teaching staff at Movement Works volunteers to take their specialties to the kids.
Her first year with the Alliance met with success at Monroe and Lincoln elementary schools. When Helen Otto, then-principal at Monroe Elementary School, transferred to Williamson Elementary School, the program moved with her.
"Mrs. Otto has designed a way for the entire school to have yoga," Smith says.
On Wednesdays, Alliance employee Alaina Edwards teaches second-, third- and fifth-graders. On Thursdays, Smith teaches kindergartners, first- and fourth-graders. Throughout this semester, each grade has benefited from a yoga class each week.
"The overall vibe and feel (at the school) is quite different from the other schools," Smith says. "The kids are very respectful; the hallways are quiet. It's positive energy."
She attributes the atmosphere to the school's staff but is hopeful that exposure to yoga has contributed.
The program at Lincoln Elementary, started last year, continues with the fourth- and fifth-grade yoga club.
Supply Elementary school now has yoga club for its fourth grade that meets with Smith weekly. "The teachers created the yoga club. The kids are loving it, of course, but then who wouldn't want to take their shoes off and dance around," Smith says.
Smith says she would love to be in each of the county's elementary schools with the free program, but it's entirely up to the principals.
Smith's philosophy about children and movement was developed over several years of study and participation in dance and yoga education. Arts programming in New York City is strong, she says. Smith is a graduate of Dance for Every Child, an initiative started by Jody Gottfried Arnhold, founder of Dance Education Laboratory.
Smith embraces the philosophy that dance can facilitate the learning of math, science, literature, and other core subjects.
"You can enhance the learning," she says, adding that teaching the whole child is critical.
Smith is determined to teach as many of the children she considers underserved as she's allowed to do.
"Every single body can do yoga," she says. "The lessons you can impart to kids through yoga include morals, values, and ethics. You can have those conversations. I want to impart those lessons on a large scale to the kids in our community because I know movement education is undervalued. With the onset of computers and virtual everything, where is the physical in all of that? Getting kids back to bare feet and learning about their bodies and their muscles and what they can do" is part of the plan.
Smith and her board are already planning the next Carolina Soul Festival in 2018. More than 1,000 adults paid to attend this year's event in September (children's admission was free).
"That's why I'm able to be at three schools this semester and hire two teachers," Smith says.
The festival, however, is more than a fundraiser.
"We want to celebrate and bring awareness to the importance of arts and health and wellness, to bring holistic education to our community," Smith says.
Through vendors and performers, festival attendees were exposed to a diverse mix of arts and entertainment from Polynesian fire dancers to blues musicians.
"I think it's important to expose our kids and our community to that mix," Smith says, "so they know there are things outside their immediate community."
To view more of photographer Terah Wilson's work, go to timelessfotographie.com