Giving Hope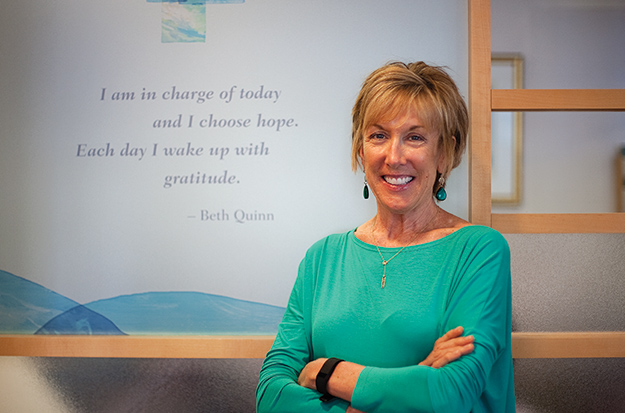 In the lobby of NHRMC's Zimmer Cancer Center, this quote from BETH QUINN (above) greets patients and visitors: "I am in charge of today and I choose hope. Each day I wake up with gratitude."
This quote represents Quinn's positive outlook after being diagnosed with stage four ovarian cancer in December 2013. Prior to being diagnosed, Quinn underwent a variety of medical tests for seven months to determine the cause of her stomach pain and bloating symptoms. Finally, during a gall bladder surgery, her doctor discovered a tumor.
Quinn and the thousands of women like her who are diagnosed with ovarian cancer each year face the same problem – there is no test for early detection of ovarian cancer. According to the American Cancer Society, only about one in five cases of ovarian cancer are caught early because the symptoms are vague and pervasive such as stomach or pelvic pain.
Recognizing a need to fund ovarian cancer research and offer support to others diagnosed with cancer, Quinn and her friend MARY BARTO (with Quinn, above) founded SHE ROCKS in May 2014. She ROCKS (Research Ovarian Cancer Knowledge Support) is a nonprofit organization with a two-fold mission: to raise funds for ovarian cancer research and to provide local support to people affected by all cancers.
"I always wanted to help the person behind me, because there was no one in front of me who ever mentioned ovarian cancer," Quinn explains. "That is what we are supposed to do, to help each other."
The organization's moniker is also a nod to one of Quinn's favorite phrases.
"My daughter said when someone does something well, I always say, 'They rock'. So it felt fitting," she says.
In keeping with its mission of research and support, 75 percent of the funds raised by She ROCKS is designated for the UNC Lineberger Comprehensive Cancer Center to fund ovarian cancer research.
The remaining 25 percent goes to the Zimmer Cancer Center to help cancer patients in a variety of ways, including supplying wigs, journals, hats, cookbooks, and resource materials. These items are on display in Zimmer's Inspiration and Information Resource Center, located in the building's waiting area. With its calming décor and inspiring quotes, the center is meant to be a source of comfort, support, and education for patients.
Additionally, She ROCKS consistently looks for other ways to support local patients, such as providing gas cards to defray the cost of transportation to treatment.
Last May, She ROCKS hosted its first golf tournament, which was organized by local golf pro Daniel Fountain. The tournament raised $10,000, and Quinn says the group plans to make it an annual event.
She ROCKS also sponsors an annual fundraiser luncheon each September to commemorate National Ovarian Cancer Awareness Month. This year's luncheon, to be held on September 17, features a keynote address by Vickie Bae-Jump on "Shedding the Light on a Silent Cancer: Ovarian Cancer Research at UNC".
Through the success of its fundraising efforts, She ROCKS raised nearly $100,000 from May to December 2014, and the group is on track to raise more money this year.
While the organization's fundraising is significant, perhaps Quinn's most important contribution to the community is the personal support she offers to people dealing with cancer.
"A diagnosis of ovarian cancer is a disease you are blindsighted with. I try to comfort them and be a cheerleader of saying 'You can do it'. My prayer and desire is to give them hope. So many people gave me hope. Cancer is horrible, but what you do with your circumstances makes a big difference," she says.
Quinn notes that Wilmington is fortunate to have the Zimmer Cancer Center so that patients do not have to travel out of town for treatment.
"The nurses are superb – kind, caring, and knowledgeable," she says.
Quinn advises women to pay attention to their bodies and be their own biggest health advocates. She credits Barto's advice and support during her medical ordeal with saving her life. When medical testing could not determine the cause of Quinn's symptoms, Barto encouraged her to continue seeking more testing until she had some answers.
"My advice to anyone is to take control of your health. If symptoms persist, keep going, keep being tested," Quinn says. "We are the only ones who really know what normal feels like for us."
To view more of photographer Terah Wilson's work, go to timelessfotographie.com