Getting to Work
Volunteers like Leslie Owens and Lisa Barry will fan out for WOW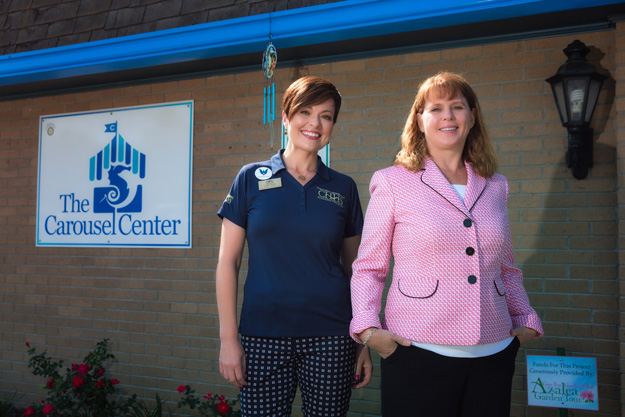 On April 29th, over thirty Wilmington nonprofits and facilities will be the recipients of some much-needed charity work. The day is designated as the WOW (Work on Wilmington) project day, run by the Wilmington Chamber of Commerce Leadership Wilmington group.
LESLIE OWENS, one of those volunteers, joined the group last August. The class, made up of about forty business and community members, meets monthly for ten months to learn more about the topics facing the area. As part of the program, participants also plan what projects to tackle on their Work on Wilmington volunteering day.
"There will be service projects happening all over the city that day," Owens says. "We meet each month to review applications sent in by organizations."
During the WOW project day, over 1,300 volunteers are expected to spread out around the city helping various groups, with a celebration at the end of the day for the participants.
Of course, Owens says, they would like to help every nonprofit that asks, but because the timeframe is only four hours, they are limited in what they can do. This year for her project, Owens, who is events coordinator at University of North Carolina Wilmington's College of Health and Human Services, will oversee the installation of ceiling tiles at GLOW Academy along with the help of over twenty employees from Live Oak Bank and volunteers from her department.
Another member of the chamber's Leadership Wilmington class is LISA BARRY, director of marketing at GE Hitachi Nuclear Energy. Along with her colleagues, Bob Dunn and Dan Hauser, Barry is in charge of a beautification project at Pine Valley Elementary School. She and about 300 volunteers will take on many projects at the school that day.
"We are going to build an outdoor classroom for the PE teacher as well as construct garden beds, plant trees and paint playground equipment," she says. The school had listed many projects they needed help with on its application.
"GE Hitachi and GE Aviation typically have around 300 to 400 volunteers, so the large scope of the project, plus being able to benefit the lives of the students, made Pine Valley a great choice for us," Barry adds.
One of the volunteers working with Barry, Denise Teets, also of GE Hitachi, says she is excited about their work for Pine Valley.
"There is the satisfaction knowing the school children will be so excited to see the freshened-up look of the school when they return," she says.
The leadership class reviews applications from local nonprofits in January, and the rest of the year the group decides what charities to assist. For Barry, being a member enabled her to learn about the community, meet leaders from various companies in the area, and have the opportunity to be involved in Wilmington's biggest single-day volunteer event.
"It is a great experience for me, especially being relatively new to the city," she says. "Through my experience on the WOW Projects Committee, I visited many of the applicant sites to learn of their needs for a WOW project. In doing so, I've learned about the many nonprofit organizations in our community who do amazing things to help Wilmington be a better place to live and work. It's a privilege to be able to give back to them through WOW volunteerism."