Getting the Scoop
Local ice cream makers expand in time for summer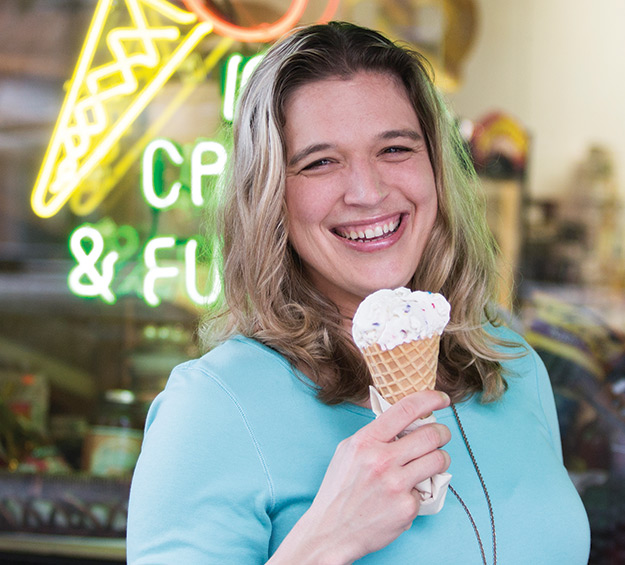 In 1984, PRESIDENT RONALD REAGAN designated July as National Ice Cream Month, and this year National Ice Cream Day hits July 19.
The Port City is in no shortage of the summertime treat, with several local spots recently expanding their offerings to get through the dog days of summer.
When it comes to sweets, KRISTEN SPETRINO (above), owner of Coastal Cupcakes and Topsee Tulip Frosting, knows a thing or two about creating tempting flavor combinations.
And now it's not just cupcakes and frosting she's creating. Spetrino recently purchased equipment and recipes from Karl Blaas, former owner of VELVET FREEZE, and is now filling wholesale ice cream orders for several local restaurants. She also takes custom orders for corporate events, weddings, and parties.
"Moving into ice cream is a great fit for us because we're able to utilize the same natural, high-quality ingredients, which we have on hand already for our cupcakes and frostings," Spetrino says.
Spetrino insists that the only way to create the best flavor in ice cream or any product is by starting with the best possible ingredients.
"Ice cream that is handmade with high-quality ingredients is night and day compared to most of what you can buy in the grocery store," she says.
Spetrino says ice cream lovers are looking for fun and funky flavor combinations, which is something that small-batch producers such as herself can experiment with. Right now she's perfecting oatmeal cream pie and banana pudding.
"Lots of people are looking for both great flavor combinations and texture in their ice cream, and both of these provide that," Spetrino says.
Coastal Cupcakes may eventually sell ice cream by the pint or half-gallon, but for now Spetrino says she is focused on creating custom flavors for area restaurants.
"It's great to be able to work with local restaurants to develop flavors that are unique to their menu," Spetrino says. "It's a chance for them to offer their customers something they can't find everywhere."
If you've stopped into KILWIN'S in downtown Wilmington for ice cream lately, you've seen that it has nearly doubled, having expanded into the neighboring space previously occupied by Dang! Southern Chic boutique.
The additional space allows more room for product displays and browsing. It has also allowed for faster ice cream service, says general manager CHARLIE MCGASKILL.
Supplying Wilmingtonians and visitors with sweets since 2001, the Michigan-based franchise specializes in homemade ice cream, fudge, and specialty chocolates. Fudge, brittles, fresh waffle cones, caramel apples, and caramel corn are all prepared on-site, their mouth-watering aromas wafting through lower Market Street.
The company recently created its own marshmallow recipe and has a number of new marshmallow products on the shelves. They're calling summer 2015 "A Marsh-Mallow Summer," and also featuring two limited edition ice cream flavors: marshmallow s'mores and heavenly hash.
In addition to marshmallows, Kilwin's has created six new ice cream flavors and five ice cream cakes. There are also nine new types of fudge as well as several new caramel apples.
New ice cream flavors include banana fudge pie, rum raisin, and blue moon – a fruit flavored, blue treat likely to compete with Superman, a long-standing favorite among children. Cakes are available in flavors such as grasshopper and turtle, and new fudge flavors include double dark chocolate, German chocolate, and toasted coconut.
"We've seen a lot of surprised faces walking through the doors so far this season," McGaskill says. "People are amazed at how much more space there is. It really allows our customers to better see all that we have to offer."
Just around the corner on South Water Street you'll find TAR HEEL CREAMERY. Now in its second season of operation on the riverfront, the Hillsborough-based ice cream maker specializes in small batch, ultra-premium homemade ice cream.
Ultra-premium ice cream, which has a lower amount of aeration and higher fat content than regular ice cream, results in a richer, creamier product, purveyors say.
Owners TONY SCHWARTZ and MICHAEL FINK partnered with former Wilmington mayor HARPER PETERSON last year when Peterson was seeking tenants for the lower level of 15 South Water Street. They operate the Wilmington store as well as two ice cream trucks that travel throughout eastern North Carolina. Schwartz says they are also working on the addition of another truck that will allow them to expand their presence at events statewide.
According to Schwartz, two of Tar Heel Creamery's most popular ice cream flavors are bourbon caramel and espresso cookie. Other flavors recently featured include coconut brownie, honey graham, apple pie, North Carolina berry, and gingersnap.
So in honor of National Ice Cream Month, do your part and indulge in the sweet taste of summer.
"It's great to be able to work with local restaurants to develop flavors that are unique to their menu. It's a chance for them to offer their customers something they can't find everywhere." – Kristen Spetrino
To view more of photographer Megan Deitz's work, go to megandeitz.com