Future in Food
Feast Down East looks to expand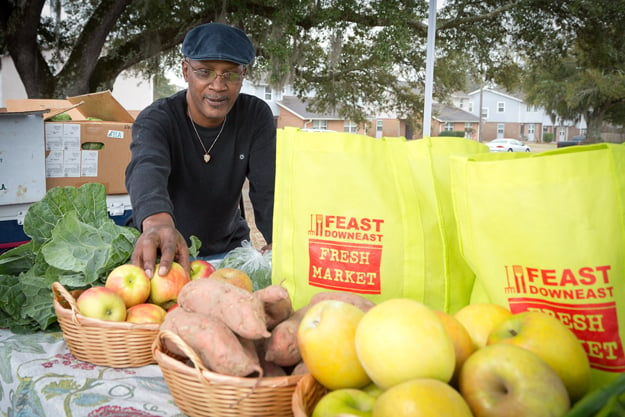 The grassroots group Feast Down East has made strides in recent years to strengthen the region's local food system, but organizers say they are just beginning.
Feast Down East was born after organizers researched job losses and saw a need to support Wilmington's agricultural industry. It was merely an idea in 2006, and in the past eight years it has grown exponentially.
The nonprofit, economic development program now supports a nine-county region, bringing southeastern North Carolina back to its agricultural roots.
"There was potential to create jobs in agriculture and help farmers transition from tobacco into crops," Feast Down East director JANE STEIGERWALD says about the concept.
Early on, Feast Down East began connecting farmers with markets, using local chefs, schools, restaurants, assisted living facilities, hospitals, and government agencies.
Its purpose was to get people focused on buying local rather than going through large vendors from far away to buy food.
"We just grew from there. It really took off; people have such an interest in helping others, going back to their roots, and knowing what they're eating," Steigerwald says.
The group also opened a food processing and distribution center in Burgaw, giving farmers in a fifty-mile radius a place to bring their produce. From there, the food is packed into a rented refrigerated truck and taken to local places in need.
Now the group is looking to expand.
Officials hope to purchase a refrigerated truck – Feast Down East currently relies on a leased truck to supply all its needs. Organizers want to start selling produce in underserved neighborhoods where fresh fruits and vegetables are not as readily available. And the group also would like to open another distribution center in the region.
The first step is raising money.
Everything done by Feast Down East is through grants, but the group is at a stage now that it is looking for more community support to keep it going and to grow. Its inaugural farm-to-table gala fundraiser dinner is planned for March 22 at Poplar Grove Plantation.
Six local chefs will be on site at the Raise the Bard event, creating dishes for attendees' dinners. Local farmers will provide fresh ingredients, and cooking demonstrations are planned as well. Along with music from L Shape Lot, a silent auction, and other entertainment, Feast Down East is also working to create a new specialty drink, made with local fruit.
"It will be the most fun gala you can imagine," Steigerwald says.
The money raised from Raise the Barn will be put towards buying the refrigerated truck.
Not only is Feast Down East interested in helping the community stay local, the group also is focused on increasing access to healthy foods.
Every Friday from 10 a.m. to noon on the corner of Rankin and North 12th streets in downtown Wilmington, Feast Down East holds a farmers market with affordable produce.
The group's website also allows customers to purchase produce boxes, filled with fresh, local food with four pick-up spots around town. Both the farmers market and the produce boxes allow purchases to be made using an EBT card.
Feast Down East hopes to use the refrigerated truck to drive from neighborhood to neighborhood, selling produce directly from the truck to those living in underserved areas. To purchase its own truck, Feast Down East needs to raise $50,000.
Recent research was done to determine just how much of an effect Feast Down East has had on southeastern North Carolina. Feast Down East has created 73 jobs in seven counties, generating $22.6 million in output to the local economy and $2.4 million in tax revenue, according to the report.
Feast Down East is planning to develop other distribution centers, including one in Onslow County to service the Camp Lejeune area, Steigerwald says.
"There's a captive audience there who will benefit from having local, fresh produce brought onto the base," she says.
To view more of photographer Mark Steelman's work, go to www.marksteelmanphoto.com.