Funding Good Works
Kimberly Batten supports the community as head of the Eshelman Foundation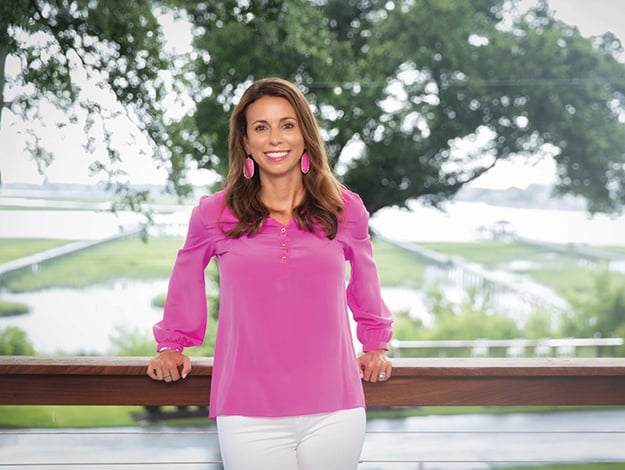 Recently, local nonprofit WELCOME HOME ANGEL took on a case for a six-year-old girl named Gabby. Gabby was diagnosed with lymphoblastic lymphoma and lymphosarcoma.
With the help of a donation from the ESHELMAN FOUNDATION, Gabby's bedroom received a complete makeover through the work of volunteers who installed new carpet, painted walls, and refurnished everything.
"It was so heartwarming to see the joy on this child's face when they got to see their new room," says KIMBERLY BATTEN, executive director of the Eshelman Foundation. "Also, it was amazing to see the relief and excitement on the mom's face knowing how their life was going to be easier now with a functioning room for their child."
LOGAN WHITE THOMPSON, executive director of Welcome Home Angel, speaks highly about Batten.
"Kim is incredibly generous and committed to our organization," she says. "Many people are happy to donate and hear about the progress later, but Kim is all about the results. She takes time to come to all our reveals – wherever they are located."
The Eshelman Foundation technically donated enough money for four bedrooms this year. And, with additional outside assistance, Welcome Home Angel is now renovating a total of seven bedrooms in the area for chronically ill children.
"Kim is one of those people who cares deeply about what she does, and it shows," Thompson says. "She wants to know about each child we help out. She is so invested in the future of every child."
Started in 2008, the Eshelman Foundation funds organizations that support children's health care or education.
Batten's dad, Fred Eshelman, had always wanted to start a family foundation. Eshelman founded Wilmington- headquartered PPD before selling the global contract research organization to private equity interests. He also founded and sold Furiex Pharmaceuticals.
For the family foundation, he had talked about it being something Batten could be involved in after she graduated from college.
Batten, who is based in Wilmington, is the mother of two kids, ages six and two, and now finds herself balancing her time between the foundation, her family, and other interests such as boating.
Since its formation, the foundation has supported more than sixty local nonprofits.
"We give out grants to organizations that serve children in New Hanover, Brunswick, and Pender counties," Batten says. "I would say about 80 percent of our grant awards are within New Hanover County."
According to Batten there a "ton of nonprofits" in the Wilmington area. So how does the Eshelman Foundation decide?
"We have two grant cycles: spring and fall," she says. "If your organization fits our mission, you are eligible to apply."
The foundation has a grant application and has a board that makes the decisions.
Besides Welcome Home Angel, another recent recipient of a grant from the Eshelman Foundation was LOWER CAPE FEAR HOSPICE.
Three new pediatric care rooms were funded for its three hospice centers.
"We supplied the funds to purchase equipment to convert any of their care rooms into pediatric care rooms, if needed," Batten says. "That way families with pediatric inpatient hospice needs can stay in our area."
This grant hit particularly close to home for Batten and her family because she lost a son to cancer in 2015.
"We would have loved to be able to bring our son back to Wilmington but were unable to because there were no pediatric hospice patient rooms in our area at that time," she says.
Other nonprofits in the area that have been helped through the Eshelman Foundation include Kids Making It, OASIS NC, Food Bank of Central & Eastern North Carolina, and Coastal Therapeutic Riding Program.
The Eshelman Foundation has kept the same strategy since its inception.
It plans to continue to do so with its vision of promoting equality and fostering awareness across all groups and empowering communities by bolstering local resources and networks that positively influence children's lives.
"I don't see any big changes in the foundation in the near future," Batten says. "We have really run the same since our start in 2008, and I feel like we have made a big impact on a lot of local organizations."
When the foundation started there were over 800 nonprofits in the area, Batten points out.
"Now, there are less but still a lot more than a lot of people would think," she says. "I think there is a huge need in our community for support for a lot of these nonprofits whether it be volunteers or financial support."
To view more of photographer Chris Brehmer's work, go to chrisbrehmerphotography.com
Want more WILMA? Sign up for our WILMA Weekly email and announcements at WILMAOnTheWeb.com.