Frozen Resolutions
Ocean Dips And Plunges To Kick Off The New Year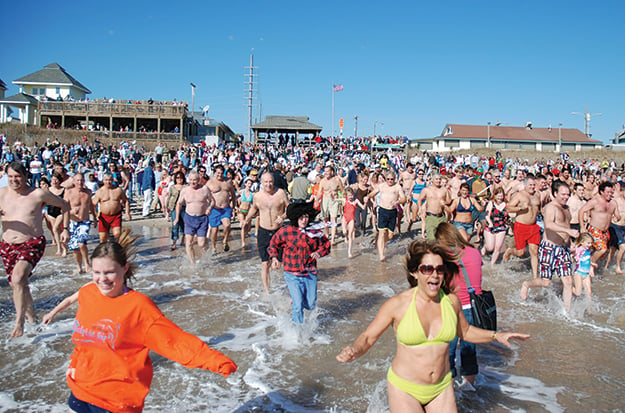 Imagine for a moment standing on the beach. The sound of the crashing waves. And the water reaching for your toes and then receding back again into the Atlantic Ocean. Now, imagine it's New Year's Day where the water temperatures can be in the 40s and 50s. It's not exactly ideal conditions to go swimming.
Or is it? To Brian Moxey the timing couldn't be better.
An upstate New York native, Moxey is the co-founder along with wife, Rebecca, of the DOLPHIN DIP – a massive, seaside event geared towards benefiting differing charities each year.
The Dolphin Dip, which draws thousands, is one of several events in the area that let the intrepid usher in the New Year with a mad dash into the water.
Participants – voluntarily – jump into the ocean at events from Wrightsville Beach to Carolina Beach, supporting local groups along the way.
For the Dolphin Dip in Surf City, swimmers and spectators alike gather at 11 a.m. New Year's Day. There're jugglers, a kite guy, an animatronic dinosaur guy, belly dancers, and costume contests. And the crowd waits for the stroke of noon – when everyone rushes into the waves.
"It's absolute controlled chaos for one hour," Brian Moxey says. "It's incredible. Rebecca is really instrumental in all this. She gets the word out, takes care of all the apparel, and does all the ordering and selling of the merchandise."
The Dolphin Dip developed on whim. The event goes back fifteen years ago when Brian Moxey decided to gather a handful of people he knew, knock on the doors of his neighbors, and take a dive into the ocean. It was so much fun, the following year he stepped up his game and reached out to the media for coverage. Just over a hundred people partook.
By the third year, when 350 arrived on the beach, the Moxeys found themselves in the position to donate money to charity from it. And the event continues to grow.
It has benefited nonprofits such as Share the Table and Hope for the Warriors, and Lower Cape Fear Hospice. This year, proceeds go toward Cape Fear Habitat for Humanity.
"It's personally rewarding to see all these people who are having so much fun in part of something we started," Brian Moxey says. "The hour of The Dolphin Dip goes by in hypertime. In the water, I take a moment to appreciate what's going on. It is a special time."
Jumping Into 2017
Dolphin Dip | January 1
Event starts at 11 a.m., with plunge at noon, Roland Avenue beach access, Surf City
Activities: Food, music, and a contest for top costumes
Benefits: Cape Fear Habitat for Humanity
Info: dolphindip.net
Wrightsville Plunge | January 1
Event starts at noon, with plunge at 1 p.m., Crystal Pier, Wrightsville Beach
Activities: Music, stand-up paddleboard raffle, and prizes for the youngest plunger and furthest traveled
Benefits: Communities in Schools
Info: crowdrise.com/wrightsvilleplunge
Polar Plunge | February 11
Event starts at 11 a.m, with run/walk at 1:30 p.m. and plunge at 3:05 p.m., Kure Beach Boardwalk
Activities: A 5K and 1-mile fun walk, auction, and costume contest
Benefits: New Hanover County Special Olympics
Info: plungenhc.com