Front & Center
Angela Rhodes makes a splash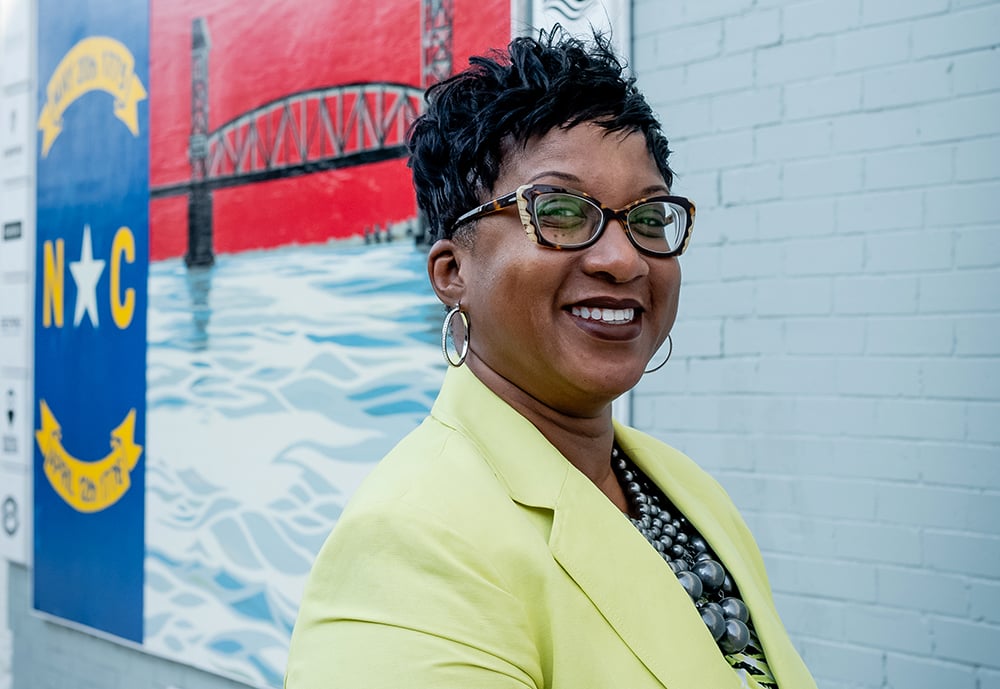 Despite the fact that ANGELA RHODES is most comfortable "in the shadow" of her famous chef husband, Keith Rhodes, the co-owner of Catch Modern Seafood Cuisine certainly casts her own glow with her leadership and grace.
When not helping run the successful restaurant, which often makes the short list of recommendations for visitors looking for places to eat, Angela also serves on the New Hanover County Tourism Development Authority.
High school sweethearts, Angela, a Pender High School graduate, married Keith, a Laney High School graduate, on her eighteenth birthday. And, they have been working on their culinary plans for nearly thirty years.
"I remember him having a storage unit and collecting and putting dishes and glasses in it, saying 'I'm going to have my own restaurant one day,'" Angela says. "And, I was like 'Yeah right,' always the Doubting Debbie, but here we are. This has been his baby."
This "baby" is the award-winning Catch restaurant that has become the favorite of locals and celebrities alike.
Angela has helped keep the reigns steady even when Keith was gone starring on the culinary competition show Top Chef.
She recalls the stressful, busy summer months of 2011 when Keith was on Top Chef, and she was flying solo at the restaurant.
"I was so stressed out, wanting everything to be perfect, so when we talked, I had to minimize it all for Keith," she says. "But, everything worked out. No one burned the restaurant down."
Angela, the mother of two adult children and three Yorkies, worked for an outdoor advertising company for twelve years before leaving to help run Catch full time in 2012.
"I was afraid that working as a husband-and-wife business team wouldn't work out because you hear about that," Angela says. "But, it's actually worked out pretty good."
Being at the front of the house, she says her recipe for success is simple: "Treat people as you would want to be treated."
Serving on the New Hanover County Tourism Development Authority since 2014 as a member at large allows Angela "to promote Wilmington and the great city it is since it has afforded me a lot," she says.
She was recently elected board secretary after serving as vice chair last term.
New Hanover County Commissioners Chairman Jonathan Barfield first recommended Angela for the position, making sure she was "front and center."
Now, in addition to the advisory board, she serves as an executive committee member overseeing expenditures and budgeting.
"I was excited, thinking, 'Keith, the community is behind you. Let me see what I can do to help them,'" Rhodes says. "I am grateful to God to be able to give back to the community who gives to us."
The experience has brought "a wealth of knowledge" for Angela, allowing her "invite everyone to visit Wilmington because it is a great city with plenty of things to do, a multitude of places to visit, for adults and children alike," she says.
This year, it was especially important to get the word out after Hurricane Florence to "let people know that we are ready," she says.
One of Angela's most enjoyable jobs is scheduling the Catch food truck, which is typically booked every weekend for various events and another way to help the community when needed.
In the wake of Hurricane Florence last September, the Catch food truck set up in neighborhoods that were without power to provide access to meals. Angela often offers the food truck for charity events for local nonprofits as well.
But, the most fun Angela likes to have includes a totally different type of catch. She loves to go fishing for big fish like grouper and amberjack. She goes as often as she can and likes to take the Catch crew with her for team-building fishing trips. Sometimes, they are even able to use the fish in the restaurant.
"I am not a commercial fisherman, but in my mind, sometimes I like to think so!" she says. "It's relaxing. I enjoy doing it."
If she can't be out catching fish, she is happy to be at Catch with her team, customers, and main catch, Keith.
"I am so grateful, humble, appreciative," she says, "of all who come through the door."
---
In WILMA this summer, meet some of the women responsible for putting the Cape Fear region on the map when it comes to attracting visitors and bolstering the local tourism industry.
---
To view more of photographer Stephanie Savas' work, go to stephaniesavasphotography.com.
Want more WILMA? Click here to sign up for our WILMA newsletters and announcements.