Front Burner
Area cooking classes come with healthy twists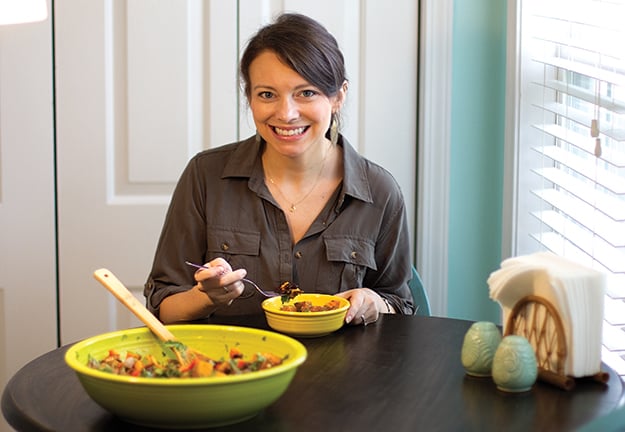 Preparing meals that are exploding with nutrition just got a lot easier, a lot tastier, and lot more fun. That's because trending now in Wilmington are hands-on, in-home cooking classes with a twist – a healthy twist.
In the comfort of home kitchens all across town, people are learning how to make scrumptious recipes using healthy ingredient substitutes like baked eggplant chips by KEVIN DEMARCO of DEMARCO STUDIO, homemade organic baby food by COURTNEY MATHESON of DELISH, and roasted sweet potato salad with black beans and chili dressing created by MORGAN DAVIS (above), licensed dietitian and owner of FORK TO FIT.
"I became a dietician because I love food, and I can do great things with it," Davis says.
Menu Tweaks
Davis started Fork to Fit in 2014 to better counsel clients on how to eat healthier by literally coming into their kitchens and teaching them one-on-one.
"I like to focus on the benefits of certain nutrient-dense foods and use them in recipes to show clients how to realistically include them in their routines," Davis says.
Among Fork to Fit's many offerings include working with families. Davis' orange peel and honey ricotta fruit dip served with strawberries always wows parents.
"The mom swore her daughter wouldn't try it, and she loved it," she says.
Davis also revamps diets for weight management and sports nutrition and helps clients battling inflammatory or gastrointestinal conditions.
Fork to Fit's "Ladies Night – In" is designed for four to six ladies who want to have a dinner party combined with a cooking class and no clean up.
"It's an alternative to going out to dinner; I take care of everything," says Fork to Fit owner Morgan Davis of "Ladies Night – In."
A recent bachelorette party chose an aphrodisiac theme.
"We made a chocolate, avocado mousse with balsamic strawberries. It was a hit," Davis says.
Class In Session
New York City chef and restaurateur Demarco, now living in Wilmington, teaches healthy cooking classes right out of his own home industrial kitchen once a month.
"
I keep it really fun and busy; it's organized chaos. We eat everything we make," says DeMarco .
DeMarco, who's been featured on the Food Network and in New York Magazine teaches class goers fine culinary techniques combined with a healthy spin on some of life's most treasured foods.
"If you pull out fat from a recipe, you have to add flavor back in," DeMarco says. "You do that by adding spices. We made eggplant chips and baked them. They went crazy over them."
DeMarco's classes book up quickly. His most sought after is his pizza/ stromboli class.
His healthy holiday cookies class shows off DeMarco's former pastry chef days. Kids are free to attend.
DeMarco also trains clients at his fitness studio, DeMarco Studio, on Castle Street.
Special Dietary Needs
Matheson, a former executive sous chef of downtown Wilmington's Elijah's restaurant now brings fresh, organic chef services to you. Specializing in creating tasty meals for those with dietary restrictions, Matheson uses all homegrown, local ingredients, sneaking in nutrition to meals without notice.
"I was cooking for a man waiting on a kidney transplant, so I had a special diet I was preparing for him – low potassium, low phosphorous. I can take unhealthy dishes and add vegetables even if they don't know," Matheson says.
Homemade organic, allergen-free baby food making classes are also offered by Delish as well as adult food cooking classes and party catering. Mostly Matheson stays busy chef-ing weekly for her regulars.
"I had a client who said, 'I hate kale.' I said 'OK,' but I had been serving her kale for two weeks! I guess she did like kale," Matheson laughs.
Matheson's latest venture will be compiling recipes for kids with diabetes following her four-year-old son's recent Type 1 diabetes diagnosis.
"It will be about not making them suffer through sugar-free foods full of chemicals," she says, "and instead taking things they can eat and making all sorts of dishes with them.
To view more of photographer Terah Wilson's work, go to timelessfotographie.com.
Comments
comments