From The Ground Up
Farm foodies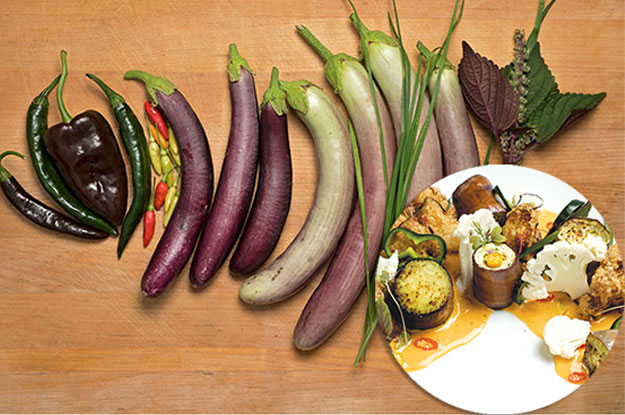 Nicholl Gleason and Joe Choi, owners of WHOLESOME GREENS, carefully slide trays of colorful greens onto custom-built racks ready to be loaded load into their van for delivery.
The tiny, delicate plants – dense in nutrients and flavor – are strikingly vibrant in color, not only all shades of green, but also reds, pinks, and purples.
Once the van is loaded, Gleason and Choi make their way to FARMAGE, a family-owned farm in Castle Hayne where Andrew Lorek grows hundreds of varieties of heirloom tomatoes and specialty vegetables.
Gleason greets Lorek as he comes in from the field, a sandy bunch of miniature onions in hand. He's discouraged that the almost daily rainfall during the second half of the summer has ruined many of his late-summer and early-fall crops. And, since the summer season is winding down, all he has to deliver today is an assortment of peppers. Unlike Gleason and Choi, who grow their microgreens inside, Lorek has no control over the elements and is at the mercy of the seasons.
Lorek's passion for heirlooms grew from a desire to grow and eat the best-tasting vegetables. Wholesome Greens began with Gleason's search for foods to heal her body from the effects of years of undiagnosed celiac disease. (Farmage's Andrew Lorek and Wholesome Greens' Nicholl Gleason shown left)
Now, they are among just some of the area farms supplying Port City chefs with menu inspirations.
Farm-to-table has been the catchphrase of the restaurant industry for some time now, but all indications suggest it's not a passing fad. Eating what's grown locally and seasonally just makes sense, and it's hard to argue otherwise. It's what's most fresh and flavorful; it helps the economy. Yet, a number of small farms still struggle to get their crops in the hands of chefs and make a decent living.
Many farmers are seeing the benefit of developing close relationships with chefs and planting to their specific needs. If they know ahead of time what a restaurant is interested in purchasing, they can better plan what to plant. They know where their crops are going to be sold, and there is less waste.
Tripp Engel, executive chef at BRASSERIE DU SOLEIL, was the first Wilmington chef to set up a wholesale account with Wholesome Greens in 2015. Within weeks, Gleason and Choi were supplying other Circa Group restaurants such as Circa 1922 and Boca Bay and had twelve new customers. This summer, Wholesome Greens partnered with Ward's Produce of Raleigh to distribute throughout the Triangle.
As Wholesome Greens' list of wholesale accounts began to grow, they came to understand that in addition to their microgreens, edible flowers, and herbs, chefs were looking for produce that would help set them apart from the competition. They began experimenting with varieties of eggplant, squash, radishes, and carrots in their backyard garden.
Then, in June, Gleason and Choi (shown right) met Lorek at the Port City Farmers Market at Waterline Brewery. When they learned that Lorek had planted over a hundred varieties of heirloom tomatoes and over thirty varieties of specialty peppers and radishes, they knew immediately that together they could get the vegetables in the hands of local chefs who would be begging for more.
With the help of Gleason and Choi, Lorek was able to sell more than 600 pounds of tomatoes a week to local restaurants as well as eggplant, squash, beans, and peppers throughout the season.
Making their way around town on a Thursday afternoon in September, Gleason and Choi were greeted by local chefs.
Chef David Owens of WRIGHTSVILLE BEACH BREWERY makes use of microgreens in almost all of his daily specials, using them to top everything from sliders to fresh fish entrees. He designs his specials around the day's fresh produce and fish, taking inspiration from whatever comes through the door. Owens is a vegetarian, so naturally, he likes to pile on the green stuff, and not just because it looks pretty.
"Our main goal at the farmers markets is to educate people on the health benefits of microgreens and introduce them to the amazing flavors and textures," Gleason says. "We want to make sure people are benefiting from them and not throwing out the pretty stuff on the plate."
Chef Jessica Cabo (shown below) of EAST AT THE BLOCKADE RUNNER utilizes microgreens not only in specials but to accent many of her main dishes. Her menus change regularly so that she can incorporate as many local, seasonal vegetables as possible, and when specialty items such as locally grown white eggplant or Chinese long beans come through the door, it's time for her to have some fun.
"As a chef, anytime there is something unique that you can't get your hands on very often, I jump on it," Cabo says. "Our customers couldn't get enough of Andrew's tomatoes this summer. They were just outstanding."
Cabo is now working with Lorek to explore planting additional varieties of radish (one of her favorite vegetables) as well as Jerusalem artichokes, delicate squash, and rainbow chard.
"Building these relationships benefits all of us," Lorek says. "The chefs get cool stuff to cook with, and we know ahead of time where it's going. It gives me the ability to experiment with new varieties of vegetables and know that there will be a market for them."
To view more of photographer Michael Cline Photography's work, go to www.michaelclinephoto.com.