From Scratch
The Southerly bakes up a classic menu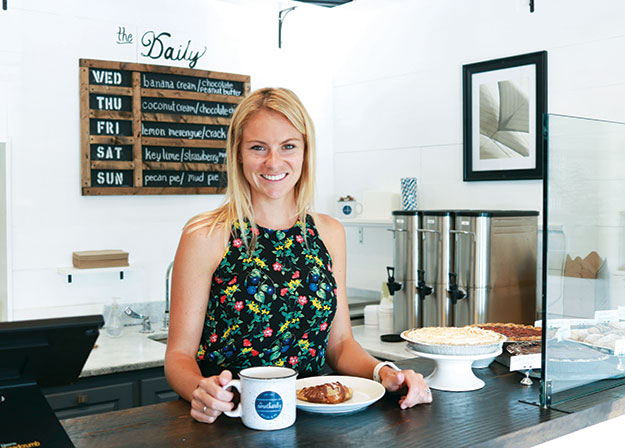 In a town known as much for its homey feel as its plentiful options for adventure, a relatively new eatery called THE SOUTHERLY BISCUIT & PIE gives Carolina Beach crowds the personal service they treasure with the fast turnaround they need to get to their next activity.
A sister restaurant to the popular Surf House Oyster Bar & Surf Camp in Carolina Beach, The Southerly was conceived by Surf House chef and owner CRAIG LOVE and general manager ANNALEE BERRY (above).
The two partnered in the summer of 2017 to create a new addition to the Coastal South Hospitality Group. Their creative concept and menu approach combine the area's charm and hospitality with its growth and modernity.
"I grew up in Carolina Beach," says Berry, The Southerly's operations manager, "and I've seen the town itself go through so many changes."
These days, everyone is so busy, she says. So, she and Love sought to create a spot where people could enjoy the traditional Southern eats and sweets they crave – on the go.
Capturing this concept meant formulating a small menu of locally sourced, made-from-scratch comfort food that could be ready in five minutes, Berry says.
Located at 1206 North Lake Park Boulevard, in the shopping center that also houses Michael's Seafood Restaurant, The Southerly specializes in scratch-made, buttermilk biscuits (a family recipe passed down from Love's grandmother), seasonal hand pies and confections, and pies by the slice. The menu also boasts biscuit sandwiches with meat and protein from local farms, which can be made-to-order. Custom whole pies can be ordered on the website or in the store, and catering is offered, too.
After opening their doors in November, the team cranked out seventy-two Thanksgiving pies in their very first week of business. But, special occasion or not, this bakery hotspot has quickly charmed locals and already has a steady stream of regulars.
For some, "it's a Sunday, after-church routine to get a biscuit and head to the beach or next door to Island Beverage," Berry says.
Others come from different parts of Wilmington or Leland to check out the unique menu. Berry says The Southerly's six-member team (some of whom came from Surf House) works hard to create a special experience for customers.
They do it all, she says, "from baking to grill to hospitality and guest services."
Berry got her start in the restaurant industry waiting tables at Surf House, where Love became her mentor.
"It's crazy to think of slinging breakfast sandwiches (back then) and what it's developed into, how much we've grown," she reflects.
While Surf House has transformed into a full-service restaurant, The Southerly now serves as a cozy, quaint space where customers can "grab and go" delicious, distinct food, but not before being engaged in friendly conversation by the staff and perhaps seeing a familiar face or two in passing.
Customers can also expect to often see new things on the menu. Berry says they are always trying out fresh ideas.
Her current favorite menu item is the seasonal jam on a hot, buttermilk biscuit. Jam flavors change every few weeks, she explains, and can include tomato basil, blackberry basil, black pepper strawberry, and blueberry cinnamon.
Other customer favorites are the country ham and cheddar sandwich and the chicken biscuit with house Sriracha mayonnaise and a touch of hot sauce. The BLT with avocado has been a popular summer pick.
The Southerly puts a health-conscious spin on classic Southern fare by taking care to ensure that all of the meat comes directly from local farms where the animals are treated well.
"It's extremely important to know what we're putting into our body," Berry says. "We're putting together comfort food and Southern tradition and pairing it well with quality product."
She and her team also aim to promote the hard work of local farmers and businesses by collaborating with and encouraging each other.
"We've recently been doing wholesale bread orders with Port City Produce," she says. "(It's great to) bring awareness to so many good, affordable products locally made."
Berry plans to continue building those relationships in the community.
Growing up, she says, her home was the neighborhood hangout where all the kids would congregate.
"My parents were always (the type) who said, 'the more the merrier,'" she recalls. Berry now shares that sentiment, which informs how she does business.
She hopes that like Surf House, The Southerly can be a place that "feels like home," for people, where everyone is "surrounded by people that are enjoying themselves."
To view more of photographer Terah Wilson's work, go to terahwilson.com.
Want more WILMA? Sign up for our WILMA Weekly email and announcements at WILMAOnTheWeb.com.