From Bait to Plate
How to get the best local seafood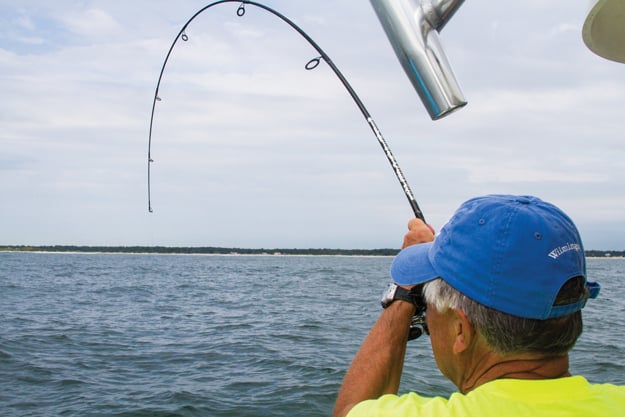 Living on the coast has many blessings, and not the least among them is the abundant supply of fresh seafood. Whether it's straight from the ocean, the river, or the seafood market, locally sourced seafood is delicious, fun to catch, and easy to prepare.
Carolina Beach resident RICH GIROLAMI has been fishing most of his life. He heads to the dock or the open water when he and his wife, Kelly, want to create a special dinner together. Finger mullets caught with a seven-foot casting net are bait for the flounder he hopes to catch.
Whether you hit the water like the Girolamis or drive instead to the closest seafood market, keep these tips in mind to enjoy the freshest catch:
What's in season now
This time of year, spot − a small, boney fish − are running and red drum are also plentiful, making it a good time to get a fishing license and learn the art of waiting.
To select the freshest seafood at the market, follow a few simple rules, says TYLER SEAMAN of SEAVIEW CRAB COMPANY on Carolina Beach Road. Fish should have clear, not cloudy eyes, and their bodies should be firm, not limp. The gills should be bright red and not slimy. Fish are good for up to fourteen days on ice, because many commercial fishermen are often at sea for a week or two, he says.
How to pick shellfish
Crabs should be alive. The market can't sell them dead, Seaman says. Males are called Jimmies, and females are Sooks. #1 is the biggest, then #2, etc.
"The darker the shell, the heavier the crab," he says. And those have more meat.
Crabs are sold by gender, size, and mixed. They can be steamed or boiled. Molting crabs are sold as soft shells and are often sautéed or fried in a light batter. They are available fresh only in fall and spring.
"Many people have the shop clean them before taking them home to prepare," Seaman says.
Shrimp should be clear, translucent, and a light gray and white color. Ocean shrimp are a little darker than river shrimp. They last longer with heads on, but the head deteriorates first. Jumbo shrimp are ideal for grilling. Shrimp can be boiled in the shell with heads on. Sautéed shrimp should be shelled with heads off. It takes only three or four minutes to cook shrimp until its light pink.
Hallelujah, it's oyster season again! Seaman believes Stump Sound oysters are the top of the line, but all local oysters are juicy and salty and come in both clusters and singles. Oysters and clams should be bought alive. Their shells will be closed. Leave the oysters muddy until it's time to cook them, then quickly spray off the mud. Clams, however, can benefit from soaking in a bath of distilled or salt water with lemon to remove grit.
In the kitchen
As far as cooking seafood yourself, the experts advise you to jump in and try it. Fish can be prepared whole or in fillets, grilled, baked, sautéed, pan seared,
blackened, broiled, or swimming in your favorite sauce. Oysters and clams, while traditionally steamed over fire, can also be popped in the oven or microwave just until the shells open. Recipes abound online, and Cape Fear Seafood Company owner EVANS TRAWICK shares one of his favorite whole fish recipes below.
Large fish such as grouper, tuna, swordfish, and wahoo are best filleted or steaked. Plus practically speaking, they're too big to cook whole. A small but flavorful delicacy is grouper cheek, which Seaman describes as "the best meat in the fish." Seaview sells the grouper head separately, and they have regular customers who buy everything in stock. Fresh grouper is whiter and cleaner looking than frozen fillets, Trawick says. His Monkey Junction restaurant is a local favorite. He advises consumers to experiment and educate themselves.
"Go to Whole Foods and buy fresh salmon and go to Walmart and buy frozen. They look different," Trawick advises.
The biggest mistake people make with seafood is overcooking it, Trawick says.
"Overcooking seafood is about the worst thing you can do to it."
"There's a fine line between being overcooked and cooked just right. Whether you're frying shrimp or sautéing fish, it's the same thing," he says.
Overcooked shrimp will feel like chewing gum, he says, and fish dry out very quickly when heated.
Hands-on
Back from the ocean, Girolami prepares his flounder.
Using a filleting knife, he takes two fillets from each side and skins it so there is only clean white meat.
Using a recipe shared by his son who is a professional chef in Hawaii, Girolami combines finely chopped leeks, macadamia nuts, and flavored breadcrumbs with olive oil, salt, and pepper. In a rectangular glass dish, this is layered over flounder filets that have been drenched in olive oil, then salted and peppered. He bakes it in the oven for eight minutes (more or less depending upon the thickness of the filet) at 375°, then broils it for two minutes to brown the top.
"The same preparation works well with most fish. The original recipe from my son was actually used with scallops," he says. "What I like about it is that we've done it all ourselves, from catching the bait to preparing the food for the plate. No matter what happens, we can feed ourselves."
Whole Baked Snapper in Salt
courtesy of Evans Trawick, Cape Fear Seafood Company owner
Ingredients:
1 whole red snapper, head and tail intact, 1½-2 lb.
(other fish can be substituted)
8-10 cups of kosher salt
1 cup water
1 lemon
Extra-virgin olive oil
Directions:
Mix salt and water in bowl. Spread half of the mixture on a baking pan in a rectangle slightly bigger than fish. Place fish on top of mixture.
Cut lemon in half and cut three slices to place inside of fish. Cover fish with remaining mixture and enclose completely.
Bake at 450 for about 30 minutes.
Tap all around fish with the back of a spoon to crack salt. Remove salt and top fish with remaining lemon juice and a drizzle of olive oil.
To view more of photographer James Stefiuk's work, go to http://carolinafoodphotography.com.