Fresh Style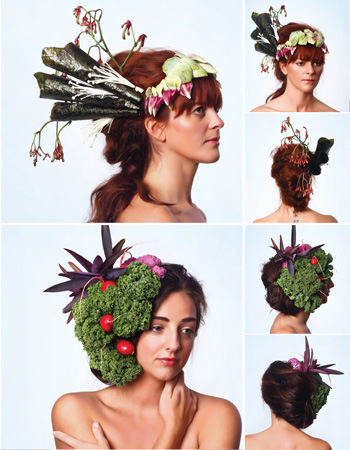 What did you expect? A dress made out of raw meat? Let's leave that up to Lady Gaga.
Hairstylist Alison Leonard took time out of her hectic schedule to bring to life an off-the-wall, or should we say, off-the-vine, concept.
These avant-garde headpieces came to life after a few hours of brainstorming and several trips to Whole Foods and Saigon Market.
"I knew this issue was going to be about food, so I thought this would be a fun way to incorporate interesting foods with an upstyle," Leonard said.
"I walked through the market looking for unique shapes, colors and textures. The challenge with creating this look was allowing it to organically happen because of the fragility of these headpieces. It became 'live' art."
about Alison Leonard: Leonard is an Aveda-certified hairstylist from Winston Salem who now lives in Wilmington. She is a hairstylist at Groove Jet, 112 Princess St.
about the models: Stephanie Hamblin is an artist and bartender at Satellite, and Beth Peddle teaches children with special needs.
To view more of photographer Keith Ketchum's work, go to www.keithketchum.com.