Fresh Packed
Pilot program adds produce to student food packs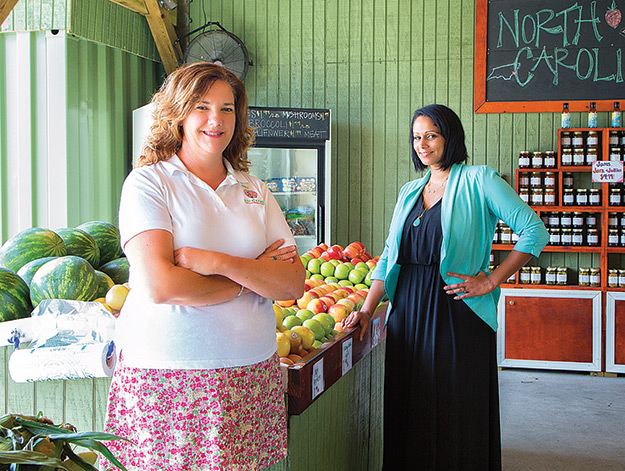 In a continuing attempt to promote health and wellness initiatives and combat food insecurities in the Wilmington area, three North Carolina organizations have come together to launch a program that provides fresh fruits and vegetables to families in need.
The pilot PRODUCE BAG program is a three-way partnership between the BLUE RIBBON COMMISSION ON THE PREVENTION OF YOUTH VIOLENCE (BRC), FEAST DOWN EAST, and NOURISHNC.
"… they're still not getting fresh fruit and vegetables that they need. So, say they get a box of macaroni and cheese in their NourishNC box, we want to give them some broccoli to cook with it." – Jana Jones Halls
NourishNC (executive director BETH HOLLIS above in white), a nonprofit organization that aims to serve the underfed youth population, provides families across the county with monthly boxes of non-perishable food items.
Under the new pilot program, families receiving the monthly box of nonperishable food who are also living in the Youth Enrichment Zone, a fourteen-block area on the north side of downtown Wilmington that BRC serves, also receive a bag of fresh produce.
"It's so great that those families get a box of nonperishable food each month, but they're still not getting fresh fruit and vegetables that they need," says JANA JONES HALLS, executive director of the BRC (shown in blue). "So, say they get a box of macaroni and cheese in their NourishNC box, we want to give them some broccoli to cook with it."
NourishNC's program to provide backpacks filled with nonperishable items for weekends and summer vacation when schools are not in session already serves hundreds of students in the county.
The pilot project launched in November with an eight-month grant of nearly $4,000. The first combination boxes that included both nonperishables and fresh produce went to forty-five qualifying
families of the students currently enrolled at D.C. Virgo Preparatory Academy, which is the district school for the Youth Enrichment Zone.
"We had really great feedback for the first-month run," Halls says.
With the grant-funded budget, the Produce Bag program has enough resources to continue providing food throughout the summer. The BRC is currently working on grant applications to sustain the program in the upcoming school year.
"We decided to start the program at D.C. Virgo, see how it goes, and then see how we can slowly grow it," Halls says. "We want to continue the Produce Program, and we want to be able to serve more families, but it's just a matter of resources."
Grant funding will also allow the launch of a series of summer programs that not only provide families with fresh produce but also provide cooking and nutrition classes, where participants will learn to cook the produce included in their monthly bags.
"The education piece is one of the biggest components that you have to have so that you're not just giving families produce that they may have never tried before," Hall says. "Instead we want to show them quick and easy ways to add some healthier items into their daily diet and ways to introduce them to their kids."
Feast Down East, a nonprofit economic development program geared toward the creation and promotion of a local food system as well the elimination of poverty in the community, provides all the produce for the program.
The nonprofit also sets up mobile farmers markets to provide fresh produce to families living in areas known as food deserts, where access is lacking to affordable and healthy food choices. These areas generally exist in rural and low-income areas.
"For the Youth Enrichment Zone, the groceries stores are the corner convenience stores," Halls says.
If the Produce Program is able to secure enough grant funding to sustain the project into the next school year, coordinators hope to expand and help provide more food to more families in need.
"Ideally, I would love to start by adding fifteen more families by the next school year if we get enough funding," Halls says.
Expansion plans also include a series of nutrition courses for students and families throughout the school year, so they can fully understand and benefit from the produce they receive each month.
The program also hopes to explore a number of creative and interactive events for the families to participate in including ingredient-specific recipe contests and the creation of an original Youth Enrichment Zone community cookbook.
"We are always trying to utilize the knowledge of the community," Halls says. "We want to have their feedback or requests for certain produce items so that we can try and provide them, knowing they will use it."
To view more of photographer Chris Brehmer's work, go to www.chrisbrehmerphotography.com