Flavorful New Year's
Kick off 2015 with these lucky dishes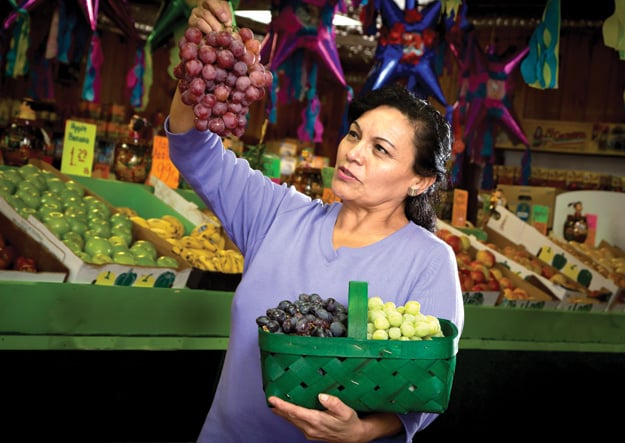 As many cultures welcome the New Year, they hope for more months full of prosperity, love, and lucky days. For some, to usher in this good fortune, tradition dictates a specific food must be prepared and eaten – anything from collard greens to buckwheat noodles. And it's not just about getting lucky. As told by several local restaurant and business owners who offer different international options, without these dishes, New Year's just wouldn't be the same.
LENTILS
At Italian dinners, lentils (from the legume family) appear in many different dishes, but warm lentil soup begins a holiday meal just right.
DEBBY DELIBERTO whose family owns COUSINS ITALIAN DELI at 7 North Third Street, says lentils have been considered a source of good fortune, representing wealth and prosperity for many years.
"I'm Italian, and I married into an Italian family," she says. "I've been having (lentil soup) for twenty-six plus years, and they began eating lentil soup many years ago."
Here, DeLiberto shares the family recipe.
Lentil Soup (serves 4-6 people)
1 large carrot, chopped
1 clove garlic, finely chopped
1 medium onion, chopped
2 stalks celery, finely chopped
1 Tbsp. butter
1 Tbsp. olive oil
½ pound lentils, picked over, washed, and drained
4 cups cold water
14 ounce can diced tomatoes
Salt and pepper to taste
2 Tbsp. parsley, chopped
DIRECTIONS: Over medium heat, sauté vegetables in butter and oil until onions are transparent (stir frequently). Add water, lentils, and tomatoes. Cover, bring to a boil, reduce heat, and simmer covered for an hour and a half or until lentils are as tender as desired. Season with salt and pepper, then add parsley and serve.
COLLARDS AND BLACK-EYED PEAS
GENA CASEY, co-owner of CASEY'S BUFFET at 5559 Oleander Drive, says she's never celebrated a New Year's Day without eating collard greens and black-eyed peas.
Even some of her family members who don't normally eat the side dishes feel obligated to have them while welcoming the next twelve months. In her family, as is tradition in the South, both dishes represent wealth – collards for cash and black-eyed peas for pennies. When her grandmother made the dish, she even hid a few dimes or pennies in the peas.
"My mother made them, her parents made them, and my grandmother made them, too," she says.
Casey calls New Year's Day the restaurant's busiest day of the year. Here is its recipe for one of these traditional sides.
Collard Greens (serves 8-10 people)
2½ quarts water

1 tsp. black pepper
½ tsp. crushed red pepper

¼ cup salt

4 cups rendered fatback grease or bacon/country ham grease

¼ to ½ cup sugar (optional and to taste)

10 pounds fresh collards 

DIRECTIONS: Pull the collards from their stalks. Put water in pot, then put all dry ingredients and grease in pot. Wait for water to boil. Add collards to pot. Bring to a boil again, then lower to medium heat. Stir occasionally. Cook for about two hours or until the greens are tender.
SOBA NOODLES
In Japanese, "soba" means buckwheat, a popular and easy-growing plant that transforms into noodles for use in many different dishes. REIKO SUGIURA co-owns sushi and Japanese restaurant GENKI at 4724 New Centre Drive, and she describes a plethora of soba health benefits. Sugiura says soba contains protein, amino acids, and many minerals such as iron, magnesium, and vitamins B1, B2, and E.
"Once you eat it, it keeps your body warm," she says. "And for emotions, it makes you settle."
Because of these health benefits, many people in Japan eat soba on New Year's Eve at midnight and hope for a long, happy life.
Here, Sugiura shares a simple, soup-like recipe. Different toppings can be used depending on preference.
Soba Noodles (serves 6-8 people)
16 ounce dry buckwheat (2 packs)
24 ounce soba sauce (can be found at Asian food stores)
Water (add according to soba sauce directions on bottle)
1 boiled egg
1 Tbsp. spinach
1 tsp. spring onion
1 tsp. tempura flakes
DIRECTIONS: Cook soba noodles in boiling water until tender. Remove from pot and add to a fresh pan. Mix with soba sauce and instructed amount of hot water. Add the following ingredients or other toppings.
STEAMED FISH
If you read the menu at DOUBLE HAPPINESS at 4403 Wrightsville Avenue, you'll see an item for steamed whole fish. In the description, it states this: "The word for fish is YU, a homonym for abundance. To serve a whole fish is to offer you our best wishes for abundance and prosperity."
Co-owner MAY CHEN grew up on the coast of south China and compares whole fish for New Year's like turkey for Thanksgiving – it's the centerpiece.
But be careful not to flip over the fish – this is bad luck, like flipping over a boat.
Here's is Chen's recipe.
Steamed, Whole Fish (serves 6-8 people)
1½-2 pounds whole fresh fish
2 pieces fresh ginger
5 pieces of scallions
1 Tbsp. vegetable oil
Carrots for garnish
Sauce:
1 tsp. oyster sauce
2 Tbsp. soy sauce
1 tsp. sugar
DIRECTIONS: Clean fish. Gently pierce the top of fish a few times so flavors can be absorbed. Thinly cut the root of three scallions and thinly slice one piece of ginger. Place on top of fish.
Place fish on a large plate and steam on high heat for 10-15 minutes, depending on the size of the fish. After steaming, dump about half of the excess water from the plate. Remove slices of ginger and scallion.
Mix the sauce ingredients together and pour over the steamed fish. Shred remaining ginger, scallions, and carrots. Place on top of fish.
With a clean pan, heat the oil at a high temperature. Drizzle the oil over the fish. Serve hot.
GRAPES
When the clock strikes twelve, many from Latin America and Spain eat a dozen grapes, each one representing the number of upcoming months in the New Year.
GABRIELLA GUTIERREZ of LA HUERTA PRODUCE MARKET at 830 S. Kerr Avenue explains the tradition by translating for her mother, Guadalupe de la Concha. Their family believes each grape will help create another month of prosperity.
"You're supposed to think about the wish each time you eat one," Gutierrez says. "But in the end, you might just keep eating them all, wishing for the same thing."
De la Concha shares a dessert recipe for a fruit tart, a popular family dish that uses grapes for decoration.
Grape Tart (serves 10)
Dough:
12 Tbsp. unsalted butter, at room temperature
½ cup fine sugar
2 eggs, lightly beaten
2-3 Tbsp. low-fat or whole milk
2½ cups all-purpose flour
1 tsp. baking powder
2⁄3 cup cornstarch
1 egg white, lightly beaten
Filling:
3 cups low-fat or whole milk
4 egg yolks
½ cup granulated sugar
2 Tbsp. cornstarch
1 Tbsp. all-purpose flour
1 tsp. vanilla extract
Grated zest of ½ lemon
2 Tbsp. cognac or brandy (optional)
¾ pound grapes
3 Tbsp. grape or cranberry jelly
DIRECTIONS: For dough, beat butter and fine sugar with electric mixer. Add eggs and milk until blended. Stir in flour, baking powder, and cornstarch. Lightly knead dough on a floured surface. Roll out dough, invert into 10-inch tart pan. Refrigerate for 10-15 minutes. Preheat oven to 325 degrees.
Cover dough with oiled parchment paper or aluminum foil. Fill with weights (such as dried beans). Bake for 15 minutes or more if paper still sticks. Remove weights and paper and continue cooking until pastry becomes golden (about 15-20 minutes). Cool on rack. Increase oven to 350 degrees. Brush inside of pastry with egg white and bake for another 4-5 minutes. Transfer to wire rack and cool again.
For filling, over medium heat, warm milk
to just below a simmer. In a bowl, whisk together egg yolks, sugar, cornstarch, flour, vanilla, lemon zest, and cognac until smooth. Whisk small amount of hot milk to mixture, then gradually stir egg mixture into hot milk. Cook over medium heat, stirring constantly, until thickened (2-3 minutes). Remove from heat and let filling cool for 1 hour. Spread custard into pastry shell.
Halve and deseed the grapes if necessary and place, cut side down, on the custard. Refrigerate for at least 20 minutes or up to 6 hours. Before serving, gently heat jelly in small saucepan over medium-low heat and brush over tart.
To view more of photographer Mark Steelman's work, go to www.marksteelmanphoto.com