Flavor Fusion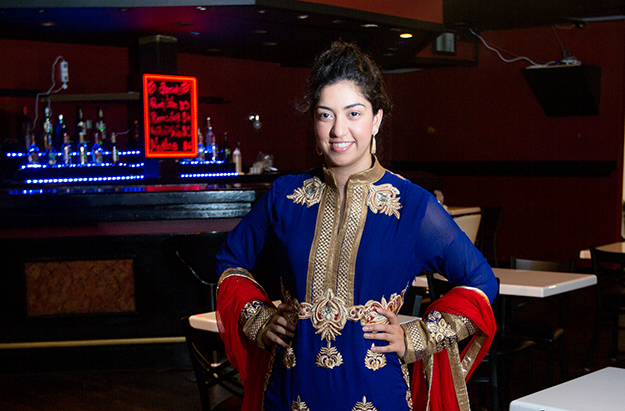 In one of the largest commercial kitchens in the Wilmington area stands one of the city's youngest restaurateurs: LAVERRY KUMAR.
The twenty-three-year-old business owner recently opened BALLUCHI INDIAN FUSION AND BAR. After becoming the sole proprietor of the former South College Road restaurant Siaa, Kumar decided to revamp the business plan, move to a larger location, change the name, and spice up the menu.
"We have the authentic food, and then we have fused food for people who have never had Indian food before," Kumar says. "So they can try something new but also be comfortable with it."
Balluchi, 4903-A Market Street, was expected to open its doors in July as of press time.
The menu will feature similar items to the former restaurant with some new additions including traditional Indian fare fused with the cuisine of other cultures. Kumar's passion for fusing a number of cultures stems from her unfaltering pride for her home country mixed with the everyday influences of American life.
"I actually want people to try Indian food because I feel like people are scared of it because they think it's spicy, and it's really not," Kumar says. "I just want to introduce my culture to Wilmington."
Kumar believes it's the perfect time for the grand opening of Balluchi Indian Fusion and Bar.
"This town doesn't know what Indian food means yet," she says. "I hear so many people say that curry is a spice, and I'm like 'No, it's not. It's not a spice.'"
One of the restaurant's featured fusions will be the bridging of traditional northern and southern Indian dishes, as many places offering Indian fare generally just focus on one or the other.
Balluchi's menu also combines two cuisine cultures that rarely share the plate: Indian food fused with traditional American staples.
"Americans have burgers, right?" Kumar says. "Well we have tikki burgers made from spiced potatoes." The Indian take on an American canon will be served on a bun with all the standard trimmings of traditional beef burger.
"And then instead of fries or onion rings, we have pakoras, which are deep-fried kale, spinach, cauliflower, or potatoes," Kumar says. "And they're healthy."
The University of North Carolina Wilmington graduate's eyes were not always set on owning a business, but rather her eyes were aimed – very precisely – at a small white ball. Kumar trained as an athlete for the majority of her life, finding success in golf including as the top-ranked player in the junior division for the entire country of India. She continued her training at the David Leadbetter Golf Academy in Florida before moving to North Carolina. Kumar long had aspirations to eventually play in the Ladies Professional Golf Association, but her desire to pursue opportunities beyond the green brought her to North Carolina.
"I kind of let life steer me in whatever direction," she says. "I wanted to experience a lot of other things instead of golf, and I like food."
Kumar graduated from UNCW in the spring of 2014 with degrees in economics and psychology. She graduated with honors and published her thesis on all of her various passions: business, human psychology, and golf.
"I feel the world revolves around people and money, so economics is money and psychology is people," Kumar says. "I may have studied in the business school, but I mixed it with psychology – look another fusion!"
While working toward her two degrees as well as competing in golf tournaments across the globe, Kumar completed a prestigious internship at the Bank of
Tokyo in New York City. Kumar thought she ruined her interview with her unabashed honesty, but it ended up working in her favor.
"When I was interviewing they loved me, but then at the end they asked my future goals," she says. "I told them I wanted to play in the LPGA, and that's when the interview went downhill."
After a few weeks without word, the head of human resources called her and said, "I heard about you. I really like how honest you are, and I'm a golfer, too."
As an intern, Kumar spearheaded a project that made employee paperwork in all the bank's American locations paperless. After graduation, she continued working in the banking world as a teller and banker for Wells Fargo before embarking on more edible pursuits.
For all her many accomplishments at a young age, Kumar chalks the successes up to a finely tuned art: "I'm a procrastinator, that's for sure. But procrastinating is an art form if you finish in time."
Kumar has served as a representative of India in many facets of the world: banking, sports, and psychology, and now she will continue to share her culture on a plate.
To view more of photographer Megan Deitz's work, go to megandeitz.com