Fit at Any Age
Classes come in all types for seniors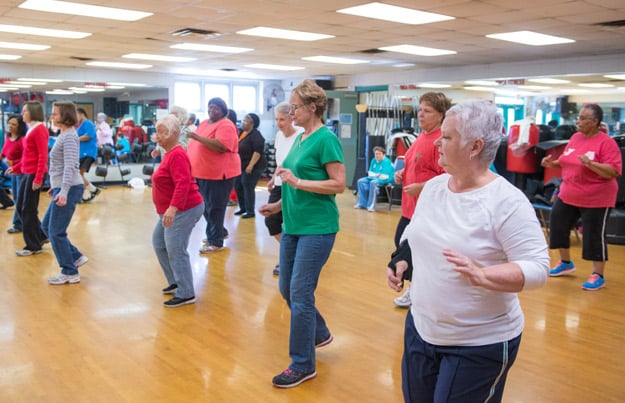 The room is filled with people, but there's still plenty of room to maneuver around the dance floor to the "Cupid Shuffle" during a recent line dance classes at a senior recreation center in Southport operated by Brunswick Senior Resources Inc.
Participants crack jokes when they arrive but immediately get to moving when the instructor starts the music. In the next room over, a couple of snowbirds from Pennsylvania are working out on modern, low-impact gym equipment.
John and Lacy Hefty say this is the first winter they've spent in Brunswick County and have fallen in love with the activities available at the center – from beading classes to their regular workouts. And they enjoy socializing with others their age who like to remain active.
"Since we're able to get around, and the gym isn't crowded, we spend most every day here," Lacy Hefty says. "We exercise about thirty to forty-five minutes a day."
They say they want to return to the area in future winters.
"When I was a kid, I snowmobiled and skied. Now, if you're our age, I wouldn't recommend it," John Hefty jokes as he pedals the stationary bike.
From chair yoga to Pilates to low-impact aerobics, senior fitness classes in the area are bursting with people wanting to improve their balance, strengthen their muscles, and meet others.
The Wilmington Family YMCA's Healthy Living program boasts adaptive exercise classes and equipment geared towards seniors and anyone with limitations or disabilities.
Healthy Living Director Dalia Nir says the seated classes for strength training, aerobics, and Zumba are well attended, with more than thirty participants each. For those who no longer need the seated classes, "lighter side" standing classes at the YMCA include kickboxing, Pilates, Zumba, and yoga as well as "balance work," which has proven very popular, Nir says.
Gentle aquatics programs such as water aerobics offer fun, no-impact workouts for people with arthritis, and yoga classes even include "mat tables" that can be used by those with more severe disabilities.
"We've gotten wonderful feedback," Nir says of the Healthy Living program. "A lot of it has to do with our staff. They are friendly people – all ages and sizes. They are trained and sensitive to all populations."
At the Southport center, Director Susan Whitley says she sees no end to the variety of classes being offered. She says participants are constantly leaving suggestions for new classes.
"So long as it's something different, I'll keep adding classes," Whitley says.
"We offer a relaxed atmosphere. People are welcome to come in and view classes before they start," she says. "And we emphasize that they can work out based on their own abilities. We make them feel welcome."
To view more of photographer Will Page's work, go to www.willpagephoto.com.