First Serve
Tennis Leagues Bring Experiences and New Players to the Court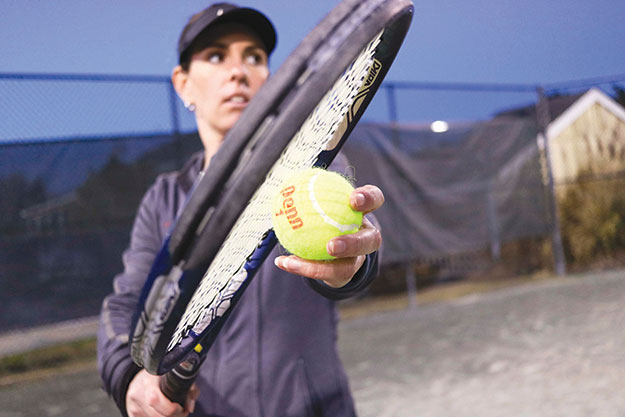 SUSAN KIGHT gets excited every time she helps new people get involved with local tennis leagues.
Kight, the community coordinator for the GREATER WILMINGTON TENNIS ASSOCIATION (GWTA), a member organization of the UNITED STATES TENNIS ASSOCIATION (USTA), has been playing tennis all her life and says that the people she met through tennis leagues thirteen years ago when she moved to Wilmington are still some of her closest friends today.
"The people on your team become your family," Kight says. "Tennis is what we have in common in the beginning, but ultimately it's not what keeps us together. We learn about each other, care about each other."
ANNA MARTIN, the South East Tennis USTA leagues coordinator and also a longtime tennis player, echoes that sentiment, saying the sense of community that tennis creates is strong and more important to most than whether they win or lose.
Over the twenty-six years she's worked as the leagues coordinator, Martin has developed the motto: "Make it fun and make new friends." She says that while tennis is a competitive sport and people want to win, the most worthwhile part is being together on the court or traveling with teammates to a tournament, and that's the kind of attitude she embodies and encourages.
Martin explains that USTA League tennis came to Wilmington in 1989. When Martin stepped into her role with the association a few years later, fewer than 500 people were playing Wilmington League Tennis. But soon, the leagues began to grow, with women especially flocking to the sport, showing up to verification clinics at sites such as Empie Park and Holly Tree Racquet Club and Swim Club. Within a year, 700 new people had joined.
"Women were so excited," Martin says.
"And they still are!" Kight adds.
With that rapid growth came structural changes such as the gradual integration of the USTA NC branch with the Community Tennis Association, which paved the way for funds, grants, partnerships, and other opportunities for Wilmington League Tennis to expand and improve, as well as help the community. Today, there is a South East tennis branch made up of five counties including Brunswick and New Hanover, and the GWTA serves as a nonprofit organization committed to the development and coordination of leagues and other tennis programs at the grassroots level.
Multiple leagues in the Wilmington area now play throughout the year, organized by age and type of match, including a Singles League, Mixed Doubles League, Tri-Level League, and Combo Doubles League (a category unique to the South). The largest is the Adult Spring League, for which there are currently 175 teams registered.
Players are welcome to participate in all age divisions that apply (18+, 40+, 55+, and 65+). A 70-and-over league also plays in the spring and summer. League winners at this level move onto the state championship, where they compete against teams from other cities in North Carolina.
With the hard work and support of volunteers, the GWTA is able to run effectively and contribute to the community through scholarships and tournaments that benefit various causes, as well as local schools.
In May, for example, the group will hold its annual Smash Cancer tournament to raise awareness of head and neck cancer, with proceeds going to the Head and Neck Cancer Alliance. And this fall, members will hold a tournament to benefit the local Abilities Tennis program, which provides tennis opportunities for individuals with intellectual disabilities.
Last year, the GWTA launched its first Try Tennis series, a six-week instructional program for adult beginners. The affordable classes were a hit and will be offered again this spring. A similar program for kids is in the works.
"The beauty of tennis," Kight says, "is that you can play forever."
It's a high energy, full-body workout. And, no club membership is required, as most local courts are open to the public.
League player PATTY GRAY,  of Wilmington, shares that she did not pick up a racquet until she was in her forties. Gray and her sister BETSY GOODMAN  – affectionately referred to on the court as "The Sisters" – first gave tennis a try in the late '90s. They never expected to stick with it as long as they have or to enjoy it as thoroughly as they do.
"It made us feel like little kids again," Gray said. "And, it's not just about the game and competition; it's the camaraderie that goes along with it."
HEATHER MILLS, of Wilmington, is brand new to tennis but already hooked. "I would encourage everyone to give it a try," she says. "You'll get a good laugh, get better, gain strength and agility, and have a fun time doing it."
To view more of photographer Terah Wilson's work, visit www.terahwilson.com.
Want more WILMA? Sign up for our WILMA Weekly email and announcements at WILMAOnTheWeb.com.