Finish Line
In training for this month's Quintiles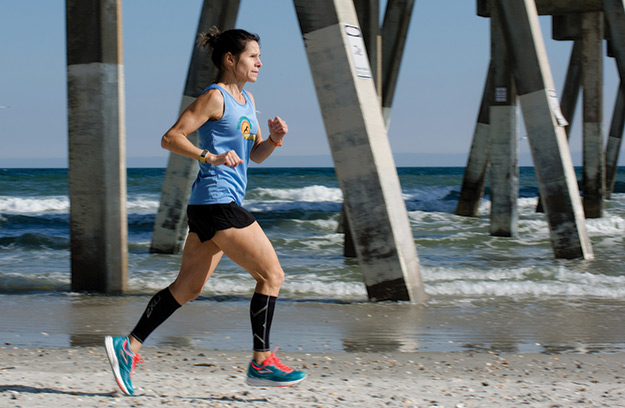 Coastal scenery, a flat course, and a spirited finish line celebration. It's no wonder the QUINTILES WRIGHTSVILLE BEACH MARATHON attracts long distance runners from near and far.
This year close to 1,000 runners will take part in the marathon and marathon relay, which is more than twice as many people who ran the inaugural marathon in 2010. Runners will travel from as far as California and Hawaii.
"We treat people well when they come here. It's not too big, so it's not 10,000 people where you're waiting in lines, and you're getting hung up in traffic," says Tom Clifford, race director. "And I think Wrightsville Beach is just a beautiful place."
The weekend includes a half marathon and the full on March 20 as well as a Susan G. Komen Race for the Cure 5K and Eli's 1 Mile Family Fun Run on March 19 to incorporate runners of all levels.
For several local women, the past months have been spent training with an eye on the finish line and possibly a trip up North.
Sights Set on Boston
Longtime Wilmington runner BRENDA ESTLACK (above) is not only running Quintiles as her first marathon this month, but she hopes to run it fast enough to qualify for the Boston Marathon. While training for a 26.2-mile race is daunting, Estlack says running on her home turf helps.
"This is where I've had my support. So I couldn't be running my first marathon any place else except for Wilmington because of my local running crowd and being in my hometown," Estlack says. "There will be a lot of familiar faces along the course."
Estlack, who will be fifty-six on race day, dominates local 5K races in her age group running 3.1 miles in twenty-one minutes or less. To qualify for Boston, she'll have to finish 26.2 miles by four hours, ten minutes – and even then it's the fastest of the applying qualifiers allowed entry to the esteemed race. Estlack wants to finish in three hours, forty-five minutes or better.
"I just feel like it's going to be one of the greatest accomplishments that I've done so far in my running career," she says.
To persevere through the grueling training runs, Estlack sets a mileage goal and refuses to stop until she reaches it.
"It does start to get a little difficult around mile nine or ten," she says. "Then sometimes you take your thoughts away from the miles and think about something else. But for me, it's just saying, 'This is what I am going to do today, and I'm not going to stop until I get it done.'"
For the Fun of It
The Wrightsville Beach marathon will mark LESLIE COHEN's fourth full. Her last marathon was two years ago, so Cohen signed up for the upcoming race to get in running shape again.
"This will kick me in the butt and make me really train again. And I'm really having fun, because it's fun to start seeing everything else getting faster and endurance coming back. So it's really exciting to get back in it," Cohen says.
Cohen describes herself a slow runner. She uses the Jeff Galloway method where runners run-walk-run. She'd love to beat her best marathon time of five hours, thirty-six minutes, but will be happy as long as she makes it to the finish line.
"Boston will never be a thing for me. I looked at the qualifying times. I am actually ten minutes off the qualifying time for Boston if I were eighty. I'm fifty now. I've got thirty years to get ten minutes off my marathon time," Cohen laughs.
In addition to running along the Intracoastal Waterway in Wrightsville Beach, Cohen and other marathon participants will run a new route that incorporates the University of North Carolina Wilmington campus and the Gary Shell Cross City Trail.
Cohen's grateful marathon participants will no longer have to make two loops through Landfall.
"Repeating areas in a marathon when you're running that long is really demoralizing to me," she says.
Cohen feels crossing the finish line after running over twenty-six miles will be a lot like childbirth.
"It takes about six months to prepare for the race. You've got your five or six hours of labor for someone like me," Cohen says. "The difference is I don't have to pay for college for the medal, and it sleeps through the night the very first night."
Staying Strong
CANDY STEPHENSON signed up for the Wrightsville Beach Marathon last April and began training in the fall with her sights set on qualifying for Boston.
"I always run. For me, a ten-mile run on a Sunday is just a normal run. So to add another sixteen miles isn't that big of a deal," Stephenson explains.
By December, the Wilmington resident was already up to fourteen miles on her long runs at an eight minute, fifteen second pace. But three months before the race, she felt a sharp pain in her heel and knew something wasn't right. She tore her plantar fascia, which takes about six months to heal.
"It's incredibly frustrating. I'm super competitive anyway. I have had this desire to do this for so long that it was incredibly discouraging. But at the same time, I'm just grateful for the health I do have," Stephenson says.
She's not giving up on her Boston dream. Once she's healed, Stephenson is planning to refocus her efforts on another marathon to qualify. She's already eyeing a June race in Canada.
"It's very disheartening," Stephenson says, "but at the same time, I also realize it's part of running so I just move on, try to heal, and focus on another one."
To view more of photographer Megan Deitz's work, go to www.megandeitz.com