Finding the Right Mix
Personal experiences lead to a sweet solution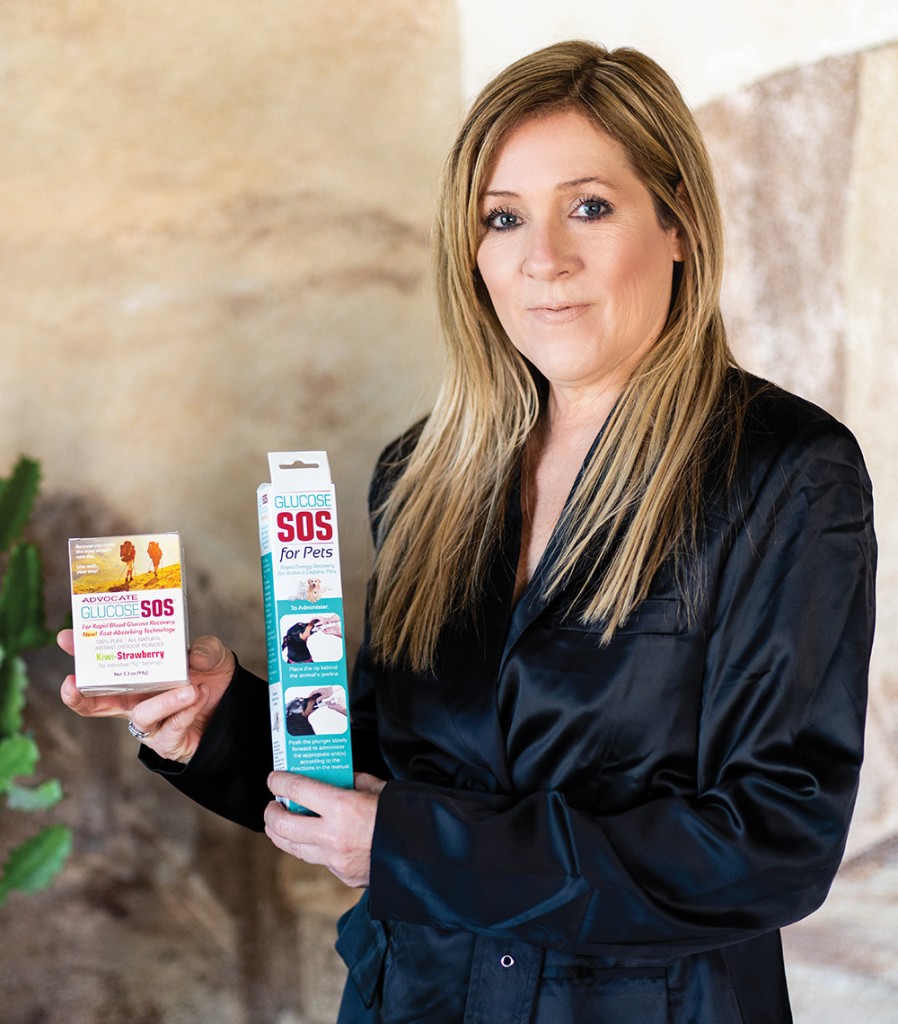 From squishing bread into palatable balls of life-saving sugar to creating an effective formula for other parents who stood by in horror as they thought they'd lose their child to the complications of Type I diabetes, PAMELA HEYWARD has lived the adage that necessity is the mother of invention.
Her eldest daughter, Tayler, now twenty-eight, was diagnosed with Type 1 diabetes more than two decades ago when she was three years old.
"No one in my family had had diabetes," Heyward says.
Heyward was often awakened in the middle of the night to find Tayler suffering from terrifying low blood sugar episodes that resulted in life-threatening seizures. Further complications, such as diabetic ketoacidosis (DKA), which can lead to a diabetic coma or death, have happened twice to Tayler.
DKA occurs when your cells don't get the glucose they need for energy, and your body begins to burn fat instead, producing ketones. When ketones build up in the blood, they make it more acidic. The life-threatening condition can happen in a few hours.
According to the American Diabetes Association, 34.2 million Americans, or 10.5% of the population, had diabetes in 2018. Of that number, nearly 1.6 million Americans have Type 1 diabetes, including about 187,000 children and adolescents.
When Heyward's daughter, Emily, came along, Heyward had her tested since there was a genetic predisposition to the disease. She tested positive.
"It was a waiting game," Heyward recalls. "When was it going to happen?" she says of the frightening medical events that shaped Tayler's childhood and would be repeated in Emily's.
Emily's first diabetic incident happened when she was twelve.
When Tayler was diagnosed, she was on an stringent diet to ensure her body received the right amount of glucose in the proper amount and time. She had to eat exactly 15 grams of carbohydrates at specific times throughout the day.
"You've got this child crying, 'Please, mommy, I can't eat anymore,'" Heyward recalls. She tried everything to give her daughter what she needed, including taking the crust off the bread and squeezing the remainder into what she called bread bombs.
"I figured it's all about visuals, right?" she says.
When her daughters experienced low blood sugar episodes, they often turned to juice and candy. The only other thing on the market was glucose tabs, and Heyward recalls nobody liked them. They're big and chalky and inconvenient to carry. Candy and juice, however, contain fructose and sucrose that needs to be converted into glucose, the body's fuel. With the delay caused by the conversion, the diabetes would be overtreated, and sugar levels would spike.
A turning point for Heyward was when she went skiing with the girls, and both Tay ler and Emily had low blood sugar. While that situation didn't become catastrophic, Heyward knew she needed to address how to improve treating them. She looked up at the mountain, and it struck her: What would happen if the girls were skiing one mountain and she on another when they had a problem?
"It hit me, right then … you have to make a glucose powder," she says.
Heyward started researching and found a company in New York that develops pharmaceutical- grade products. She wanted powder glucose, all natural, and it had to dissolve in your mouth to quickly elevate low blood sugar. The company created her formulas and several flavors of the powder that dissolves upon contact with saliva, allowing it to enter the bloodstream and work "super fast."
They come in small foil pouches that contain 15 grams, giving the user a precise, controlled amount for treating hypoglycemia, so it doesn't spike blood sugar.
She founded her company, SOS Life Sciences Corporation and has trademarked Glucose SOS globally. She's also invented Glucose SOS for pets with diabetes. In 2020, Heyward plans to launch her third product extension.
But, finding the right mix wasn't the end. She needed to figure out many aspects of maintaining and growing a business. For instance, it took a few years, but her product is now in large chain stores such as Walmart, Publix, H-E-B, and Walgreens.
She has distribution in the United Kingdom and Puerto Rico and plans to launch a cobranding deal with a pharmaceutical company in South America. Heyward says she is working on a deal in Canada, which has a stringent regulatory process.
Her manufacturing facility is in Brevard, North Carolina.
Aside from knowing her daughters are living with better treatment for their illness, Heyward says it gives her chills to hear the feedback from people who follow her and diabetes-related news on social media.
Here's a message she recently received: "I have been using Glucose SOS for months now and can honestly say nothing works as well as this does. I'm in my first year of college and the anxiety of having lows in my dorm room was UNREAL. I found these at my local Walmart and I will never ever stop."
To view more of photographer Erin Costa's work, go to erincostaphoto.com.
Want more WILMA? Click here to sign up for our WILMA newsletters and announcements.