Finance Finesse
Stephanie Castagnier Dunn navigated a tough childhood, big-business finance, and reality TV to find her place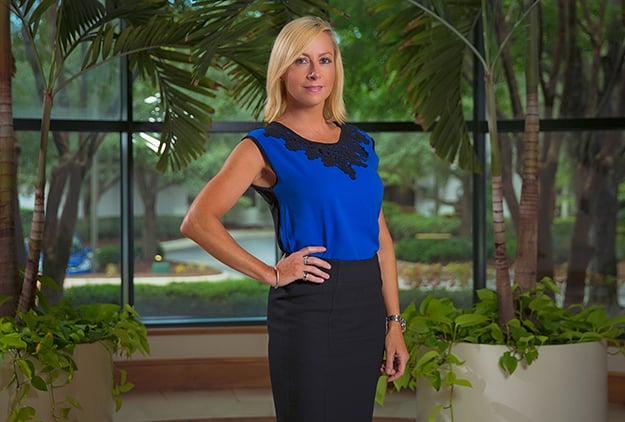 STEPHANIE CASTAGNIER DUNN has big plans for small business finance. Recruited by First Bank to head up sales for its new push into SBA lending, Dunn is mapping out national strategies, while working from Wilmington and keeping the local market firmly in her sights.
"I want to be a local female banking presence," she says, explaining that she feels especially that woman-owned and family-run businesses often get overlooked by larger banks.
"Wilmington and the surrounding area have an overwhelmingly dense population of family-owned and -operated companies. They need to plan for the transfer of wealth, for business succession. A lot of those (potential successors) are daughters," Dunn adds.
While SBA lending was an element in Dunn's earlier career, she further honed her skills during four years with Live Oak Bank. Hired in 2012 as part of the bank's team working with funeral homes, she rose to become the vertical's general manager.
After a generous helping of big-city, big-business finance experience, Dunn says she is most comfortable in the arena of small business lending.
"I can identify with the first- or second-generation business owner, who is proud of his contribution to his country," she says. "I want to do what's right for them. Often, when they walk in to a bank (to apply for a loan) they don't get much respect."
Dunn says her past "definitely shapes what I am today. I feel that I'm making the greatest impact."
Her life began in an environment of instability and poverty. Born in Montreal, Quebec, she was the child of two teenagers who had few skills and no positive vision for themselves. Her father turned to drug dealing to support his family; both her parents contracted HIV. Dunn's mother died at the age of thirty-three; her father eight years later. Dunn was officially an orphan at twenty-four, although she says she had been on her own for years before that.
Although her parents' expectations of her were low, Dunn says she did have ambition, and realized that education was the key to charting a better path. She completed high school and, after her father's death, enrolled in Montreal's McGill University and worked full time while attending school full time.
Her goal? To move to the U.S. and become successful in real estate like Donald Trump, whose career she had followed by watching American television.
So, after graduation, she moved to Chicago and joined Prudential, working in finance and securities in all the U.S. major markets. She ultimately transitioned into the banking side,
"I wanted a more personal relationship with clients than I had as a trader," she explains.
She also became a board member of the Chicago Certified Development Co., an SBA lender, getting a first-person look at what impact small business loans could have.
But she wanted another kind of impact as well. While working in a demanding career, Dunn found the time to write a memoir of her life experiences. Her book, Fear to Fire, published in 2007, traces her life as an AIDS orphan and tells of her founding of Child Cause, a nonprofit designed to provide a positive peer network – through education, sports, and the arts – for young people affected by AIDS and substance abuse. She directed proceeds from her book sales to the organization.
When the financial downturn sent lending activity into a tailspin, Dunn decided it was time to pursue a long-held dream: winning a spot on Trump's Apprentice show. She camped out in the sidewalk line to get an audition for its tenth season in 2010 and was one of sixteen people cast. She lasted almost to the end of the season.
The experience was interesting, Dunn says, "because I was exposed to Donald Trump, who was very hands on with the show."
Although fired as an apprentice, Dunn was hired as executive director of Trump Networks, essentially becoming a spokeswoman for many Trump products. She stayed for a year.
"I was back in New York City, in this rat race, thinking 'What am I doing?'" she says. "Looking back now, as a working mom living in Landfall, it seems almost surreal."
That world of big-city finance in a recovering economy, Dunn says, "was exactly the same as when I left: cutthroat, no respect for anyone. Everyone had egos. It was sink or swim. It made me realize I want to spend my time with people who are nice."
Dunn decided she needed to get back into small business banking, where she believed she could establish good client relationships and make an impact. She contacted her banking mentor, Kay Anderson, who was the new director of emerging markets at Live Oak Bank. Anderson was the magnet that drew Dunn to Live Oak: back into SBA lending and to Wilmington, far from the pressures of New York City. It's home, and she's happy that Wilmington will continue to be her base.
"I have my family here now," she says, referring to her husband, Chris, and twin toddlers Noah and Maggie, who were born in Wilmington in early 2014.
To view more of photographer Chris Brehmer's work, go to www.chrisbrehmerphotography.com