Film Incentive Impact
Impact of film tax breaks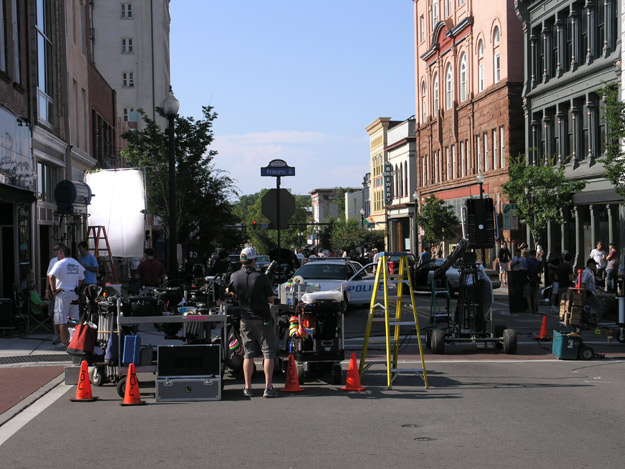 To describe the importance of the North Carolina film tax incentive, LISA MAE FINCANNON employs a metaphor she once heard: "No one in their right mind orders a pizza anymore without a coupon."
A casting agent at Fincannon and Associates, a Wilmington-based motion picture and television casting agency that has worked on Homeland, Safe Haven, Under the Dome, and Sleepy Hollow, Fincannon has been witness to North Carolina's dry years without the film incentive and the boom that followed once the incentives were introduced.
"These incentives are built like pizza coupons. If you're getting the same result … which is a good pizza, then you're going to go to the place that has the highest coupon offer," she says.
The pizzas she's referring to are movie and television productions; the coupon is the 25 percent tax incentive that North Carolina grants the film industry, one that is set to expire at the end of this year if the General Assembly doesn't renew them in the upcoming short session.
The incentive was borne out of a need to keep North Carolina competitive with other states in attracting major television and film industry. And as that industry continues to bolster production in the Southeast, many locals are concerned about immediate and widespread repercussions if the incentive is not renewed – namely that North Carolina would lose not only productions, but also its crew to neighboring states.
"That's the problem. It's not like if the incentive goes away for North Carolina that then these wonderful crew people, who are part of the reason people come here, will not be available," Fincannon says.
Filmmakers will still "glean that wonderful crew base that was living and learned and built resumes in North Carolina and will take them elsewhere," she says.
If that happens, industry insiders expect Wilmington would take a hit.
Wilmington's reputation within the industry has been built on the quality of the crew that is available locally. Fincannon has heard producers and directors, time and again, praise the quality of the workers who make their productions possible.
"Most, if not all the conversation, goes back to the projects they're working on," Fincannon says. "For them, it's a calling."
And filmmakers return to the area to tap into this crew base. Among a few examples Fincannon notes are The Conjuring producer Rob Cowan and Hick and Bolden! producer Jon Cornick.
"Film is an absurdly small industry," Fincannon says, and the value of word-of-mouth is huge.
Without the incentives, a number of crew members would likely travel to where the work is, officials say. This not only means spending a good amount of time (and money) out of the state, but it could mean a permanent move for many.
Jackie Burch, a renowned casting agent whose credits include Sixteen Candles, The Breakfast Club, Die Hard, Iron Man 3, and The Hunger Games films, will be among those to relocate most of her work to Georgia. Although she owns a home in Wilmington and will continue to keep an office in the area, Burch points out how welcoming Georgia has been to her and to the film industry at large.
To say Burch is passionate about her work would be an understatement.
"I want to do it forever," she says in regard to casting. Neither pregnancy, illness, nor injury has kept her from doing her job, even if it requires lying down with her foot elevated in a cast to watch hours and hours of casting videos.
But as much as she would like to stay in Wilmington, Burch also will go where the work is.
Both Burch and Fincannon are quick to note that if the state incentives go, the damage won't be limited to the film industry.
Construction, Fincannon predicts, would suffer, as the demand for materials required to build sets decreases. Both say that the service industry also could be affected – from rental cars, flights, and hotels to bars and restaurants. The real estate market could also suffer, and tourism, a major part of Wilmington's economy, might also see a significant drop-off.
Fincannon remembers how people would line up outside her offices, hoping to get a glimpse of celebrities coming and going. The connections people make to their favorite films and television shows are what help to draw them to Wilmington.
Burch, who moved to Wilmington in 2008 from Los Angeles, recalls the reservations her children had about her moving to Wilmington. Those reservations melted away, she said, once they learned that Dawson's Creek, a favorite show of theirs, had been filmed here.
"So, you can see the power of film," she says. "They were so upset, but that made it better."
As for Fincannon, a native Wilmingtonian who can trace her family back ten generations to the area, she is saddened by the possibility of North Carolina as a state that "makes nothing."
"We were such a proud state of textile and furniture manufacturing, and we don't manufacture much of anything anymore," she says. "So I am proud that I work in an industry that manufactures something. And it's entertainment; it's a great thing to manufacture."
AT ISSUE
The current North Carolina film incentive is designed to defray a film company's corporate tax liability.
It works this way: any film production that spends more than $250,000 per project in the state is eligible for a refundable tax credit of 25 percent of its expenditures up to a limit of $20 million for movie projects. There is no per-project cap for a television series.
Qualifying expenditures are those for goods, services, compensation, production-related insurance, fringes, per diems, living expenses, and stipends. Qualifying labor-related expenses are limited to the first $1 million paid to an individual.
The incentive program, broadened to its current form on Jan. 1, 2010, will expire Jan. 1, 2015 if not extended. The state General Assembly will reconvene May 14 for its short session and is expected to take up the matter.
– Jenny Callison