Femme Fatale
Local women create a paranormal research team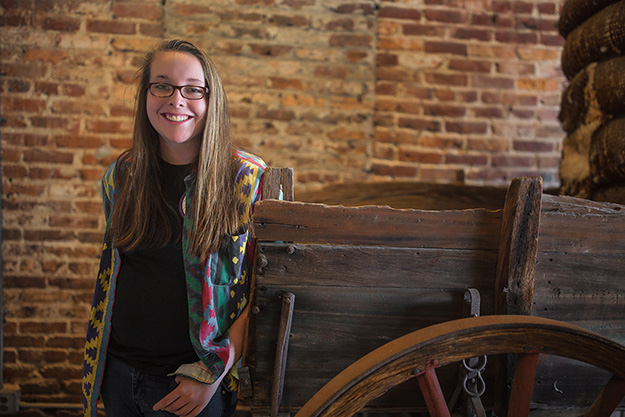 At the age of nine, UNCW graduate HOLLY WOOD would spend her time after school at her grandparents' house. Her single mother was at work, and her grandparents were not yet home, so Wood planned to let herself inside. Wood says she saw something, however, that would impact her future: the image of her late father staring back at her from the window.
Wood only saw the image and silhouette of her father a couple of times after his passing, but it peaked her interest in the paranormal. Her father was a fan of shows such as The X-Files and watched horror films, which inspired Wood's interest in novels by Stephen King. This interest in the supernatural also led Wood to her major in college: anthropology. Wood was curious about the religions and cultures of others, especially in regards to differing beliefs on the supernatural.
Today, that curiosity has led Wood to partner up with several other local women to delve deeper into paranormal activity with a new group called FEMME FATALE PARANORMAL RESEARCH.
While a freshman in college, Wood was first introduced to the Wilmington Paranormal Research (WPR) organization when she saw a showing of the horror film Oculus in University of North Carolina Wilmington's Lumina Theater. Christian Terry, WPR's president, gave a speech about the club as a sponsor for the film. Wood recalled making a note of the student group's meeting times and later became heavily involved with the paranormal research team. By the fall of her sophomore year, Wood was elected president of the club, a position she held for three years.
Under her presidency, WPR investigated the Battleship North Carolina, the Wilmington Railroad Museum, and Fort Fisher historic site. It was through this group that Wood met fellow UNCW graduate and film studies student SUZI FERA.
Fera and Wood, along with SARAH ISELEY, another UNCW graduate, recently created Femme Fatale Paranormal Research.
"Even though there is an alumni clause that (says) we can still go to meetings and investigations," Wood points out, "we decided to start our own (research team)."
But, she adds, this research team would not solely be focused on investigations. The team hopes to take their investigative work on the road, documenting their travels. They want to catch stories like that of what occurred when they investigated the Old Charleston Jail site as undergraduates. During a session, in which they were using audio equipment to record electronic voice phenomenon (EVPs), Wood recalled feeling odd.
"(Members of WPR) and I, we were down in the basement where they had surgeries," Wood recalls. "It used to be a war house where they imprisoned prisoners of war, and it was a jail and hospital. We were asking questions, and, all of a sudden, I got really angry for no reason."
Wood says she began "snapping" at everyone else in the room. Wood described herself as a "non-angry" individual, so her disposition that night was abnormal. She then heard a growl coming from behind her – one that no one else heard.
The women hope to share more stories like that in their documentary, with a focus on telling the stories behind the occurrences.
"In short, with each location comes a new story to tell, and we will be using paranormal investigation to enrich the history of southeastern Americans," they say on their project's GoFundMe page.
The trip is planned for this summer, and the group can be found on social media as @ffparanormalresearch.
To view more of photographer Chris Brehmer's work, visit chrisbrehmerphotography.com.