Feeling It
January Men's Room column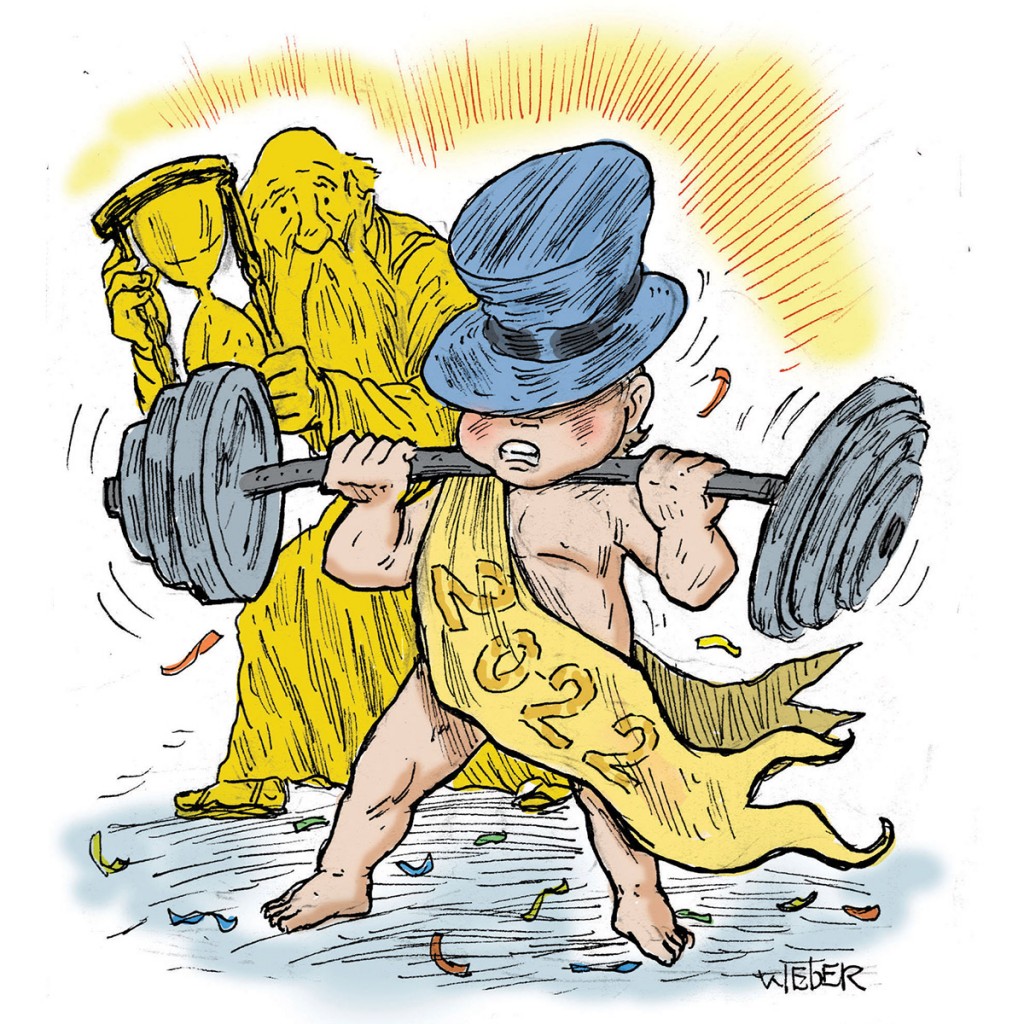 January 1. Good-bye, garlic knots and double-fudge-brownie ice cream. Hello, Resolution 1: Get in shape. Work off the weight. Flatten the flab.
I hear you. So, come on over to the gym with me. Grab a motivating mantra on the way in: No pain, no gain. Go hard or go home. Less cheesecake, more beefcake.
Welcome to my corner of Hades. Though it doesn't show, I've been a member of this gym for ten years. Multiple times a week, I push my belly in here like a shopping cart and take my spot in a "group exercise" room with a moldy ceiling, an inefficient dehumidifier, enough weights to break a forklift, and giant mirrors – so many mirrors, all of them mocking me for that fourth garlic knot.
Newcomers, our class is called Body Pump. It's synchronized weightlifting to dance music, a combination of my worst physical activities: lifting weights and dancing. We'll be in here with two guys who look like they're shaking off hangovers and at least fifteen women, all in perfect shape and in no need of a gym.
Our instructors are Lindsay and Jan, both ultra-fit and oozing positive energy. They believe in my chances of getting into shape far more than I do. For the next hour, they'll crank up the music to 11 and drive us to do the impossible.
"Roll your shoulders back and down!"
"Brace your core!"
"Soften the knees! Tuck the tail!"
"Squeeeeeeeeeze your belly button!"
When these two mention dips, they don't mean honey mustard. When they refer to hams, they don't mean pork. When they talk about glutes, well, they really do mean glutes – yours, mine, everybody's. It gets personal in here.
Prepare for ten routines, each designed to isolate and torture one body part for five-ish minutes that will seem like five eternities. The first is the warmup, and after it, I'm already exhausted and daydreaming about knots and double fudge. There's an "ab track," during which we're expected to crunch our abdominal muscles while a promiscuous diva sings, "Don't you wish your girlfriend was hot like me?"
I don't recommend looking around. You'll only see your classmates holding expert plank poses, counting off flawless pushups, and squatting low enough to impress an orthopedic surgeon. My self-confidence can't lift that much psychic weight.
"There's the burn!" Lindsay and Jan will shout, thrilled over our suffering. "Are you feeling it? You've got this!"
We'll endure an hour of unpleasantness. Then we'll drag our weights away, sweep up the shards of our shattered egos, and head out, tails tucked. We'll barely be able to walk, stand, sit, or stay still because of all the pain we've gained.
It's what we do to ourselves in pursuit of the new us. The calendar flips to January, and we go in search of rejuvenated bodies and fresh possibilities. We draw in hopeful breaths of sharp winter air, and we exhale the carbon monoxide of the defeatist past. We're feeling it.
Happy new year, and congrats on surviving Day 1 of the Big Resolution. It's all uphill from here. Brace your core. You've got this.
---
Tim Bass is coordinator of UNCW's bachelor of the arts program in creative writing.
---
To view more of illustrator Mark Weber's work, go to markweberart.blogspot.com.
Want more WILMA? Click here to sign up for our WILMA newsletters and announcements.