February Spotlight
Area newsmakers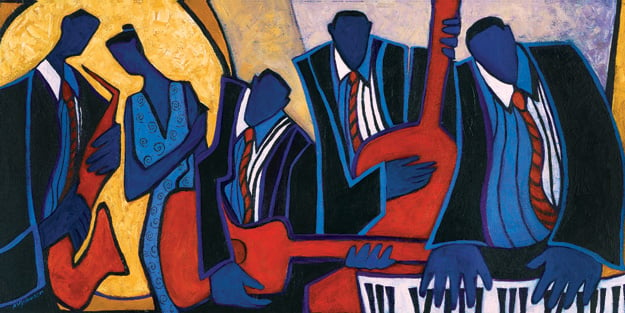 NC Jazz Festival Returns to ILM
Concertgoers at the North Carolina Jazz Festival in Wilmington later this month will have the chance to win a giclee print of "The Jazz Players," a piece by MANDY JOHNSON, named the festival's Artist of the Year.
The festival, now in its thirty-fifth year, takes place February 5-7, with evening concerts at the Hilton Wilmington Riverside. This year's lineup includes local talent such as the Benny Hill Quartet as well as visiting artists such as Molly Ryan and Ed Polcer.
Part of the proceeds from the raffle of Johnson's artwork will benefit jazz education workshops held throughout the year for New Hanover County students. Info: www.ncjazzfestival.com
-Vicky Janowski
Pickard Named WRAR President
For SHERRI PICKARD, supervising a realty office is a lot like being in charge of a basketball team.
"You're coaching people to achieve a goal," says the former college basketball coach.
This year's president of the Wilmington Regional Association of Realtors, Pickard is also managing broker of the Coldwell Banker Sea Coast Advantage office on Military Cutoff Road.
Pickard was the head women's basketball coach and assistant athletic director at New York University, where she earned a master's degree in business administration.
-Cece Nunn
He Said, She Said – Sports Edition
Local comedian BLAIRE POSTMAN and her sports-loving husband, GARY HAYMES, recently launched a podcast that covers what happens when comedy, relationships, and fantasy football trickle into a marriage.
The first podcast of My Fantasy Wife aired January 4, Postman says. The couple, along with sound engineer Louis Bishop and social media maven Maddy Sprenger, riff on everything from the games of the week to news to culture. But the show's main thrust is the husband-and-wife dynamic of Postman, who would rather watch a documentary on boxing than an actual bout, and Haymes, a font of sports stats knowledge.
"It's really fun for us," she says, "and we get to work together."
The weekly podcasts can be found online at www.myfantasywife.com.
-Vicky Janowski
Tay Ham Cards Go National
Wilmington illustrator TAYLOR HAMILTON's line of humorous greeting cards is gaining national exposure.
Before the holiday season, representatives from Urban Outfitters saw her online Esty store and contacted Hamilton, who started Tay Ham as a company in 2013.
A test run in the stores turned into an order for holiday cards stocked in all of the national retailers locations.
Tay Ham cards (www.tayham.com), quirky and full of pop culture references, also have found their way into Nylon magazine, Comedy Central, and Huffington Post, which included Hamilton's Game of Thrones-inspired card in its online list of clever Christmas cards.
"It's all been organic," Hamilton says about the attention, "so I'm figuring out how to catapult it to the next level."
-Vicky Janowski