February Spotlight
Area newsmakers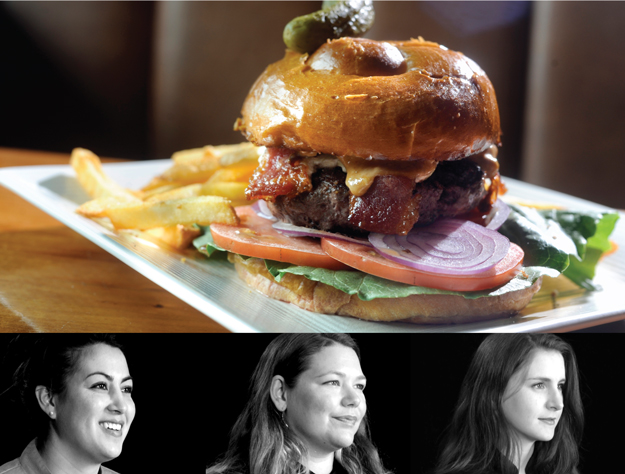 Fire on the Dock Returns
This year's Fire on the Dock cooking competition includes several female chefs vying for the top spot.
TIFFANY ESLIEN, of Hops Supply Company; KRISTEN MITCHELL, of 1900 Restaurant Lounge; and KATIE CARTER, of The Olive Café and Wine Bar, were included in the field of eight competing chefs. During the head-to-head, single-elimination cook-offs, judges and diners determine who moves closer to the final round.
Also competing this year: Clarke Merrell, of Circa 81 in Morehead City; James Rivenbark, of South Beach Grill; Michael Barnes, of Prime 1079 in Atlantic Beach; and Antoine Murray, of Cape Fear Country Club. The matches started January 27 and run to the championship matchup February 17.
-Vicky Janowski
UNCW Athletic Hall of Fame Inducts 3
Former University of North Carolina Wilmington swimmer ADRIENNE SUTTON will be part of the group inducted into the UNCW Athletic Hall of Fame on February 22.
Sutton, diver DEAN BERMAN and men's basketball player SHAWN WILLIAMS are the three former student athletes included in the hall's tenth induction.
Sutton competed for the Seahawks from 1997 to 2000 and won fourteen gold medals in CAA competition. She was named CAA Rookie of the Year in 1997, CAA Co-Women's Swimmer of the Year in 1997, and part of CAA's Silver Anniversary Team.
-Vicky Janowski
Organizers Pursue Opening Girls Charter School
JUDY GIRARD, former HGTV and Food Network president, and GEORGIA NIX MILLER, a veteran nonprofit manager and wife of University of North Carolina Wilmington Chancellor Gary Miller, are heading up an effort to open a charter school in Wilmington for disadvantaged girls.
The two women filed state incorporation papers for a nonprofit organization, Young Women Leading Inc. (YWL), which will serve as the foundation board for the proposed school, to be called Young Women's Leadership Academy.
"YWL was established to assist economically challenged female students become first-generation college graduates," Miller says.
She says YWL is drafting a charter school application for the academy and plans to submit it in September, when the state will next consider such applications.
-Jenny Callison
'Sunday Baroque' Host Visits WHQR
Flutist and radio show host SUZANNE BONA will be in town February 7-9 to help local public radio station WHQR 91.3 kick off its 30th anniversary year.
Bona is creator of public radio's "Sunday Baroque" program that airs on WHQR and 149 other stations nationwide.
After earning her Bachelor of Music degree, she landed a day job as a Sunday morning classical music host for a Fairfield, Connecticut public radio station.
"My first boss told me to 'play some baroque music,' presumably as a way to keep me, a new music school graduate, from playing music that was too inaccessible," she says.
That assignment led to the creation in 1987 of "Sunday Baroque." Bona is still active as a flutist and will perform in February. For more information go to www.whqr.org
-Jenny Callison