Feast on the Go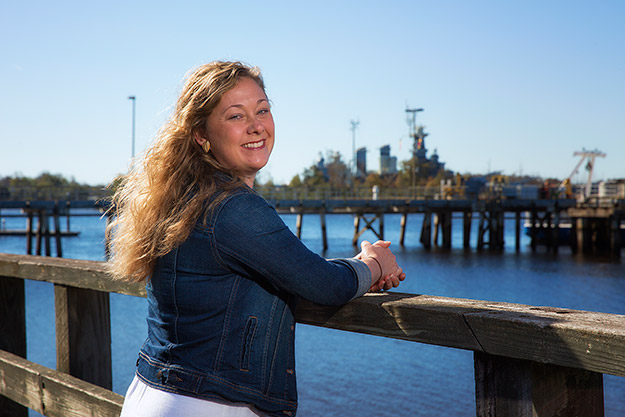 As a little girl raised alongside the Pamlico River, Jaime Chadwick watched her father build and manage a camping resort from the ground up in the small town of Chocowinity, North Carolina.
It was called Twin Lakes, and he knew every camper's name. The wives, the children, the grandparents, the husbands, even the family pets – he was personally invested in each vacationer's life.
And then there was the hat he wore – an ugly, yet whimsical two-foot-tall hat made entirely of straw that literally showcased a man riding a donkey. Everyone loved it. They looked forward to seeing it, adding items to it, and watching it grow in height as the years went by. Chadwick said she remembers an arrow, a pinwheel, and flashing lights that somehow made its way to the top of it.
Twin Lakes was more than just a means of putting food on the table. It was, as Chadwick puts it, the example of how one should give back to their community. It shaped her ethic on life: community first, business second.
And the caring attitude at Twin Lakes ultimately helped pave the way for her own business based out of Wrightsville Beach called A Moveable Feast.
"My dad showed me the importance of being involved within my community. He showed me how to be a genuine person to his clients," Chadwick says. "When he sold Twin Lakes years ago, I cried like a baby. He genuinely wanted to make a difference in people's lives, and he used his work to help make that happen. Work smarter, not harder, he always said. And I do."
In the dozen or so years since Twin Lakes, Chadwick has herself perhaps unknowingly broken a portion of her father's rule. Yes, she definitely has worked smarter – having a handful of degrees in applied science in culinary arts and hotel and restaurant management will do that. But she has worked extremely hard, too, ever since arriving in the Port City in 1999.
Chadwick tended two sometimes even three jobs at a time. And that's not taking into account an internship at The Surf Club where she helped with weddings, cooked, and managed platter presentations.
In 2004, Cape Fear Community College approached her to do a cooking show on Time Warner Channel 5, The Learning Network. It was called Cooking On The Cape.
"We literally filmed behind the culinary lab on the Cape Fear River," Chadwick recalls. "What was always great about the cooking show (before it ended) was the problems we encountered that wasn't seen on TV, like the wind from the river constantly blowing out my gas burners on the stove. The food was never fully cooked, but you couldn't tell that on TV."
Then in 2005, Val Mason from CFCC's culinary program presented Chadwick with a catering work opportunity she couldn't refuse.
It wasn't until the unyielding and often uncompromising job of becoming a mother of two that Chadwick decided to slow down, lessen her workload, and stay home for a while.
"I didn't want to miss anything by working all the time," she says.
Still, after a while Chadwick admittedly grew antsy.
"I was used to working more than fifty hours a week. This was a vast difference from raising kids at home. I had to do something," Chadwick says.
She officially registered A Moveable Feast as a sole proprietorship in April of 2012. In essence, the business is a personal grocery shopping and delivery service for beach areas in greater Wilmington such as Figure Eight Island, Wrightsville Beach, Carolina Beach, and Kure Beach.
Sure, it's a luxury service, but the dedication and time that goes into stocking and prepping her clients' kitchens makes it a one-of-a-kind business with options for every wallet.
Here's how it works: Say you've rented a beach house. You've spent all night driving to your destination, and now the daunting task of unloading, finding, buying, and preparing food to begin vacation is upon you.
Enter A Moveable Feast. Chadwick does it all. Every dietary need can be met, she promises. Toiletries, laundry detergent, trash bags, snacks, even homemade ready-to-bake breakfast casseroles and dinners suitable to serve six are offered, so vacationers can unwind for the first few days without cooking.
"When I became a mom, keeping it local became even more important. I do all the shopping myself. How is it processed? How it is produced? GMOs, chemicals, pesticides – once I started to do more research and become knowledgeable about the kinds of food I was buying my family I wanted to make sure I was supporting local farmers and make a difference by offering my clients, not just my children, wholesome food, too." Chadwick explains.
Now in its third year, the main challenge with the A Moveable Feast revolves around the fact 90 percent of her clientele resides out of state. Advertising is a huge issue. During the winter, Chadwick centers her attention on promotion and reaching out to more real estate companies. The goal is to expand to Topsail Island and Ocean Isle Beach. It's a challenge for certain, but one Chadwick is ready to take on with a smile.
"When you put your heart and sweat into a business and truly care about it, you work harder," she says. "It all means more than watching other people from afar on a corporate level. It just doesn't mean the same thing."
Her inspiration as a business owner: the time spent at Twin Lakes, her father's honorable principle of helping others through service, and that ridiculous hat.
"My dad was the perfect role model." Chadwick says. "He had tenacity. People loved him. I believe in making a difference even if that means going out of my way for my clients, because that's what he did. My passion is food, community, and family. Now, I'm so happy I can finally incorporate those things into a business of my own."
To view more of photographer Chris Brehmer's work, go to www.chrisbrehmerphotography.com