Family Values
Small, but mighty, Black Sea Grill is in it for the long haul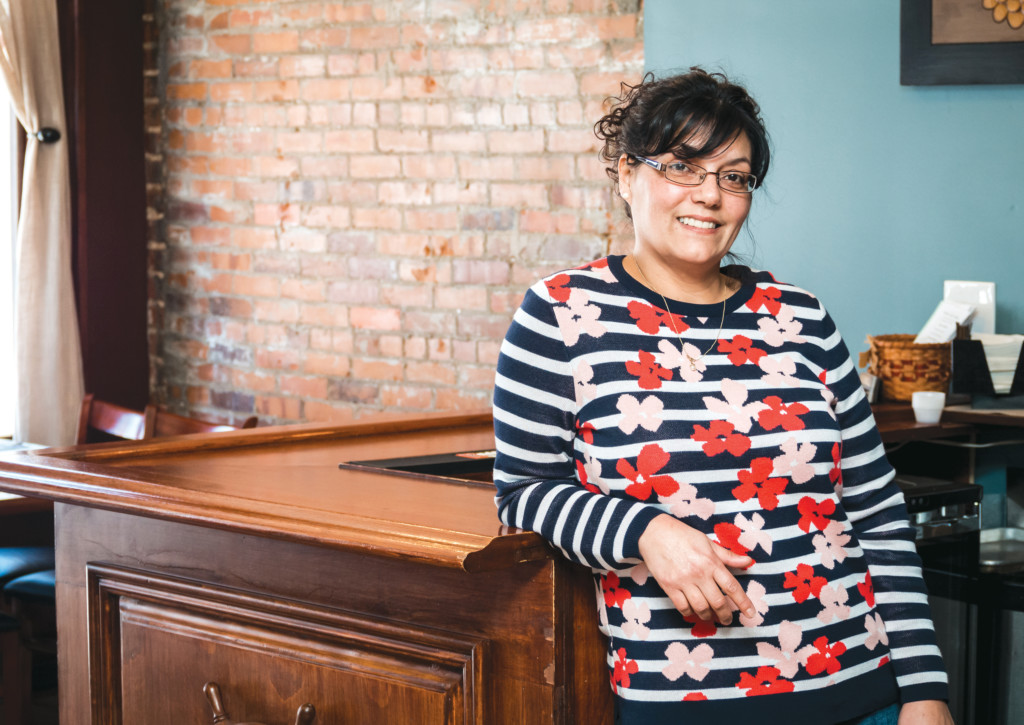 Simple, yet consistent with respect, tolerance, and warmth sounds like a meditation mantra, but instead, it is the philosophy of a family whose values have helped to create a unique and successful restaurant business in downtown Wilmington.
The BLACK SEA GRILL at 118 South Front Street has been in business since 2008, which is quite a feat in the restaurant business as it is. But, being run by a couple, KRISTIN and CEM AKTAS, and Kristin's parents, MONICA and JOHN MURRISKY, with whom they live with also, makes it nothing short of miraculous.
"It's the European way of thinking," says Monica Murrisky, who grew up with an extended family household, as did John and Cem. They have taken that way of thinking into the restaurant menu and atmosphere.
It is a relaxed, family-oriented atmosphere that encourages a comfortable meal meant to be enjoyed at a laid-back pace, encouraging conversation and camaraderie.
The menu is Mediterranean style, offering many vegan options, with "99 percent of its menu being gluten-free meals."
"It is about simplicity," Monica Murrisky says. "I am a purist. I like true, clean cooking with simple ingredients. The goal is consistency. When things are missing, we do not attempt to compensate with other things. We go for consistency. It is how, for ten years, we've made it happen."
Making it happen meant major life changes for the entire family. While Kristin and Cem met in Wilmington in 1997, they moved to Kristin's home state of California.
Having always wanted to return to the Port City, after eight years they decided it was time to make the move back east. Having worked in retail management for years, Cem and Kristin decided to make another change, and with family support, it turned out that opening a restaurant business was the right fit. Monica and John followed Cem and Kristin to Wilmington, and the Black Sea Grill was born.
Monica, retired from special education, and John, a retired nurse, had spent a summer volunteering at a YMCA camp at Sequoia Lake, California. Monica was charged with kitchen duty. By the end of the summer, she was hired as the third cook and spent thirteen years as the head cook.
As the main cook at the Black Sea Grill, Monica was comfortable taking on that lead role.
"I was able to prepare food for a large crowd, and I am thoroughly happiest when I am in the kitchen," she says.
Each family member has their own niche within the restaurant. Monica cooks; Cem does the purchasing; John handles the front of the restaurant with Kristin, who also manages special events such as weddings and showers.
"We are all alphas, so you'd think we'd bump heads, but we don't. We compromise. We say we're a democracy," Monica says. "And, we all live together, too. We tolerate each other and respect each other, so it makes it easy."
They all agree that easiness comes from holding a shared vision and common values. The restaurant's small space is clearly an extension of the family's home, with its Adriatic Sea blue walls and rich dark wood that envelops customers in a cozy warmth. It is friendly and welcoming.
"We are all very particular people who have a standard that we follow all the time," Monica says.
The culmination of their decade in the restaurant business was disrupted last year by a flood from a water pipe leak following Hurricane Florence. It caused them to close for nearly five months.
During their closure, the relationships they've built with their customers was apparent.
"The messages we received were overwhelming emotionally," Monica says. "It was really special to know people care because we care for them in return."
Upon reopening, in their updated restaurant and kitchen, "it felt like we never left with customers waiting for us to open and hugging us hello," she says. "It is an extension of our family."
With a maximum seating capacity of thirty, the space enables the owners' desires to keep it simple and provide the food and the experience they hope to give each customer.
"We are a family, and we offer a family atmosphere," Monica says. "We want to provide everyone with a warm welcome."
The Black Sea Grill is open Tuesday- Saturday for lunch 11:30 a.m.-2:30 p.m. and for dinner 5:30 p.m.-8:30 p.m. Reservations are recommended and can be made at 254-9990.
To view more of photographer Erik Maasch's work, go to ejmphoto.co.
Want more WILMA? Click here to sign up for our WILMA newsletters and announcements.