False Starts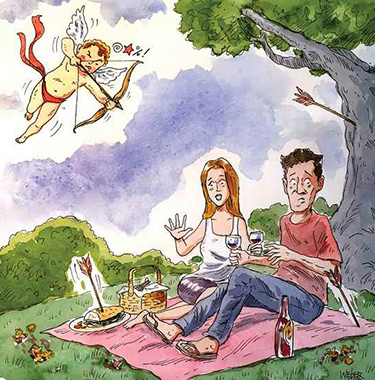 In February, our thoughts turn to love. Couples enjoy special Valentine evenings meant to stoke the fire of romance. Over candlelight, many think back nostalgically to their first date. But while there's only a handful of predictable ways a first date can go well, there's no end to the various and entertaining ways one can go bad.
Here are just a few:
The First Date First Date
Your first date. Literally. Whose wasn't a disaster? Mine was the summer after eighth grade. My mom dropped Sarah and me at an empty movie theater to see Local Hero – a slow-paced drama starring Burt Lancaster about an oil exec who travels to the coast of Scotland. Perfect flick for a pair of thirteen-year-olds. Too shy to kiss her, I spent the two hours in the dark wanting to apologize for picking such a crappy movie. Later, I couldn't help wondering if I'd only taken her to Flashdance, maybe everything would have been different.
The Midlife Crisis First Date
You're two hours into a first date. Not that you've checked the time because you're totally engaged. "This is a great date!" you think. "He's really interesting!" But then it dawns on you. He's not interesting. It's just his story that's interesting. And the story, unfortunately, is a two-hour epic tale of treachery, betrayal, and legal wrangling starring his soon-to-be-ex-wife with a personality disorder.
The You Haven't Even Met Yet First Date
You meet online. Nice texts are sent. Pictures shared. A rapport develops. Anticipation builds. But eventually, you take too long to text, or he sends a confusing emoji. One of you feels slighted. Feelings are hurt. Mean texts are sent. Pictures deleted. Phone numbers blocked. You find yourself mourning a relationship you never had with a person you never met.
The Drunk Date First Date
Alcohol in moderation can be a helpful social lubricant, but on this variety of first date, you're only halfway through your salad, and you're already wondering if you should organize an intervention.
While on a first date with a teacher from Myrtle Beach, I asked how she liked living there. "So-so," she said. "But I can't move away because I know all the cops, so I don't get pulled when I drive home after drinking watermelon beer all night at my favorite brew pub." When I asked about watermelon beer, she led me to her car where she had a cooler with a gallon of the stuff and two frosty mugs on ice. As you might imagine, the date went downhill fast from there. (Watermelon beer is as bad as it sounds, by the way.)
The My Date is Tripping on Mushrooms and Flirting with Someone Else First Date
I can't be the only guy who's taken a woman to see a jam band only to have her eat psychedelic mushrooms and spend the entire concert dancing ecstatically with another guy while he's stuck alone on the blanket watching her purse. (OK, maybe I am the only guy.)
Yes, bad dates make good stories, but it's still my sincere hope that this Valentine's season, we bore the heck out of each other with clichéd accounts of predictably great dates.
Dylan Patterson is a writer and filmmaker who teaches English at Cape Fear Community College.
To view more of artist Mark Weber's illustration's, go to www.markweberart.blogspot.com