Faces of Family: Oliver Minor
Project highlights special-needs children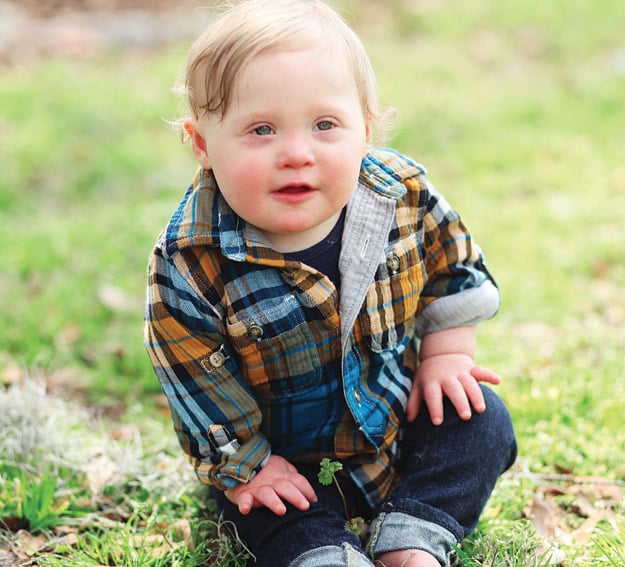 There is a certain shyness when BEN MINOR speaks of his son, Oliver, though like any proud parent, he wants to show him off as much as possible. Still, he cannot keep his eyes off the tablet that displays his son's pictures.
Oliver has Down syndrome. And Minor's experience raising him over the past year has served as the driving force behind his latest project: a photo collection featuring special-needs children and their families.
Through his photos, Minor, whose background is in fashion photography, will share stories that show a different side of the experience of raising special-needs children – their beauty.
"There is a special investment and pride parents of special-needs kids have in their children," Minor says, explaining that because of a congenital heart defect, it was uncertain from birth whether Oliver would even live.
Minor's gratitude for the sheer fact of his son's life – that Oliver is here, present, and healthy – has deeply affected him. While he wouldn't describe himself as a particularly positive or optimistic person prior to this experience, raising Oliver has changed that.
"I am not a perfect person," Minor says, "but my love for Oliver is perfect."
He would especially like for his photos to reach young parents of special-needs children.
"People have this misconception that it's this big struggle from day to day or that we're unhappy." he says. "My wish is for them to come across this project and realize that it's going to be okay. It really is the most incredible life."
OLIVER MINOR, one year old
Down syndrome, congenital heart defect
Minor wanted to include his son in the photo collection because "he is really the driving force behind the project."
"Oliver is a little wrecking crew," Minor laughs. "He's definitely a daddy's boy."
Minor recalls his initial fear and self-pity when he found out Oliver would have Down syndrome.
"You've got all your ideas in your head that you've been raised on, that your son is going to be the quarterback. All these assumptions you now have to scale back on." Minor says.
"But," he continues, "somewhere along the way you stop feeling sorry for yourself. Oliver was going to be born. And we were going to love him."
Now, every feature that Oliver has that is Down syndrome-related, Minor absolutely adores – and he suspects other parents may feel similarly.
"I'll go home and see Oliver smiling and laughing and think,
'How can someone miss out on this?'"
Click below to some of the area families Minor has documented for the project:
JANE ADELINE "BITTY" AND BEAU WRIGHT
To view more of photographer Ben Minor's work, go to www.benminorphotography.com.