Faces of Family: Henry Lamb
Project highlights special-needs children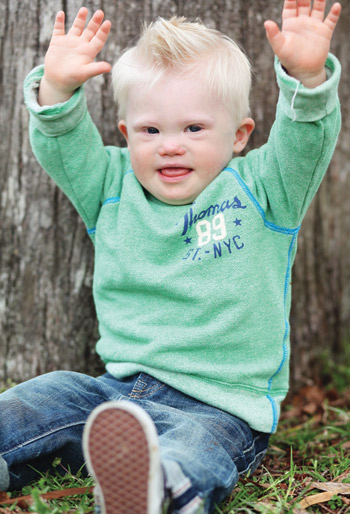 HENRY LAMB, two years old,
Down syndrome
Like any toddler, Henry has moments of pure mischief. Minor laughs as he recalls how Henry, a real "boy's boy," tried to play with the camera equipment during the shoot.
Henry's mother, Shawn Lamb, notes that while her son's extra chromosome is "just part of who he is," Henry is "so much more than one characteristic."
A lover of sports, especially tennis, Henry knows all the colors, Lamb says, "and more American Sign Language than (we) can count – almost 100 signs!"
"When he gets home from school," she says, "he runs to his toy chest, grabs his tennis racquet, and asks to play tennis by saying 'issss' and signing 'tennis.'
"One night, I told him he couldn't play tennis until he finished his dinner, so he proceeded to feed his entire dinner to the dog so he could get out (and play) faster!"
Click below to see some of the area families Minor has documented for the project:
JANE ADELINE "BITTY" AND BEAU WRIGHT
To view more of photographer Ben Minor's work, go to www.benminorphotography.com.